A Vision of Success
08 Sep 2017
Pushing the envelope on cutting-edge technology advancements in Lasik and refractive eye surgery
By HELEN MITTERNIGHT
Photos by JAMES STEFIUK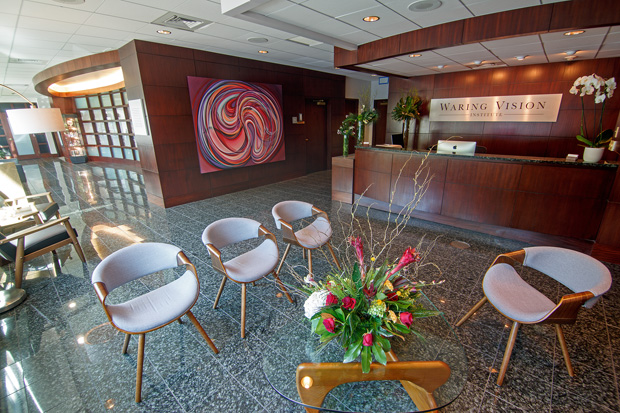 George Waring IV, founder and medical director of Mt. Pleasant's Waring Vision Institute, started his career trying to avoid the big shadow cast by his father, a pioneer in refractive surgery. Now, the institute is a celebration of and tribute to his dad's legacy, as well as a home to continuing innovation and cutting-edge research. Even the art in the plush clinic was his father's and he is now comfortable with the link between generations.
The senior Waring was "the father" of the science used daily by Lasik surgeons throughout the country, having led the first studies for the National Institutes for Health on refractive surgery in the 1980s. He also was a professor at Emory University and trained 60 fellows in corneal and refractive surgery.
But George Waring IV wanted to get as far from his father's influence as possible, and got a double degree in economy and ecology.
"Because I knew how demanding the profession was, watching my father make the sacrifices in his life to make these contributions to our field, I actually was not interested in pursuing medicine," Waring says today. "My interest was studying the economics of sustainable energy, trying to help create passive use value. Actually, we use that same kind of thinking now, in terms of placing a value on things that are hard to measure. Things like vision, the quality of vision."
A mountaineering expedition near the border of Nepal and Tibet in 2007, led by friend Dr. Geoffrey Tabin, co-founder of the Himalayan Cataract Project, changed everything. "We had the first permit in 27 years to go where we were basically some of the first outside humans into this remote area, where people had never had health care before," Waring recalls. "There were indigenous people who needed help, so we took an extra day from the climbing expedition and used our first aid [supplies] to help the people in need. The next thing we knew, we had people descending from the mountains who had never seen Westerners, people with massive abscesses. We ran an impromptu clinic for an extra day."
He continues, "That was impactful enough, that I decided at that moment I wanted to pursue medicine. I used that story as my personal statement in my application, and was accepted to Emory University."
Still, Waring shied away from following in his father's footsteps.
"I knew pretty quickly I wanted to be a surgeon and was determined to do something unique from father, so I went into general surgery," he says. "And then I realized that being oriented towards new technologies and innovation, along with my personality, I really ended up by process of elimination in ophthalmology and eye surgery."
Even then, Waring went on his own path and chose the retina, as far back in the eye as you can get. "But again, I saw the satisfaction of helping people see better than they could before and the only way to access that satisfaction was through cataract and refractive surgery," he admits. "So, despite my very best efforts to do everything different from my dad, I came full circle and did exactly what he did."
Waring was recruited to run the Magill Vision Center for the Medical University of South Carolina (MUSC) Storm Eye Institute, and father and son enjoyed sharing the same dreams for someday opening their own vision institute.
"It culminated in him, insisting that I fix his cataracts," Waring says. "Before we had that opportunity, he passed."
The elder Waring's death in 2015, along with the vacancy left in the Mt. Pleasant building when MUSC moved out earlier this year, marked the perfect time to make the dream a reality, Waring says.
Now, he says simply, "It's such a real pleasure to get to honor him through the Waring Institute."
The younger Waring's idea is a medical experience that he says is inspired by the customer service at the St. Regis Hotels, akin to a concierge doctor but without the membership fees.
"That means that this experience starts before our client comes in," Waring says. "The staff is meticulously trained in trying to create an experience around their visit that is second to none in medicine. We're focused on someone coming in and having a journey they will never forget. We want them walking out and saying they had not just the best eye exam ever, but that they had the best medical experience ever."
The experience starts with the use of technology to reduce patient wait times. The institute is paperless and, instead of an eye chart poster, patients are shepherded through a line of advanced diagnostics and end up with a digital tour of their own eyes.
"It's a real 'Wow' factor," Waring says, grinning a little bit at the thought of the technology. "Rather than a model of some eye, we can show people what's happening in their own eyes."
Waring says he and his staff are like personal trainers for vision, championing eye health holistically through a person's different life stages. "Our focus is helping people reduce their dependence on glasses, and all types of contact lenses at most stages of their life. This is a paradigm we call the vision for a lifetime program," Waring says.
An example of the whole-life focus of the institute is its response to "dysfunctional lens syndrome." "We've really brought science and understanding to the aging parts of the eye," Waring says. When patients in their late 50s or early 60s come in with the intent of getting out of bifocals or reading glasses, he uses advanced diagnostics to help make good decisions on what the appropriate procedure is for them.
"Historically, we would perform Lasik on those patients, but a few years later they might be back and say, 'The Lasik has worn off.' It's not that it wore off, but that the internal part of the eye continued to age, which is part of the dysfunctional lens syndrome," Waring explains. Once it progresses, he feels it actually makes more sense to perform laser lens replacement on the internal lens, as opposed to the external lens. "It takes the same amount of time. We do it in a surgical setting, but we still use a laser. We replace the dysfunctional lens with a crystal clear lens implant that provides an extended depth of focus for distance, computer, and reading, so that patients don't need their glasses. Another huge benefit is that it prevents cataracts."
Of course, this is all very well, but not everyone's insurance company has kept pace with the cutting edge practices that Waring advocates. Waring admits that insurance companies don't care if patients are in glasses forever; for them, this kind of surgery is cosmetic, just like traditional Lasik surgery.
Still, the aging Charleston-area populace faced with impending cataracts may be able to get insurance to pay for at least part of the procedure. That surgery and others are part of Waring's continued research and investment in technology, that is either the first or the only of its kind in the country or state. Waring will offer the first Catalys Laser, the most advanced laser for lens implants and cataract surgery in the state, and he has the country's first high-speed Lasik suite.
He gets excited about the results of the investment.
"I just walked out of the operating room with a client who had extreme nearsightedness and astigmatism for her whole life, and she had cataracts. Right off the table, she had what she felt was perfect vision," he says. "It was very moving for the client and for her family. They said, 'You must really love what you do.' I said, 'I do, because of you.' We are fortunate to have these experiences on a routine basis."
Waring is always interested in pushing the limits of vision's potential, including figuring out not just what people see, but how. That includes potentially giving people better than 20/20 vision, such as many athletes enjoy naturally.
"We can actually look at the light falling in a client's eye and show them how they're seeing. Beyond that, we can start to get into 'super vision,' or 'research vision,'" Waring notes. If he addresses vision holistically, he adds, he can even get someone to read an extra line or two beyond 20/20. "A high percentage of professional athletes have research vision. They became world famous athletes due to essentially supernatural eyesight, being able to see the contrast between the stitch on the baseball and the basketball. That's often our goal, to push the envelope for our clients," Waring says.
Waring's restless search for improvement has led to a host of awards, including the one most meaningful to him—the American Academy of Ophthalmology/International Society of Refractive Surgery Lans Distinguished Award in 2014—for making innovative contributions to the field of refractive surgery. He says he believes he is the youngest to receive the award.
The innovation and service are tributes to Waring's father, whose influence is still felt, even on strangers.
"The amazing thing, when he died, he donated his corneas for transplants," Waring says quietly. "I remember being there when they came to harvest, and I just thought to myself, 'The recipients of this gift may have no idea that it was one of the fathers of cornea surgery, that they're looking through my father's eyes.'" www.waringvision.com