An Eye for Art and Hospitality
05 Jul 2022
Visionary hotelier Richard Kessler motivated by a quest for beauty
By Holly Fisher
Photos provided by Grand Bohemian Hotel Charleston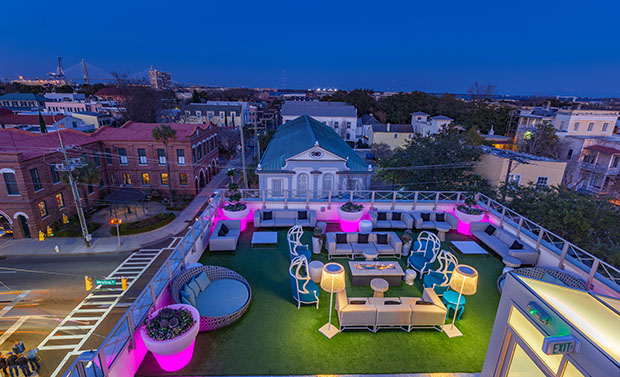 Richard Kessler is a lifelong collector. At age 4, he would ask the family's housekeeper to take him to the railroad near his Georgia home to pick up quartz and lava rock. Back at his house, he'd unload his wagon of treasures under a large oak tree.
At age 5, his grandmother gave him an arrowhead, sparking his interest in Indian artifacts. By the time he was in his 20s, Kessler's collections had expanded into artwork.
Today, his passions—and even his personal collections of artifacts and artwork—are evident in the portfolio of boutique hotels he oversees. The Kessler Collection boasts 12 luxury properties around the South and beyond, including the Grand Bohemian Hotel Charleston at 55 Wentworth St.
Other signature hotels include the Grand Bohemian Lodge Greenville opening this fall, Grand Bohemian Hotel Asheville, Bohemian Hotel Celebration near Orlando, Beaver Creek Lodge in Colorado and several properties in Savannah.
Kessler's path to hospitality started with real estate development. At age 23, he began working with real estate developer Cecil Day and helped found Days Inn of America in 1970. At just 29 years old, Kessler was named the president and CEO of Days Inn. He grew the company nationally before the chain was sold in 1984.
Being part of the Days Inn launch showed Kessler how he could merge his interests in real estate with the food and lodging aspects of the hospitality industry. In 1979, he purchased an old Coca-Cola bottling plant in his home city of Savannah. It opened as Mulberry Inn, Kessler's first boutique hotel. Under this separate division of the Days Inn, Kessler opened another boutique hotel in Orlando. Both were successful and profitable almost immediately.
"I realized I had discovered something with this boutique hotel," Kessler said. "We were the pioneers of it. No one in America knew what a boutique hotel was."
Those boutique properties were sold with the Days Inn in the 1980s, so Kessler decided to try his hand at a large-scale development. He bought 1,000 acres north of Atlanta, turning it into an industrial park and commercial development complete with landscaped boulevards, a 30-acre lake and a 30-foot original bronze sculpture.
Kessler then turned his attention back to Savannah, building Silverwood Plantation in 1987. The private 275-home community included elegant amenities and a shopping center.
With large-scale development experience on his resume, Kessler started a chain of national banks, eventually selling his bank, his bank management and service company as increasing regulations "sucked the fun and enjoyment out of it," he said.
At that point, Kessler returned to his earlier passion—luxury boutique hotels that could blend with his interests in art and music. Each property in the Kessler Collection is distinctive in terms of its architecture, decor and even the food and beverage offerings.
"We put a lot of emphasis on the menu, food preparation and food quality," Kessler said. "No matter how good the hotel is, I want my restaurant to be half a grade better."
About three quarters of the restaurant business comes from the local community, evidence that Kessler's hotel restaurants can stand on their own.
"Fundamentally, what has become clear to me over time is that we're in the entertainment business—art, food and music," he said.
Entertaining Savannah
A decade ago, Kessler brought a full-scale entertainment concept to Savannah, creating an award-winning complex of lodging, restaurants, high-end shopping and a live music venue.
Kessler, always with an eye for turning something old into something spectacular, bought a former power plant on 4.5 acres along the Savannah River. The plant—which closed in 1912—sat in the National Historic District. The property was, in fact, the largest piece of undeveloped land in the district in the United States, Kessler explained.
The property is now Plant Riverside District, which includes a 419-room JW Marriott. In 2021, it was named among the top 25 hotels in the South by Condé Nast Traveler. The entire complex has been recognized by architecture and development associations around the globe.
Each main building on the property was developed with a theme or story. The former power plant's focus is "where does power come from?" The lobby is a natural science museum with a 135-foot chrome dinosaur, huge crystals, fossils and an Ice Age Russian bear skeleton.
The theme of another building is beauty with soft decor and crystal chandeliers. The third major building on the property is all about the story of water. It's decorated in shades of blue with carpets that look like a flowing river and a pool on the rooftop.
"You work in your bubble and you're not sure how other people will appreciate it," Kessler said of Plant Riverside District. "It's certainly made the mark, and we're very proud of that."
Looking ahead
Kessler isn't one to rest on his laurels. He's constantly thinking of new ideas and dreaming up new projects.
While most of his hotels are in the South, he's interested in expanding farther north and out west. And his must-do project before retirement is a hotel with an Asian theme. Ten years ago, he commissioned artists to create 15-foot marble columns with nine dragons on them. It took artists in China two years to complete the columns.
"Each one is a museum piece," Kessler said. "There are 18 of them waiting for the right home."
He's still deciding on just the right city—one large and sophisticated enough to appreciate such a hotel and these magnificent marble creations.
Those columns are just one of many art collections stored in a warehouse awaiting use at a Kessler property. Over the decades, Kessler has amassed quite a collection of artwork and artifacts—many of which are on display and for sale at the Grand Bohemian Hotel's art gallery in the lobby. He regularly has artists from around the world under contract to create paintings for his properties.
His 9,000-square-foot heated and cooled warehouse is home to several thousand paintings, bronzes, marble sculptures, chandeliers and Persian rugs. He recently purchased a collection of 3,000 Indian artifacts discovered in Georgia. Those pieces will be displayed at the Grand Bohemian Lodge in Greenville, a 1920s style lodge built in Falls Park along the Reedy River.
A family affair
Kessler's business has become a family enterprise. His son is president of the development arm of the company, and his daughter-in-law handles the interior design.
His three grandsons—13-year-old twins and a 12-year-old—are already thinking about how they can be part of their grandfather's business. Kessler said he sees each one as chief financial officer, chief operating officer and chief investment officer, depending on his individual interests.
This summer, each grandson will have the chance to shadow their grandfather at work, learning the ins and outs of the business that will likely be theirs someday.
Kessler will impart his business wisdom and life lessons on his grandsons, much in the way his own father gave him advice that he adheres to today, about how to make a positive impact.
Kessler supports numerous philanthropic causes. He has served as chairman of the board for Lutheran Brotherhood and championed the merger with Aid Association for Lutherans to become Thrivent Financial for Lutherans. He was the founder and for 35 years the chairman of the New Ebenezer Conference and Retreat Center, founder and board member of Treutlen House for abused children, and founder and sustainer of The Kessler Reformation Collection at Emory University's Pitts Theological Library. He was also the founder of the annual Orange County Public School Visual & Performing Arts Teachers scholarship and has sponsored additional scholarship programs for high schools and colleges.
"My personal motto is, 'leave things better than you found them.' In everything I do, I try to hold that rule as part of it. It's why I do all this – for the quest of beauty and to leave things better than I found them."
BIO

Education: Bachelor and Master degrees in industrial engineering/operations research, Georgia Institute of Technology
Hometown: Savannah, Ga.
Family: Two grown children, Mark and Laura, and three grandchildren.
Hobbies: Music, art, fishing, hunting, collecting