Beautiful, natural results
04 Sep 2022
Dermatology and Laser Center of Charleston helps patients look and feel their best
By Leah Rhyne
Photo by Lea Austen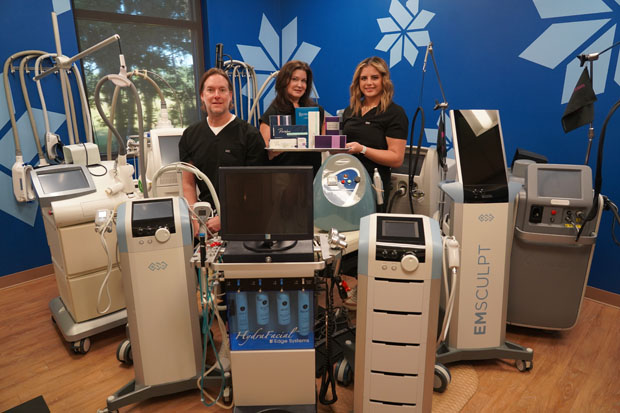 Does your Instagram feed tell you that you need better hair? Clearer skin? More muscle tone? Does it offer you diet pills and snake oil and empty promises of unattainable perfection? Look, we all know that the internet is full of nonsense, but the truth is, sometimes we do want a little help. A little boost to our self-esteem to make us feel like the gorgeous, powerful human beings we know deep down we are. And when you want that little boost, the team at Dermatology and Laser Center of Charleston is ready to help. Having proudly served the Lowcountry since 2005 through its three centers in West Ashley and Summerville, you can count on them for quality services in a professional, safe environment.
Dermatology and Laser Center of Charleston is a true pioneer in medical, cosmetic and research dermatology. Their menu of services is vast. Comprehensive. From acne management, Mohs Surgery for advanced skin care removal, scar revision and photodamage reversal, to body sculpting and wrinkle reduction, they serve all your dermatological and cosmetic needs. Other services include collagen renewal, laser hair reduction, platelet-rich plasma injection, micro needling, physician grade product lines and so much more.
Lori J. Wrightington is the Director of Laser and MediSpa Services at Dermatology and Laser Center of Charleston. She focuses more on the cosmetic side of the Center and values those services deeply.
"Cosmetic treatments offer correction and prevention of many concerns and are an important aspect of Dermatology," she says.
So, what are some of these procedures?
Hydrafacials are one of their most popular cosmetic procedures. Using a mechanized wand, the Hydrafacial works to deep clean, exfoliate, hydrate and protect the skin. Customized to each patient, Hydrafacials are used to treat a variety of conditions including acne, dryness and wrinkles.
Dermal fillers and volumizers are another popular product and procedure at Dermatology and Laser Center of Charleston.
"Our Physicians and Physician Assistants have extensive training and experience with dermal fillers and volumizers," says Wrightington. "These products enhance the lips and give more pout, which is all the rage." They also add volume, eliminate or reduce 'expression lines' (they try to avoid the term wrinkles), and can be used to sculpt the aging face.
For a person who's been working hard at exercise and diet but can't quite get their body to look like they want, the Center offers a variety of less-invasive options. CoolSculpting, Emsculpt, and Radio Frequency-based treatments are used to minimize superficial fat, build muscle and tone and smooth the skin. Unlike traditional fat-removal procedures like liposuction, with CoolSculpting and Emsculpt, which utilize the most dynamic and advanced technology, there's little to no downtime expected. In fact, many of these procedures can even be completed during your lunch hour.
Wrightington loves what she does, both medical and cosmetic.
"From minimizing acne scarring to removing Melanoma, and everything in between and beyond," she says, "there are too many happy-ending stories to tell them all."
The team of doctors and technicians at Dermatology and Laser Center of Charleston work to build a customized plan to achieve the absolute best results possible for each and every patient and for each and every budget. Spa Facials start at only $95.
"We feel privileged to endure with the developing climate of skincare," says Wrightington. "With over 100 combined years of medical and cosmetic expertise, we strive for the utmost safety and care of our patients. Our patient's satisfaction and happiness are ours as well."