Merry Memories
08 Nov 2019
Celebrating traditions & holiday feasting
By: Kaitlin Gooding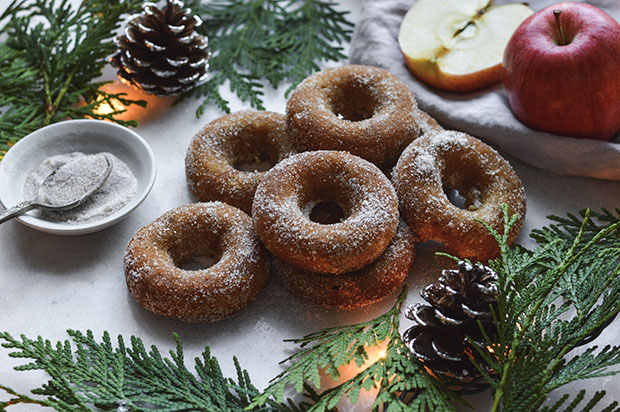 In the words of Frank Sinatra, "I'm doing my Christmas dreaming a little early this year."
Dreaming about the holidays often entails memories of food, intertwined with laughter, and shared around the table with family. Perhaps it's a decadent smell or the warm, rich taste of a dessert that transports you back to your grandmother's kitchen – a moment where you were taught to prepare a family dish. It's not always about whether the recipe is the best but is sometimes just about remembering and honoring tradition. In this issue, our intention is to share recipes that may be passed down and remembered for generations to come.
We often reserve rich and heavy foods for the holidays, making the season feel more indulgent. Let the enticing smells of apple cider doughnuts in a salted maple glaze, rolled in cinnamon sugar take you back to the excitement of Christmas morning. Allow the brussel salami salad to trick your taste buds into forgetting you're eating a vegetable. Cheers to your family with a fall spiced champagne in celebration of Thanksgiving plates piled high with cherry balsamic lamb chops. No matter which dish you choose to try, your guests will leave with feelings of nostalgia, remembering the smells, the taste, and the joy shared at your gathering. (Because who isn't happy after eating dark chocolate, orange panna cotta with pistachio crumbles for dessert?)
Fall Spiced Champagne
Serving: Makes one cocktail
Ingredients:
1 oz Cider

1/2 oz spiced syrup

Champagne
Spiced Syrup
1 cup water

1 cup sugar

2 cinnamon sticks

1 star anise
Directions:
Spiced Syrup: Mix sugar and water in a pot and bring to a boil, stirring continuously. Once the sugar has completely dissolved, reduce to a simmer for six minutes and add the cinnamon sticks and star anise.

Remove the pot from heat and let cool. Remove the star anise, cover, and let cinnamon sticks soak for at least two hours and up to overnight in the refrigerator.

To make the cocktail, add the syrup and cider to a champagne flute. Stir the mix and top it off with champagne. Add a star anise and an orange twist for garnish.
*Store the excess spiced syrup in the refrigerator for future cocktails.
Dark Chocolate Orange Panna Cotta with Pistachio Crumbles
Ingredients:
3 cups heavy cream

1/2 cup sugar

zest of 2 oranges

pinch of sea salt

juice of 2 oranges

1 drop of vanilla

1 packet of gelatin

1 ¼ bags (12.5 oz total) of 60% cacao dark chocolate (preferably Ghirardelli)

pistachios
Directions:
Combine one cup of cream and packet of gelatin in a pot and let sit for five minutes.

Slowly, add in the rest of the cream, zest of 1 ½ oranges, juice of 2 oranges, sugar, sea salt, and vanilla, then stir. Bring the ingredients to a boil and add 1 bag of chocolate.

Continuously stirring, remove from heat and let cool. Stir until chocolate is well mixed.

Allow mixture to cool to room temperature, pour into

individual containers

, cover, and refrigerate overnight.

Once ready to serve, you can melt the remaining chocolate in the microwave to drizzle on top. Garnish with chopped pistachios and zest of remaining ½ orange.
Brussel Salami Salad
Side Dish serves 4
Ingredients:
1 1/2 lb brussel sprouts

1/4 cup dried cranberries

1 tbsp olive oil

1 ounce of salami (diced)

1 tbsp raw honey

1/2 cup manchego

pinch salt/pepper

1/4 cup shaved macadamia nuts
Directions:
Cut the end of the brussels off and chop in half. Preheat oven to 400 degrees.

In a bowl, add the brussels, salami, olive oil, honey, manchego, salt and pepper, and toss.

Add to cast iron skillet and cook in the oven until lightly browned, approximately 30 minutes.

Once finished cooking, remove from oven, and add in macadamia nuts and cranberries.

Serve warm.
Cherry Balsamic Lamp Chops with Pistachio Pesto
Ingredients:
Marinade
1 tbsp balsamic vinegar

2 tbsp tart cherry juice

1 shallot (minced)

1 tbsp olive oil

1 tbsp brown sugar

pinch of salt/pepper

1 sprig rosemary
Pesto
1/4 cup olive oil

1/3 cup pistachios

1 tbsp honey

1 garlic clove

pinch of salt

1/2 cup mint
Directions:
Add the balsamic, cherry juice, shallot, olive oil, brown sugar, and rosemary in a bag with the lamb and let marinate a few hours or overnight in the refrigerator.

Heat a cast iron pan on an open flame to a moderately high heat, adding oil to the pan. Sear each chop 2-3 minutes per side or until browned for medium rare temperature. Add 2 more minutes for a medium to medium-well lamb chop.

While the lamb is cooking, prep the pesto. Add all the ingredients into a blender or food processor. Blend until smooth.

Let the lamb rest for a few minutes, then drizzle the pesto directly onto the chops, or serve on the side.
Apple Cider Donuts in Salted Maple Glaze Dusted with Cinnamon Sugar
Ingredients:
1 1/2 cups flour

1 tsp cinnamon

1 1/2 tsp baking powder

1 tsp salt

1/2 cup brown sugar

1/2 tsp baking soda

1/4 cup buttermilk

2 eggs

1/4 cup sugar

1 apple

1/4 cup apple cider vinegar

1 tsp vanilla

1 stick of butter
Salted- Maple Glaze
1/2 cup maple syrup

1/2 tsp sea salt

1 tbsp butter
Cinnamon- Sugar
1 cup sugar

2 tsp cinnamon
Directions:
Preheat oven to 350 degrees. Mix flour, cinnamon, baking powder, baking soda, salt, and sugar together. Slowly mix in the room temperature butter until smooth.

In a separate bowl, mix the eggs, vanilla, and apple cider vinegar together. Combine both bowls of ingredients together. Cut the apple into small, one-inch pieces and fold into the mix.

Spray doughnut trays with nonstick baking spray and pour mixture into the molds. Cook in oven for 12-16 minutes.

While doughnuts are cooking, prepare salted maple glaze. Add the maple syrup, butter, and sea salt to a pot and warm until the salt begins to melt. Add water if mixture is too thick. Remove from heat and let cool.

Mix cinnamon and sugar then set aside.

Dip the doughnuts into glaze and sprinkle cinnamon sugar mixture on top. Serve warm and enjoy by the fire.
Fall Shrimp & Grits
Serves: 2
Ingredients
1 cup grits

2 cups broth

2 cups butternut squash (cubed)

1 pear (1-inch slices, length wise)

1 tsp butter

1 tsp honey (drizzle)

1/4 cup pecans (chopped)

1/2 lb shrimp

1 shallot

1 tsp dried thyme

pinch of salt

1/4 cup blue cheese crumbles
Directions:
Preheat oven to 350. In a pot add grits, broth, and water as needed. Bring grits to a boil then lower to a simmer. Add butter and shallots into grits and cook for 25-30 minutes, stirring frequently and adding water as needed. Depending on the grain, the cook time can vary so cook until desired consistency is reached.

Toss the butternut squash in olive oil and cinnamon. Place squash on a cookie sheet and cook in over for 15-20 minutes, or until tender. (10 minutes into cooking time, roll squash around on the pan and let cook until tender.)

Add olive oil, shrimp, salt, and thyme into one bowl and toss until the shrimp is well coated. Add the shrimp mix to a pan and sauté on medium heat. Cook for about 2-3 minutes on each side of the shrimp.

Place pecans and pear slices into a pan. Drizzle a little olive oil and honey on top and cook for about 5 minutes or until pears soften and pecans are toasted.

Toss all the ingredients together. Serve in two separate bowls and top off with a pinch of salt and blue cheese crumbles. Serve warm.