(Not) Home for the Holidays
09 Nov 2018
Finding a Festive Haven in the Bahamas
By Katie McElveen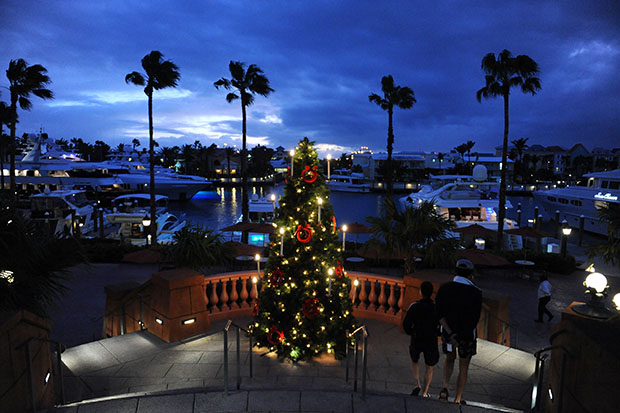 Maybe it's the work of decorating—and un-decorating—the house, wrapping the gifts and preparing a multi-course holiday dinner. Or perhaps it's the one time you can gather your family for a well-deserved warm-weather vacation. Either way, getting out of town for an island-style holiday celebration is a nearly foolproof way to enjoy a holiday season surrounded by friends and family instead of a pile of dirty dishes.
Daisy Miller, who runs Forest Lake Travel, a Virtuoso travel agency in Columbia, South Carolina, says that traveling over the holidays is a great way for busy families to spend time together. "Families used to live a car ride away, but these days, everyone is spread out," she explains. "If you're going to have to travel anyway, you might as well go to a resort in a beautiful tropical destination. That way, it's a vacation for everyone."
One island that's a natural choice is Paradise Island in the Bahamas. Located just across a narrow canal from Nassau on New Providence Island, it's one of the easiest islands to reach, offering jet service from most major airports (including Atlanta and Charlotte). Even better, both islands offer a full menu of both traditional and seasonal activities, letting you and your family revel in both Santa and the sun.
One of Paradise Island's most atmospheric (and multi-gen-friendly) resorts is the iconic Ocean Club, which has, over the years, hosted A-listers ranging from Frank Sinatra and Daniel Craig to Beyonce and Jay-Z; Kerry Washington, Angela Bassett and Cindy Crawford. Open since 1962, the resort was rebranded as a Four Seasons in January of 2018 but has retained its classic Caribbean style: broad green lawns dappled with hammocks, tall palms and Adirondack chairs overlook a wide, empty beach that fronts the electric blue Caribbean. Walking paths wind through the lush 36-acre estate and lead to the elegant colonial-style lobby building, where you can sip a martini at the same bar where James Bond ordered his in the 2006 movie Casino Royale.
There's also a lighted tennis center and a spa, which comprises individual treatment villas, each set within its own private walled garden. Three pools, including one set up for kids and one just for adults, mean you'll never have to get up at dawn to save your chaise lounge with a paperback and a bottle of sunscreen. Both the Four Seasons and Atlantis Resort, which is located just down the beach, offer access to the Ocean Club Golf Course, which was designed by Tom Weiskopf and features several ocean-view holes.
The resort is also home to one of the island's most unique features, the ruins of a 12th-century Augustinian cloister that the original owner had taken apart, crated and shipped from France. It was reassembled, piece by piece, and stands on a sloping hillside overlooking the resort's tiered Versailles-inspired garden, a dreamy space filled with koi ponds, marble statuary and hidden reflection gardens.
Most of the 107 rooms and suites have ocean views from private terraces; there are also a number of multi-bedroom villas and garden cottages, which give families a gathering space for meals, games and gift opening.
Holiday activities abound and include beach barbecues, special evening turndown amenities, an on-site craft market, a menorah lighting ceremony each evening during Hanukkah, seasonal cocktails and special meals for Christmas, New Year's Eve and New Year's Day.
Four Seasons guests can, for a fee, also access Atlantis, the 171-acre megaresort that's home to a water park set with 18 water slides, two mile-long river rides, 20 swimming areas, 11 swimming pools and a number of other diversions. The open-air, ocean-fed marine habitat is the largest in the world; underground viewing areas transform parts of the habitat into a giant aquarium, complete with scheduled feedings and opportunities for interaction, such as snorkeling and kayaking.
Beyond offering a wealth of typical vacation diversions—shopping, gambling, eating—the resort is surprisingly rich in cultural experiences as well. At the newly-opened Fish by Jose Andres, diners can taste (and learn about) lionfish, a predatory species that is decimating reefs throughout the Caribbean Sea and Atlantic Ocean. The ice-cream bar at the recently-renovated Coral Hotel celebrate traditional Bahamian desserts like Guava Duff and ingredients such as sea grapes, watermelon jam and allspice.
There are also outposts of beloved Nassau-based restaurants where guests can try traditional dishes and drinks, craft shops selling only items made in the Bahamas and a Bahamian story hour for kids. The most recent cultural addition is Sacred Space, a sculpture series featuring seven dancing women that was created by Antonius Roberts, a renowned Bahamian artist and sculptor. The work was sculpted using local Madeira wood and represents the intention of triumph, hope and determination and a vision to help conserve Bahamian heritage.
Atlantis goes all in for the holidays, too, starting with a Menorah lighting on December 2nd and continuing through New Year's Eve with a performance by the Grammy-award-winning artist Fergie. In between, there will be visits from Santa, kids' story hours, special menus and fireworks.
The highlight of Nassau's holiday celebration is Junkanoo, a Bahamian cultural expression that takes the form of a parade and festival on Bay Street. Drums, cowbells, whistles and horns create an exuberant sound track for dance troupes and parades that begin around 2 a.m. and last all day on December 26 (Boxing Day) and again on January 1st.
As the two most developed isles in the Bahamas, New Providence and Paradise Island are awash in ways to stay as busy as you care to be during your vacation. It may seem counter-intuitive to begin a shopping exploration next to the tourist welcome center near the cruise ship port, but Festival Place Welcome Center is worth time on your itinerary. Within the brightly-colored plaza you'll find more than 45 artisans selling authentic, Bahamian-made goods that range from baskets and other works of art to jewelry, textiles, food items, tea and clothing.
Rather taste the Bahamas? A food tour through Nassau with Tru Bahamian Foods will give you a chance to taste cracked conch, Bahamian fish chowder, conch salad, fried plantains, sweet guava duff and other island flavors, all served with a side of history. Afterwards, stop by Graycliff Hotel and Restaurant, where you can mix up a custom bottle of wine at Bahama Barrels, the Bahamas' first and only wine blending bar; learn how to roll a cigar (or just watch the professionals) and purchase artisan chocolate made on-site. Dinner, which is served in the 1740 mansion, begins with cocktails in the historic sitting room and, if you ask nicely, a tour of one of the largest private wine cellars in the world. The cellar can hold up to 18 for dinner as well.
Of course, you can always just hang out at the resort. "It's a rare treat for families to actually have time together that's completely unscheduled," says Daisy Miller. "An island vacation lets you enjoy your family and the holidays without any of the stress."
If you go:
Four Seasons Ocean Club:
fourseasons.com/oceanclub
Atlantis:
atlantisbahamas.com
Nassau and Paradise Island
nassauparadiseisland.com