Pain-Free Dental Visits
08 May 2018
Modern technology has made trips to the dentist a little easier with quicker procedures, comforting amenities and painless techniques
By BARRY WALDMAN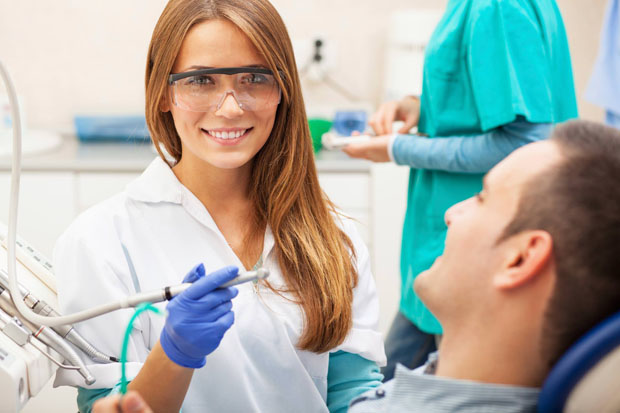 In order to truly convey the torture that the protagonist in the film Marathon Man was forced to endure back in 1976, the screenwriter's set him in a dentist's office. Viewers could easily identify with the pain and misery associated with the dreaded visit.
Today, nothing could be further from the truth. Better anesthesia combined with more humane patient care techniques have combined to make dentist visits not just painless, but—dare we say—enjoyable. Modern dentists can improve our smiles, while offering a warm beverage and a comfortable atmosphere.
Two area dental practices exemplify this new age of dentistry.
Now Serving… Everyone
Bring your entire family to Mt. Pleasant's Pleasant Family Dentistry and cover all your dental needs simultaneously. Six dentists and six hygienists provide comprehensive dental care that otherwise would require trips to various specialists, including endodontists, orthodontists, oral surgeons and pediatric dentists.
Pleasant Family Dentistry's goal is to keep patients for life and earned its five-star rating on Yelp by providing unbeatable caring and professional service. One key service is that their offices are open beyond regular business hours, including weekends and after school/weeknights for customer convenience. The second, and maybe even more exciting benefit is Pleasant Family Dentistry offers pain-free dentistry.
For Dr. Greg Johnson, he understands firsthand the need for it. While playing a game of intramural basketball during his dental school days, he encountered a stray elbow that required a root canal. The dental student assigned to him was attached to the offending elbow—but his technique made the process of injecting anesthesia painless.
The secret, he told Dr. Johnson, is to inject Novocain slowly because it's the pressure, not the needle that causes pain. Many dentists also distract their patients by flapping the cheek while giving the injection. "I get compliments for that all the time," says Dr. Johnson of the process.
At Pleasant Family Dentistry, doctors use cutting-edge technology for even the most common procedures. Their 3-D X-ray machine allows staff to see more of the mouth and teeth, and helps predict complications before they embark on procedures, such as wisdom tooth removal or implants.
The practice also employs Computer Aided Restoration—a robot that produces more precise-fitted crowns in just an hour-and-a-half, rather than in two visits over a period of weeks. A bridesmaid who recently broke a tooth came to the practice and had a new crown implanted in time for the next day's rehearsal dinner. That wouldn't have been possible without this new technology.
It's a tremendous convenience to have an entire family's dental needs handled in one office, Dr. Johnson says. It eliminates trips to multiple offices and streamlines bill paying and relationship-building. "In dentistry, we're seeing patients every six months, or more, and want them to come back," he says. "So we bend over backwards for them." 843-881-8881, pleasantfamilydentistry.com
Saving Smiles
Comedian Phyllis Diller called a smile "a curve that sets everything straight." Yet many people are embarrassed by their smile, either due to injury or naturally misaligned or stained teeth. Feeling self-conscious about a smile can affect a person's entire outlook.
Dr. Virginia Gregory specializes in smile makeovers that change lives. She bills herself as a dental professional with an artist's touch and it shows in her patients, many of whom are attractive young women whose teeth distract from their looks. Whether seeking love or a new job, these patients believe their smile is holding them back. Dr. Gregory offers the full array of improvements, from whitening to veneers and from Invisalign to full mouth reconstruction.
For others, a smile restoration is more than cosmetic. One forty-plus-year-old patient had ground down his teeth over the years, creating a ripple effect for negative health. It induced the muscles supporting his jaw to spasm, and he suffered chronic headaches and neck and shoulder pain. With the use of porcelain dental crowns, Dr. Gregory restored his teeth—and his well-being. His pain disappeared. The entire procedure required two visits over a month, but the results are expected to last 15-20 years, or a lifetime if cared for correctly.
Dr. Gregory leads an all-female staff in her Mt. Pleasant office that is dedicated to a comfortable patient experience. They offer a "patient concierge," coffee bar, blankets, personal music choices, videos, and of course, a pain-free experience.
"It would hurt me to know a patient was feeling pain while we were drilling," Dr. Gregory says.
The three-dentist practice includes a children's dentistry specialist and offers the full array of standard dental procedures in an office bathed in warm tones and dotted with high-tech equipment, such as a zoom whitening machine. Says one patient, "Dr. Gregory changed my life." 843-884-8884, virginiagregory.com