Playing at The Ritz-Carlton Lodge
01 Aug 2013
Go ahead, plan a trip that works for the whole family, or as one lovely romantic getaway
By Katie McElveen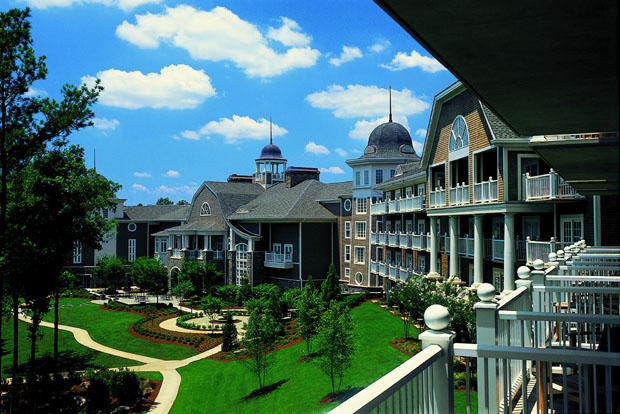 They had me at the caramel creams. Not a fancy new-style brand, but the old-fashioned tan-and-white chewy delights from my childhood, wrapped in the familiar crinkly cellophane. I had been at The Ritz-Carlton Lodge, Reynolds Plantation for less than ten minutes when I discovered them, in a giant glass apothecary jar in the newly renovated club lounge, surrounded by, what else, homemade cookies. To their credit, the staff pretended not to notice my near-constant visits for "ice" or "bottled water." They'd seen it before, I'm sure.
Those caramel creams weren't the only fun surprise the resort had in store for me. The next was my tour of the 30-acre property. On a Segway. During the drive in I'd noticed a few people zooming along the walking paths on the two-wheeled stand-up vehicles. If they could do it, so could I. And so could my husband Bill. After meeting "Segway Dave" who leads the tours, and easing unsteadily around the well-barricaded practice area, we took off, slowly at first, then gaining confidence. Before long, we were confident enough to chat with Dave, who gave us the history of the plantation as he showed us around.
Located in Greene County, Georgia (factoid: Greene County was named for Revolutionary War hero General Nathaniel Greene) Reynolds Plantation is part of what was once known as "Cracker's Neck." Mercer Reynolds, Sr., the local businessman who patented the process for solidifying cottonseed oil, acquired 7,000 acres of land in the early 1900s, referring to the tract as "Linger Longer" for its uncanny ability to compel visitors want to extend their stays. Coupled with the adjoining land owned by his cousin James Madison Reynolds, the family soon owned more than 10,000 acres. Within the property the family operated the Rock House, a hunting and fishing retreat. The land became even more valuable in 1979 when Wallace Dam was constructed and subsequent flooding of the Oconee River formed Lake Oconee. In 1985, the tract was released to the Reynolds grandchildren, who developed it into Reynolds Plantation.
Although the original cabin is still standing – it's now a nature center open to residents – it's been joined by hundreds of other homes within the huge property. Although most are second (or third) homes, there are enough full-time residents to keep the place from feeling like a ghost town. Even on a misty, cloudy day, we passed several walkers and joggers along the way.
The Ritz-Carlton Lodge arrived in 2002. The lodge itself is rustic, but perfect: the stone fireplaces are huge yet free of messy ash, wooden floors gleam, and no cobwebs dangle from the impossibly high wood-beamed ceilings. Plush furnishings set throughout the lobby are comfortable and inviting, even for kids, many of whom curl up and quietly play video games while their parents sip wine or coffee. Outside, a thicket of pines carpeted in soft pine straw opens onto a grassy meadow that leads to the lake. Trees struck by lightning have been carved into stunningly detailed sculptures of native animals.
The main hotel has 251 freshly refurbished rooms, but there are also six two-and-three bedroom golf cottages that come, in true Ritz-Carlton style, with their own barbecue butlers, who can whip up just about anything your heart desires on the grill. When we arrived at the marina, Segway Dave explained that Ritz Carlton guests can also charter pontoon boats equipped with chefs who can whip up a five-star gourmet picnic in a secluded cove. Dogs, who are welcome in the resort, can cruise along, too.
In addition to the Segway tours and boat charters, The Ritz-Carlton offers more traditional pursuits as well. The second-largest lake in Georgia, Lake Oconee is a watery wonderland, and the resort takes full advantage, offering fishing for bass, bream, catfish and crappy – with a guide or without – kayaking, stand-up paddleboarding, knee and wakeboarding, jet-skiing, water skiing and canoeing. There's a sandy beach for swimmers.
Beyond the lake, there's biking along the same trails we covered via Segway, tennis, indoor and outdoor pools, horseback riding, skeet shooting, a fitness center and a whopping 117 holes of golf. Unless it rains, each night ends with s'mores around the fire pit (tip from a barbecue butler: for the ultimate s'more, swap out the traditional Hershey bar with a Reese's Peanut Butter Cup). This summer, Sunday night concerts are being followed by fireworks; the resort is also offering a number of packages that include water sports rentals, golf, boating and spa treatments featuring summery ingredients like tea, watermelon and lime. During the winter, the emerald-green courtyard outside the lobby that hosted Carrie Underwood's wedding is transformed into an ice-skating rink.
Those 117 holes of golf are a huge draw. Within Reynolds Plantation there are six rock star-designed championship golf courses (Jack Nicklaus, Tom Fazio, Rees Jones), five of which are open to hotel guests. The courses have drawn honors from Golf Digest, GolfWorld and GolfWeek magazines for their impressive elevations, dramatic topography and green settings. Under the watchful eyes of original course architect Bob Cupp and former Augusta National superintendent Billy Fuller, Reynolds' first course, The Landing, is undergoing a renovation that includes hole redesign, new bunkering, the expansion of tee boxes and a new set of forward tees, as well as work on the cart paths and buildings. Moreover, much of Cupp's original atmosphere is being recaptured with the planting of peripheral ornamental grasses that evoke a links feel while adding shape and challenges to many holes.
We could have easily driven out of The Ritz-Carlton Lodge for meals – there are several clusters of shops and restaurants ten minutes outside the gates – but it didn't seem to make sense when there were so many options within the resort. Besides those caramel creams, the Club Lounge offered a Breakfast of Champions every morning that ran the gamut from healthy (fruit, cereal, homemade yogurt in cute glass pots) to decadent (sticky buns, eggs Benedict) and everything in between, including sparkly mimosas. Even better, everything was still fresh and hot when slackers like us showed up at the crack of ten in search of bacon.
Lunch offerings were soup, salad, sandwiches and something hot; we usually popped in for a cocktail and a nibble before dinner. Lots of high-end resorts have steakhouses and The Ritz-Carlton Lodge is no different: Linger Longer Steakhouse is carnivore bliss. For us, though, it was the details that made it special. We were thrilled to discover several well-priced wines on the list, and when Bill and I split a steak at the bar one night, the bartender never made us feel like cheapskates. In fact, he did the opposite, bringing us each separate side dishes when we should have had to share just one. There's also contemporary Southern favorites at Georgia's Bistro, which reopened in April after a complete re-do. The chef has worked hard to source ingredients from local vendors, and we could taste it. Salads were composed of greens too delicate and sweet to make a journey of more than a couple of miles and moonshine cocktails were a blast to try. At Gaby's by the Lake, which serves innovative, upscale bar food – think lobster grilled cheese and barbecue nachos – with views of the water, you can come straight from the pool or beach. No matter where we ate, though, the best part was the vibe. Local residents have made The Ritz-Carlton Lodge a gathering spot. As guests, we loved the fun and festive energy they brought to the restaurants, joking with staff, visiting with each other and chatting with visitors.
And then we had to leave. The quick drive back to Columbia – less than three hours – made it even easier to promise that we'd be back soon.
The Ritz-Carlton Lodge, Reynolds Plantation
One Lake Oconee Trail
Greensboro, GA 30642
706-467-0600
www.ritzcarltonlodge.com