Promoting the Country's Best City
04 Jul 2014
Linn Lesesne has long played a role in bringing visitors to Charleston
By HOLLY FISHER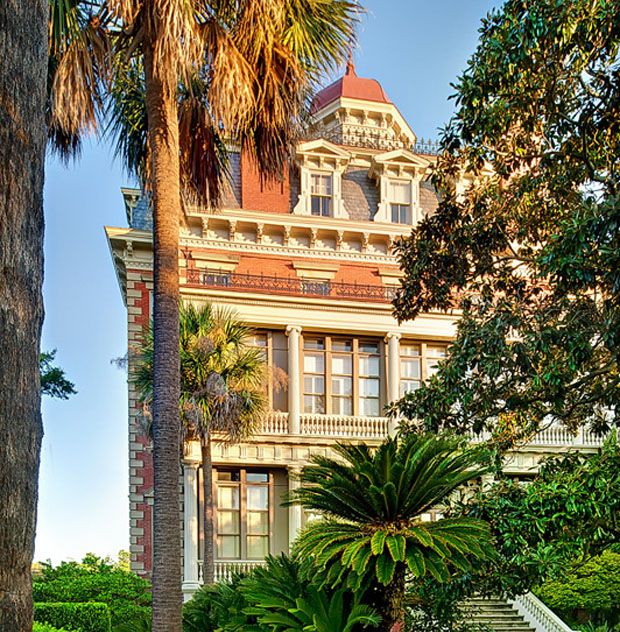 On a recent flight back to Charleston, the airplane flew directly over the peninsula giving Linn Lesesne a bird's eye view of her hometown, from Fort Sumter to the Ravenel Bridge. "I just said out loud, 'Wow! How lucky are we to live here?'"
Lesesne is fully aware of the magnificence that is Charleston, and she's spent two decades attracting visitors to her beloved city as she's marketed the family of Charming Inns properties.
Although Lesesne started in a Charleston hotel, her career in hospitality sales has taken her around the country. Her first job was at a Sheraton in Charleston (now the Marriott on Lockwood). She took the job while on a break from her studies at the University of South Carolina. That semester turned into a 34-year hiatus as she headed off to Boston to work at the Sheraton Hotels Worldwide headquarters and then Princess Hotels in Atlanta and for Crowne Plaza, opening a hotel near the airport.
Then she went west to Sheraton Park Central in Dallas. In the midst of all that, Lesesne married and had a son and a daughter. She took a break from the hospitality world, coming home to Charleston where she worked for South Trust Bank as a customer service representative.
A Charming New Offer
In 1994, Lesesne returned to her hotel roots when a friend suggested she interview with Rick Widman, owner of what was then Lowcountry Hospitality – a group of downtown properties including John Rutledge House, Fulton Lane Inn and Kings Courtyard Inn. Lesesne was hired as the sales manager and this September will mark her 20th anniversary with the company.
Lesesne got a little more than she bargained for when she took the job – but in a good way. She and Widman merged their personal and professional lives when they married on Dec. 31, 1999, blending her two children and his four children into a new family of eight.
Since then Lowcountry Hospitality changed its corporate name to Charming Inns, and the company grew its portfolio, adding the Wentworth Mansion and its on-site restaurant Circa 1886, along with Kitchen 208, a casual breakfast spot they opened in June 2013.
Other historic properties are the John Rutledge House on Broad Street, the only home of a signer of the U.S. Constitution that is both a living landmark and a bed and breakfast. Fulton Lane Inn is a private retreat tucked away on King Street and just a few doors away from Kings Courtyard Inn, an 1853 inn.
The gem of the Charming Inns group is the Wentworth Mansion, a 21-room luxury inn with Italian crystal chandeliers and hand-carved marble fireplaces. On the grounds of the Wentworth Mansion is Circa 1886, a fine dining restaurant situated in the mansion's original carriage house.
With half a dozen properties, Lesesne said she and Widman have their hands full and no plans to add more hotels or restaurants. Right now they are coming off a banner 2013 – the best year in the history of their properties, she said.
The success is a combination of forces led by the fact Charleston has been named the best city in the country for three years running.
"Charleston is on fire," Lesesne said. "It's a great place to live and a great place to visit."
Wine and Food Destination
Fueling that fire is the city's reputation as a culinary hotspot filled with world-class restaurants and chefs cooking up Lowcountry cuisine, unique creations and dishes loaded with local seafood.
"There was not a culinary scene here when I grew up," Lesesne said of the dramatic change in Charleston's tourism profile.
In the last decade, Lesesne and Widman have had a hand in growing Charleston's reputation as a culinary destination with their involvement in the launch of the Charleston Wine + Food Festival, which will celebrate its 10th season in 2015.
The festival continues to be a highlight of Lesesne's year. "It's Rick and mine's favorite weekend of the year," she said. "We always do more events than we should, but we love it."
While the ultimate goal of starting the festival was to see it grow into the incredible event it is today, Lesesne said she's not sure any of the original organizers expected the festival to become the world-renowned event it has.
In 2013, some 23,000 food and wine connoisseurs converged on Charleston for four days of foodie fanfare at what has been named one of the top five food and wine festivals in the country by Forbes Traveler. All the eating and drinking gave the Charleston economy a $10.7 million boost. Since the festival's founding, it has generated an overall economic impact of more than $22 million.
A poster from each festival hangs in Lesesne's office, a visible reminder of what Lesesne and Charming Inns have done for Charleston's tourism industry.
In addition to her work with the Charleston Wine + Food Festival, Lesesne is active with the Charleston Area Convention and Visitors Bureau, serving on the board of governors, as travel council chairwoman and as past sales committee chairwoman. She's also been part of the Les Dames d'Escoffier, a worldwide philanthropic society of professional women leaders in the fields of food, fine beverage and hospitality. Lesesne has been twice honored as a Golden Pineapple Award Winner from the Charleston Area CVB.
Seeing the World
When she isn't juggling multiple hotel and restaurant properties, Lesesne and Widman love traveling the world. With four of their children scattered across the country, they frequently head to Colorado, Chicago, Washington, D.C., and North Carolina for family visits.
Widman sits on the board of the International Luxury Hotel Association, which meets all over the country. Lesesne often accompanies him on trips, and this summer, they will head to Greece for a meeting.
"Traveling is our No. 1 passion," Lesesne said, recounting a trip to Singapore that led to visiting seven countries in 21 days. "We try to see as much as we can."
They often stay at small luxury hotel properties when traveling internationally as a way to see what other boutique inns have to offer, but, Lesesne said, they are also practical travelers. So don't be surprised to see them checking in at the Hampton Inn or Embassy Suites. "We're not hotel snobs," Lesesne said with a smile.
A Family Affair
Lesesne is always happy to return to Charleston and her home on the Isle of Palms. That sense of home and family runs deeply throughout the Charming Inns company as well. "Probably one of the coolest things about the company is that we have people who have been with us 30 years," she said.
Each of her and Widman's children worked for the hotels in some capacity over the years, and Widman's daughter, Michelle Woodhull, still works for Charming Inns as the vice president of marketing and revenue management. Other married couples work at Charming Inns, fostering a family environment Lesesne and Widman have worked hard to maintain over the years.
That family atmosphere keeps hotel guests and restaurant diners coming back again and again. Yes, new restaurants open regularly in Charleston and plans for additional hotels and inns are in progress, but Lesesne said that new competition is healthy.
Overall the idea is to simply bring people to Charleston with the idea they become repeat visitors. Besides, Lesesne said, those new hotels can't truly compete with Charming Inns properties.
"We have something that new buildings don't – 1853, 1886. We have genuine history that can't be created."