A twist on classic cocktails with the use of rosemary
Text and Photos by ALICE GOLDSMITH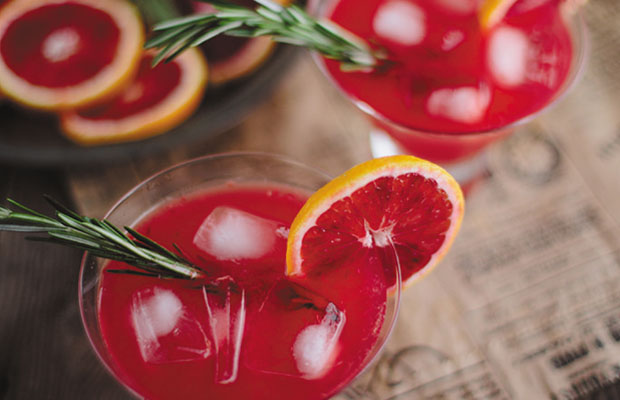 A small leaf that resembles a sprig from an evergreen tree, rosemary adds a refreshing twist on these age-old drinks. Though known for enhancing chicken, pork, lamb and salmon dishes, its piney flavor and tea-like aroma accents the alcohol in these drinks instead of overpowering them. By creating rosemary simply syrup, the cocktails are infused with a new and exciting flavor.
Blood Orange Rosemary Cocktail
Makes 2 Cocktails
1/2 cup blood orange juice
1/2 cup rosemary simple syrup
2 oz gin
Ice
1 rosemary sprig
Blood orange slices, for garnish
Pour blood orange juice, simple syrup and gin into a cocktail shaker. Shake until combined. Pour into a glass with ice, and garnish rosemary sprig and blood orange slice.
Rosemary Gimlet
Makes 2 Cocktails
4 oz rosemary simple syrup
4 oz gin
3 oz fresh lime juice
1 tablespoon sugar, for sugar rim
1 rosemary sprig, for garnish

Add sugar to a plate, run a lime over the rim of each glass and dip the rim in sugar to coat. Fill your cocktail shaker halfway with ice, add simple syrup, gin, and lime juice. Shake the cocktail for about 30 seconds. Pour cocktail into your rimmed glasses, and add a sprig of rosemary to garnish.
Rosemary Old-Fashioned
Makes 2 Cocktails
4 oz bourbon
2 oz rosemary simple syrup
2 dashes Angostura bitters
2 orange peels
4 cherries
2 rosemary sprigs
Fill a whiskey glass with ice. Squeeze wedge of orange into glass, and add the bourbon, simple syrup and bitters. Stir to combine. Add rosemary sprig and skewer orange peels and cherries to garnish.
Rosemary Simple Syrup
Makes 16 oz.
1 cup sugar
1 cup water
3-4 rosemary sprigs
Mix sugar and water in a small pot on medium-high heat until sugar dissolves. Remove from heat and add rosemary sprigs. Let sit and steep for 10-20 minutes. Transfer mixture to a sealable jar and store in refrigerator. Mixture should last up to a month.
Rosemary Roasted Potatoes and Onions
Makes 4 Servings
Ingredients
1 pound baby red potatoes, cut into 1-inch chunks
1 small onion, chopped finely
2 tablespoons vegetable oil
2 tablespoons fresh chopped rosemary
1 teaspoon fresh chopped thyme
1/4 teaspoon salt
1/8 teaspoon black pepper
Directions
1. Preheat oven to 450 degrees. Grease a large baking sheet with a rim.
2. Mix onion, vegetable oil, rosemary, thyme, salt and pepper in a large bowl.
3. Add potato pieces and toss to coat. Spread potatoes onto baking sheet in a single layer.
4. Bake 20 to 25 minutes, turning occasionally, until potatoes are lightly browned and tender.