Senior Lifestyles
05 Jul 2018
Senior living offers a new phase in our lives, with leisurely time and more time for family and friends, old and new. We feature several options in the Charleston area for independent and assisted living, where you can enjoy aging-in-place among like-minded people. Amenities and services run the gamut (all accommodate pets!), but what they all have in common is a dedicated focus of providing a quality of life that allows you, to be you, at any age.
By SYBIL FIX and BARRY WALDMAN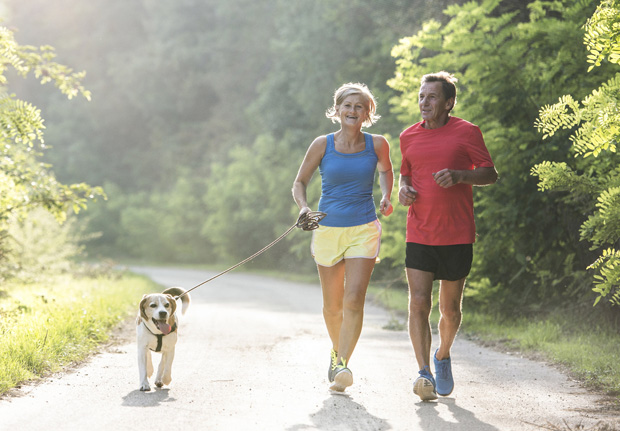 Franke at Seaside
843-856-4700
frankeatseaside.org
Imagine retiring into this: a fully active lifestyle in a beautiful community nestled among live oaks, and nearby to the Sea Islands and historic downtown Charleston. You live in a spacious apartment or cottage among likeminded people, with a host of activities at your disposal. Upkeep on your home is taken care of and if you travel, lock it and leave it—your home is maintained while you're away. Welcome to everyday life at Franke at Seaside, located in Mount Pleasant.
As you age, all your health care needs are covered at this retirement community. The full spectrum of living arrangements, from totally independent all the way through skilled nursing care, affords you the security of living in your own community as you age, no matter your needs. The staff already know you and your preferences and can care for you in a seamless experience through the continuum of care.
Franke at Seaside, first founded by the Evangelical Lutheran Charities Society of Charleston in 1892, is today on the cutting edge of retirement communities. "Life here is worry-free," says Mark Lee, administrator of Franke's Active Lifestyle Community.
Because Franke is faith-based and non-profit, every resident is the staff's top priority, not their bottom line. There are only 300 residents, allowing the dedicated staff to get to know each one on a personal and individual basis.
For energetic, independent residents, Franke offers a vibrant community of patio homes and apartments surrounded by stunning natural beauty.
What's on tap at Franke? The better question is: What isn't? Fitness classes, swimming in the aquatic center, shopping and eating at the Shoppes at Seaside, Bible studies, dinner parties, and so much more. And you haven't even left the neighborhood.
With programs targeted towards Franke's six dimensions of wellness—physical, emotional, intellectual, spiritual, social and occupational—residents are consistently enriched and afforded opportunities on the path towards fulfillment.
For those seeking a higher level of support, but still a degree of independence, there is Franke at Seaside's assisted living. Residents continue to take advantage of spacious living quarters while enjoying assistance with activities of daily living.
For those residents who require health care assistance, Franke at Seaside offers individualized rehab and skilled nursing care in a nurturing and homey environment. The highly-skilled team at the Keil Healthcare Center on campus, partners with Lutheran Hospice and on-campus Memory Care to provide those options when needed.
What makes Franke at Seaside different from other Continuum of Care Retirement Communities? "The family atmosphere," says Allison Macfie, Director of Memory Support. One resident told her she felt "the presence of God here the way the staff communicates and treats people."
In fact, a staff initiative called Five to Thrive encourages every employee to take five minutes every day, to stop and do something special for a resident. That could be anything from a warm conversation to a helpful hand with a problem.
"What do you think about coming in the door and getting a hug?" asks one resident. "You'd better be ready for it because that's the way it is around here."
Wellmore of Daniel Island
843-566-1000
well-more.com
Wellmore of Daniel Island, which opened its doors in March, prides itself with offering Charleston's Island Town's first luxury accommodations. Located adjacent to the Daniel Island Club in a picturesque setting overlooking Beresford Creek, its philosophy is rooted in the idea of a "weller lifestyle."
"Our focus is on improving the lives of our members, no matter their age or their health," says Executive Director Ashley Seeds.
The lifestyle at Wellmore is designed to help residents maintain important relationships with friends and family, while living in an environment that sustains both health of body and mind. At Wellmore, they "celebrate" their residents!
Three main components make up the power of the Wellmore lifestyle, Seeds says: the dining program, the wellness program, and the quality of the continuum of care.
The Daniel Island retirement community has one of the finest restaurants in the area, and residents have standing reservations every night. Other than emphasis on variety, Wellmore offers guests gourmet dining and handcrafted cocktails at no mark-up; a restaurant approach to food (no cafeteria in sight); culinary-school graduates who prepare meals daily; bartenders, a fully stocked bar, and wine list; a bistro with a wood-fired pizza oven and open concept kitchens; table-side entertainment with the resident chefs; and a registered dietician on staff.
"We really focus on serving fresh, healthy foods, which many programs do not offer," Seeds notes.
Fitness is equally as important. While aging is inevitable, Wellmore puts much emphasis on the role that exercise can play in aging more comfortably and maintaining a quality, physical and mental state of life. As the body gets older, one's outlook can stay young.
Among the top features of the Wellmore fitness program are its indoor heated, saline pool, a $3-million private wellness center, a luxurious on-site salon and spa—which tailors treatments to the residents' age, diet, and stress-specific health and beauty needs—and a curated social lifestyle that encourages families to visit often and spend time.
Last, but certainly not least, Wellmore embraces the motto, "Never move again!" On one campus affording 186 residences, the community offers assisted living, memory care, rehab services and skilled nursing. Once residents move to Wellmore, they have every service they need to never have to pack those moving boxes again. They will find the perfect place, at the perfect time of their lives in Wellmore's continuum of care.
"No matter what a senior needs, we can offer it," says Seeds. "Residents can move down the hall and still be surrounded by familiar faces, even as the level of care they need increases."
For affordability, Wellmore offers a simple pricing system without hidden costs or surprises. Its price is based entirely on the chosen apartment or space—such as a studio vs. a two-bedroom assisted living apartment—and does not feature added costs if, for example, a resident begins to need more assisted living services. This more transparent form of pricing cuts down on stress for residents and their families and frees up time and peace of mind to enjoy family, friends and life.
Overall, Seeds says, "We have a beautiful community here... There could not be a more picturesque location. The community is bright and light with lots of windows and is very welcoming." She even compares living at Wellmore to residing in a luxury hotel. "Here you are cared for and taken care of."
South Bay at Mount Pleasant
843-352-4986
southbayatmountpleasant.com
Opening in September, this luxury retirement community offers a range of residences and facilities to accommodate every retiree's needs, in the beautiful, coastal Mount Pleasant.
South Bay will provide rental opportunities for independent living as well as assisted living and skilled nursing/memory care residences. In all, it will offer 263 apartment homes through which residents can transition seamlessly, depending on their changing needs—all of which will be located in a wide variety of elegant apartment homes with thoughtfully designed plans.
One- and two-bedroom residences are available—some with dens and extra space—all designed to be upscale in detail, but maintenance-free and easy to manage. Essential services are offered on the same campus, allowing for a full range of skilled nursing and rehabilitation services—for those who need them. These services will accept all forms of insurance, guaranteeing that care can be provided right at home, says Sales and Marketing Associate Jennifer Smith.
In addition, South Bay will serve as a residency rotation location for students in the Medical University of South Carolina's gerontology department, lending this retirement community a bit of a medical leg up.
Located on 27 acres in a centrally-located mixed-use area of Mount Pleasant, well south of the Isle of Palms Connector and within minutes of Coleman Boulevard and Highway 17 North, the retirement community is convenient to shopping, beaches, and all the other great entertainment options that Charleston offers. South Bay will be as attractive to residents of the community as it will be to their family members and friends, Smith says.
"It's great for grandkids to come by and for friends to visit," she adds. "We have a nature preserve and paths around the lake, lots of wooded areas and flora and fauna… and we're in the thick of all the golf, too!"
Star features among South Bay's amenities, which will be the hub of community living, are a lovely indoor pool, an active wellness center, an onsite spa, numerous dining venues, and a full staff dedicated to providing exceptional programs and concierge-type services. Restaurants within the South Bay community range from casual to fine dining, and activities include everything from yoga and tai-chi to classes and outings in the Charleston community.
The exercise programs and wellness center are also key to South Bay's mission. "Ninety-percent of our residents participate twice or more a week in our wellness programs and through exercise have regained use of their bodies, gotten rid of a cane or a walker, and recovered successfully from injuries or other conditions," Smith shares.
Relaxation and downtime are part of the well-balanced life that South Bay intends to offer. Says Smith, South Bay's mission is to provide "healthy-living quality of life for people who are ready to jettison the responsibility of home and yard, and who wish to travel and be freer to do what makes them happy."
Somerby of Mt. Pleasant
843-849-3096
somerbyseniorliving.com
The picturesque Somerby of Mount Pleasant offers 252 apartments and villas for independent living, assisted living and memory care, tucked amidst the green and bustle of the surrounding Park West communities.
The philosophical approach of Somerby is "Discover Your Spark®," which promotes a lifestyle rich in opportunities. It supports positive choices, honors and fosters meaningful relationships—both among residents and the residents and staff—and encourages activities that maximize possibilities and options for residents, inspiring them to stay vibrant and empowered, says Christie Gauldin, Director of Sales and Marketing.
"Our mission is to positively impact the lives of our residents and their families each and every day," she adds.
Life at Somerby is constantly directed to inspire residents to "go for it", so they can stay vibrant and engaged into their golden years. This approach includes participation in a variety of activities that connect residents to the greater Charleston community and take advantage of the local amenities, as well as exercise programs, speakers, and theater programs that foster mental engagement, relationships and exchanges, and, of course, fun.
The idea is to create an environment and community that are full of life and that encourage the residents' friendships and familial relationships, social and mental interactions, histories and traditions.
Somerby's spacious and elegant Château Restaurant offers a white-linen, upscale dining experience, with meals prepared by professional chefs. Somerby Dining offers a variety of options at every meal. Our chefs outsource local ingredients and prepare delicious meals with seasonal flavors making nearly everything from scratch.
With a total of 270 residents, each of Somerby's living environments is staffed at all times with a licensed nurse and security. Independent living residents may contract for concierge home-care services, as needed. Somerby offers an easy, all-inclusive flat rate for care provided in assisted living or memory care apartments, such as skilled nursing, therapeutic services, medication management, and assistance with personal care.
Of course, Somerby has central social spaces for entertainment and exercise—a heated saltwater pool, a movie theater, a billiards room and game room, an in-house salon, a fitness center, an arts studio and a library. And let's not forget about Fido―a new dog park is now available on-site so your best friend can enjoy some outdoor time as well.
Bishop Gadsden
843-762-3300
bishopgadsden.org
As Charleston's oldest high-end retirement community, Bishop Gadsen is distinguished by its longstanding roots in the community, as well as a mission to do good.
Located on the rich marshlands of James Island, which is itself a notable attraction, Bishop Gadsden dates back to the establishment of the Episcopal Church Home by Bishop Christopher Gadsden in 1850. Since then, the community has become home to nearly 500 residents who live in independent apartments and cottages, as well as spaces allowing for assisted living, skilled nursing, and memory care.
This thriving life care retirement community embraces a model of continuum of care that accommodates all levels of need—including skilled nursing settings, dementia and Alzheimer's care and Hospice (which is contracted and available).
"Residents can move easily through the continuum," says Kimberly Borts, Director of Charitable Giving and Communications. "Each area works very hard and collaboratively to maintain the quality of that life and to ensure that each resident has the ability to have culture and stimulation in their life."
Indeed, Bishop Gadsden prides itself on spectacular living facilities, health-minded food, stimulating intellectual activities such as lectures and concerts, and access to state-of-the-art exercise facilities. It also offers top-notch, vital services, such as recovery after surgery, bathing/dressing assistance, medication reminders, transportation, light housekeeping, meal preparation, errands and assistance with pets.
Most essential to Bishop Gadsden's core is a spirit of giving and service that links and transcends all styles of living in the community. One of its distinguishing features is a call for volunteer service and fundraising that gives life at Bishop Gadsden a mindful culture and a greater connection to Charleston as a whole.
"We have a mission-based culture and we have held to that mission since we were founded," explains Borts.
Because of its renowned and established roots in Charleston, Bishop Gadsden has a waiting list, but don't hesitate to call and inquire about getting on it. This just means it's a great place to be! "Not only are we an area destination for residents of Charleston," says Borts, "but because Charleston is such a destination city, we are seeing people come from outside of the area who think retirement living is the best option for them, and they decide to move right here."