The Orange Pomander
02 Nov 2023
Sweet citrus pairs up with spicy cloves in a beloved holiday tradition
By Wendy Swat Snyder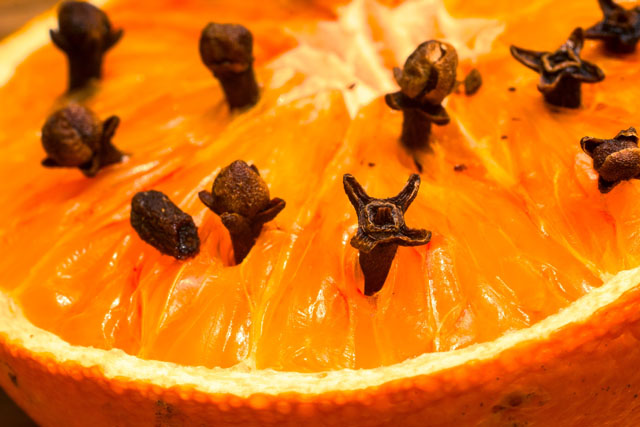 We're not talking about a Blood Orange Pomander, a craft cocktail that honestly sounds like a bit of mixology magic to be experimented with in the near future. We're talking about the centuries old craft of pomander making—a pairing of an orange with the spicy kick of cloves to produce a heavenly scented piece of décor that perfectly captures the essence of the winter holiday season. These simple yet striking ornaments were among a host of natural decorations used in early America before the advent of tinsel and twinkling lights.
Think about it: There's nothing like a sparkling glass bowl piled high with oranges and lemons to add a pop of color and texture to a space—whether on your own table setting or on the television set of Giada De Laurentiis on Food Network. The brightness of citrus fruit is a natural go-to and a cost-conscious and eco-friendly way of zhushing up any surface. Add some spice and a few pine cones and you've got a stunning centerpiece that costs pennies to make.
The pomander, from French pomme d'ambre, i.e., apple of amber, dates back to the Middle Ages, when its perfume was used to ward off disease. So-called witches used them for good luck spells, piercing the oranges with cloves—the dried aromatic flower buds of an evergreen tree in the family Myrtaceae, Syzygium aromaticum. Today, as back then, the fruit ages, releasing a heady scent that envelopes the space. Whether strung from a tree or tucked in a drawer, the pomander is a nature-made symbol of holiday cheer.
The fact that the South's cool months are harvest time for citrus is a timely coincidence, on-track for gathering the tools you'll need for building a batch of these simple yet beautiful winter season creations.
And happily, oranges are no longer the sole dominion of Florida. Georgia planters are growing a robust industry, and the mild winters of South Carolina are encouraging fruit production by folks like Harleston Towles, whose Edisto-based Rooting Down Farm recently planted satsuma, Meyer lemon, and ruby red grapefruit under a canopy of pines to help protect the trees from frost. Simply Citrus Nursery in the Midlands has been producing cold tolerant varieties for a couple of decades.
The Charleston area once boasted tens of thousands of Seville orange trees planted in the 1680s on plantations like the one near what is now Orange Grove Road in West Ashley, according to Dr. Nic Butler, historian at Charleston County Public Library.
Any good-sized citrus fruit is suitable for making a pomander. (I've used navel oranges effectively). Add whole cloves and a few toothpicks to your stock of oranges—these are the total ingredients you need to get the party started. Consider the gifting potential of the pretty pomander before you head to the market for supplies. They make nifty stocking stuffers, secret Santas—I once crafted a batch for my daughter's classmates paired with a Cadbury chocolate orange. Next, pull together a group of friends and family for a fun DIY experience, or go solo for one that borders on meditative.
Now, let your creative juices flow with the placement of the cloves—think spirals, zigzags, longitudinal and latitudinal lines—decide on a pattern and use a marker to map a template on each individual orange to keep placement orderly. Use a toothpick to pierce the skin of the fruit, then gently insert a clove into each small hole. Let the fragrant aroma of spice meeting citrus envelope you to complete the sensory experience.