Warming the Heart
02 Jan 2019
Whether it's a lifelong condition or surprisingly new symptoms, heart health should always be taken seriously. Here three local survivors of cardiac arrest share their stories of caution and courage.
BY SYBIL FIX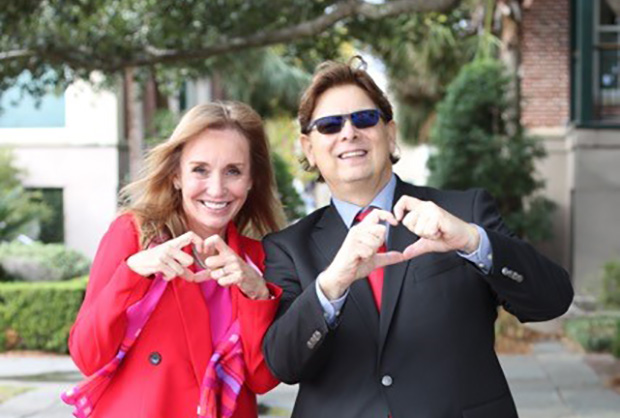 When it comes to cardiac events, we love the stories of survival. Some are by heroic measures, while others teach us that luck plays a big hand in whether we are alive or not. No matter the method, every story serves as a caution for us to listen to our bodies and treat ourselves with greater care.
On occasion of American Heart Month, we share the stories of three people in the local area who suffered or were on the verge of suffering life-altering cardiac events and who, all told, are fortunate to be alive, either because the circumstances of the event made it possible for them to be saved, or because the event brought to light an underlying and potentially fatal condition that otherwise might not have been found.
In matters of the heart, together fate and medicine can bring about miracles.
Linking the Symptoms
It was an early evening in late April, hot and sunny, and Rob Norvelle was playing mixed doubles in a league at the Volvo Family Circle Tennis Center with his wife, Donna. She was at the net and he was getting ready to serve when he felt a slight sense of lightheadedness.
The rest is a dark tunnel.
"I just dropped to the clay court like dead," recalls Norvelle, 60, of Mount Pleasant, "and all told I was dead for nine or ten minutes."
He had gone into cardiac arrest—which differs from a heart attack in that his heart had stopped—and he was kept alive through CPR from bystanders, shocks from an AED, a defibrillator found on site, and a screaming race to the hospital.
While in the case of a heart attack, the heart is starved of blood and oxygen, which can leave the heart damaged. During a cardiac arrest the heart stops beating entirely, shutting down all organs and causing death within minutes. The two are related in that a heart attack can cause cardiac arrest—just like it did for Norvelle—as can drowning, electrocution, severe blood loss, and strokes.
At the hospital, Norvelle was found to have near total blockage of his proximal left anterior descending coronary artery, which is also referred to as the "widow maker" because blockage there leads to near certain death. Doctors were able to clear the blockage and insert a stent. In the meantime, they also discovered that he had congenital bicuspid aortic valve disease (a valve with two outflowing cusps rather than three), an inherited and rather common disorder that limits blood flow from the heart to the aorta and causes damage to the aorta as well. That valve was replaced a year ago through open heart surgery.
Dr. Terrence O'Brien, who is' Norvelle s doctor and a cardiologist and professor of cardiology at the Medical University of South Carolina, said his patient's entire cardiac experience was ringed by good luck.
"Not only was he in public when he went into cardiac arrest, but he had sophisticated bystanders who knew what to do. The tennis center had an AED that kept him alive .... and he was lucky that the valve was discovered," he said. Norvelle might have had symptoms later on, but, Dr. O'Brien adds, his aorta might have ruptured.
Looking back, Norvelle, who has since retired as a bank executive, recognizes feeling tired before the cardiac arrest—worn out, he thought, by too much work and travel. In retrospect he realizes that his body was talking to him; something was not right.
Now he is writing, drawing and doing work on behalf of the American Heart Association, "trying to pay it back," he notes.
"I am absolutely doing well. My heart is in perfect condition. I am back to playing tennis, and I can hang with the best of them," Norvelle says.
Lifelong Diagnosis
Terri Hix, 54, of Mount Pleasant, also suffered cardiac arrest, last year.
The event did not happen in a vacuum: Among other things, Hix was born with a hole in her heart—which she had an operation to repair when she was a teen. But years later her heart began to show signs of distress again.
Doctors diagnosed her with A-fib, or atrial fibrillation, a form of heart arrythmia—in spite of a very slow resting heartbeat—and she underwent cardioversion, a procedure by which the heart is stopped and shocked into a normal rhythm. Another cardioversion followed in 2016, and when a year later her cardiologist attempted to put her on a drug to regulate her highly symptomatic A-fib, she went to sleep and flatlined. She ended up in the ICU for five days.
Some peace followed, but then, a year ago, after suffering the sudden loss of her beloved dog, she went into cardiac arrest while sitting in her car waiting for her husband at the dentist's office. She was lucky to be rescued in time and to recover fully from the event, but she ended up with a pacemaker to which she says she has finally become used to.
Hix's story, like Norvelle's, ends well: Her doctor was able to put her on the medicine she needed; her heart beat is regular; and she is back to playing tennis. Oh, and she got a new dog, a Golden Doodle puppy named Reggie, who makes her heart glad.
"It's still weird to think about the miracle that it is of how it all played out and that I am still alive," Hix says. "But it's all good."
All told, Hix and Norvelle are extremely lucky to be alive. In the United States only about 10 percent of people who suffer cardiac arrest outside of a hospital survive and of those, only 8 percent with good neurological function, according to the AHA.
Congenital Conditions
Thomas Glenn also is rather miraculously lucky to be alive, in spite of his tender age of 19.
The sophomore at Winthrop College was 15, sprinting during track practice, when he began to feel faint, tingling and short of breath. He sat out practice for a couple of days, as a precautionary measure, but a wisely scheduled visit with a cardiologist and a series of tests determined that he had a severe congenital condition: an anomalous course and origin of his right coronary artery, which provides blood to the right ventricle of the heartand the cells in the right atrial wall.
The condition means that the artery is narrow and can be further narrowed and compressed between the aorta and the pulmonary artery, thus restricting blood flow. Undetected, and particularly during strenuous physical activity, this can cause sudden heart attacks. In fact, it is the second-leading cause of sudden cardiac deaths among young athletes in the United States, according to the Texas Children's Hospital.
The diagnosis was quickly followed by open-heart surgery and then a slow, agonizing recovery. His body slouched in pain, Glenn recalls, getting back on the sports field required a re-learning and rebuilding of his body's abilities and strength.
"They said I would never play sports again, and that really hurt because I was so young," Glenn admits. "It took a lot to get back in shape. Sometimes I would even wonder if it was worth it to fight the pain."
Now, three years later, he says, "It was worth it. I am back to where I was supposed to be. ... I was really lucky. All those incidents when football players collapse on the field—I would have been one of them."
Indeed, because anomalous aortic course and origin are often asymptomatic—and sometimes diagnosed only at autopsy—said Dr. Minoo Kavarana, the congenital cardiac surgeon at MUSC Children's Health who operated on Glenn. His patient was lucky to have the symptoms he had and to have taken them seriously.
Though many people born with this condition live with it unscathed, Kavarana says, in matters of the heart, "it is always better to have luck on one's side."
A word of wisdom from it all: Beware of how you feel, and if you have a congenital heart disorder or condition, be vigilant and stay on top of it. Also, get regular checkups, exercise, keep your weight down and monitor your blood pressure.
"There is a lot of prevention that can be done, and if you do those things, you are a lot more likely to get warnings," Dr. O'Brien says.
Additionally, if you do have a cardiac event and you are lucky enough to survive, remember to give yourself time to recover, and your family and your friends' time to adjust to the idea of having nearly lost you.
"It's normal for folks around you to be overly protective and to wonder if you are pushing the boundaries. You yourself question your ability to recover," says Norvelle, who for months after the cardiac arrest suffered from frightening nightmares. "There is definitely a normalization period."