Welcome to the 'Wrens Nest'
04 May 2021
Award-winning historic preservation in Cannonborough Elliotborough
By Rob Young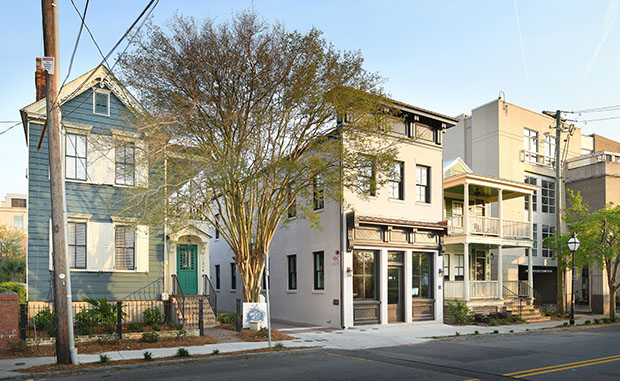 To view the Wrens Nest -- a collection of five buildings within the Cannonborough Elliotborough neighborhood -- one might be curious about the original vision.
"I was aiming to initially build an office," Tift Mitchell jokes. "Turns out, this might be the most expensive office in the history of mankind."
Alas, it's more than an office, the infill development comprising 11,000 square feet and a quarter acre of property on Cannon Street in downtown Charleston. The center building represents a mixed-use commercial space also housing Tift's office.
One building was brought back to life as a single-family home, and the rear houses are new structures created to be short-term rentals. The last building is the centerpiece, the rehabbed property at 133 Cannon, and winner of the Preservation Society of Charleston's prestigious Carolopolis Award. The designation is given to extraordinary properties that represent the very best in preservation projects.
"We're sentimental about this project," says Tift's wife, Taylor, who did the interior design. "We poured our hearts and souls into it, and we hope that it shows through in the final product."
Purposeful Rehab
Really, it just made sense. Expensive sense, sure, but also new, purposeful sense. Mitchell owned the property at 131 Cannon, which he originally bought to serve as an office space. But he quickly found the land couldn't accommodate his plans.
"We were short a little bit of land to build an additional structure," Tift says. "We thought it was large enough, but it was 100 square feet short."
So they ended up investing in the house next door, buying the property in 2017. Then, it was a boarded-up, dilapidated structure only steadied by support beams. The Mitchells wanted to make sure the project fit into the Cannonborough Elliotborough neighborhood.
"We were in a four-story height district. We could have done another hotel or build tall structures," Tift says. "But we wanted to stay within the fabric of the community and the specific nuances the architect wanted on the exterior. We wanted to keep the feel of the neighborhood. An apartment building would have been similar to one that could have been in Atlanta or Charlotte. But our process was better, and the end product was much better."
New World Byzantine
Enter Andrew Gould. The building designer proved to be a catalyst for the project. Gould, who owns the New World Bynzantine home design consultants studio, specializes in designing residential buildings in the Charleston historic district.
"He is, for sure, the brains behind the project. He deserves the most credit for what we've done," Tift says. "Our business partners have become dear friends and remain a stronghold behind the scenes."
Among Gould's previous projects: Edmund's Oast Exchange; the historic Mugdock Castle on Sullivan's Island; and several sacred spaces, including Orthodox churches and monastery chapels. He's known as an emphatic proponent for traditional design and authentic materials.
"I would go to the neighborhood meetings with my previous project. I would try to get approved and Andrew would often squash it. He was very vocal about what should and shouldn't happen," Tift recalls. "So we decided to hire him for this project. His design is really cohesive. He's not motivated by money, which was surprising. If he thinks a design should be a certain way, he fights for that."
One only has to look to the exterior to understand. "Each piece of siding is mitred within specifications of the 1800s," Tift explains. "It's twice as labor intensive as new construction."
The Mitchells also partnered with builder Travis Arnett to construct the complex. His practice, Arnett Construction, focuses on residential and commercial properties. His work has included projects such as Vintage Lounge, Charleston Beer Works and Ellis Creek Fish Camp.
"The Carolopolis Award belongs 100 percent to Andrew and Travis," Tift says. "We just had really good people in place to execute the project."
Naming the nest
Tift arrived in his career in a roundabout manner. He focused on travel during his younger years, attending junior colleges and eventually finding himself at The College of Charleston. As an English major, he moved to Thailand following graduation to teach English as a second language and pursue an interest in rock climbing.
"I used to be into rock climbing a lot, and I saw an article in a magazine of a person hanging off a rock at a beach in Thailand. I found the climbing first, and bought a one-way ticket to Thailand," Tift recalls.
He returned to South Carolina, took his time graduating from The College of Charleston and began working at Lennar Homes, starting as an assistant warranty manager helping homeowners carve through their punch-lists. He spent time as a builder and then in sales.
"I experienced some success, but it could also be miserable," Tift says. "Taylor and I had just had our first child and I'd work all weekends. I had started to make some money but was unhappy."
After a stint at another real estate company, he started his own company—Tift Properties.
"It was a big and scary leap of faith, but it's what I wanted," he says. "I try to work really hard for people and put myself in their place. Then I'll reinvest the capital from sales into personal investment opportunities."
Similarly, Taylor experienced a career renaissance of her own. A talented creative, Taylor attended graduate school at The Citadel and worked as a school psychologist for 10 years. Once Tift started Tift Properties, she put 100 percent of her focus towards helping him launch his business.
She began furnishing properties, starting with the Wrens Nest, and realized she had a knack. She recently began her own design studio, Reason + Rhyme.
"I was always interested in design," Taylor says. "I grew up loving it and through the Wrens Nest, I found the confidence to go for it as a career. I want to stay true to my philosophy and help all who may need interior design help, or to get an amazing space on a budget."
The couple first met through mutual friends while students at the College of Charleston, both working in the food and beverage industry. "We fell in love with the city and never left," Taylor says.
As for the Wrens Nest—it was an easy moniker to conceive. The Mitchells named the Nest after their 9-year-old daughter Wren. They hope to be lucky enough to have another project in the future to name after their 4-year old son Charlie.
The Finish line
Tackling an award-winning historical preservation project wasn't an easy journey, but it was worth it. COVID-19 greatly affected the projects and deadlines. The build also necessitated several rounds of reviews from the city's Board of Architectural Review and the Technical Review Committee.
In the end, it was worth it. The renovation to the Carolopolis Award winning structure, which consists of four bedrooms and three-and-a-half bathrooms, features new hardwood floors, high ceilings and architectural antiques.
The front porch gives way to a bright, airy living space, which showcases modern interior design, and the original, exposed brick fireplace. Large bay windows provide natural light, while furnishings include a modern flare.
New stone sink countertops, tile flooring, and fixtures adorn the bathrooms, and the kitchen enjoys a rustic, modern feel with a fully-exposed wood wall from Taylor's family farm and new stone countertops as well.
Just like the main building, the twin homes behind it were each meticulously planned and crafted. "There's a different feel for each house on the interior," Taylor says. "One house is very whimsical and pink, and the other twin is very dark and bold."
And perhaps there are similar projects to be cast in the future.
"Now that we've had success in this one, we're going to actively pursue mixed-used projects and urban infill development," Tift says. "Now with our experience, I think we could do it more efficiently and with less stress."
Vendors
Building Designer - New World Byzantine
Developer - Tift Properties
843-514-8566
Interior Design - Reason + Rhyme
843-860-4121
Insta @reasonandrhyme_chs
Arnett Construction
843-271-8668