Whimsical Windermere
04 Mar 2023
Artfully curated West Ashley home is filled with wonders
By Leah Rhyne
Photos by Jim Somerset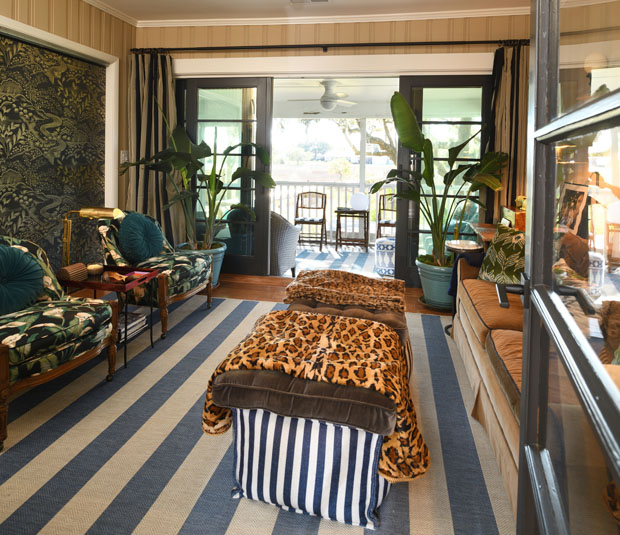 In the heart of West Ashley's historic South Windermere neighborhood sits the 2,200 square foot home of Scot Park and David Widmer.
After purchasing it near the start of the pandemic, the couple transformed a midcentury modern bungalow into a whimsical showpiece, blending their combined eight decades of design experience into an eclectic blend of Art Deco, Hollywood Regency and something else entirely their own.
From certain angles, the house feels a bit like a tumble through Alice's Wonderland, in the best possible way.
A COVID Project
Despite having worked in the same industries in the same cities (New York, Atlanta, and Washington, DC) for over 40 years, Park and Widmer have only been together for six years. Their ease together and ability to finish each other's' stories, however, belies that fact. They seem like they've been together forever.
Their house, too, gives the feeling of it having been theirs for far longer than the three years they've owned it. Every nook is styled; every cranny is filled. That's not, however, to call it cluttered. Quite the opposite, in fact. It is artistic, carefully and lovingly curated with pieces that reflect the couple's diverse interests and divergent styles. Park, a lifelong interior designer who has been known to (silently, he promises) rearrange furniture when he enters a room, is responsible for the "dark, heavy furniture," he says, while Widmer brings flourish to their spaces.
The house was built in the early 1950s by one of the original founders of the South Windemere neighborhood. Architectural touches like shapely archways and carefully laid out rooms made for beautiful bones. Park and Widmer bought it in 2020 when a doctor advised them to leave the elevation of their Folly Beach home.
"My doctor told me I needed less stairs…" said Park.
"…and our Folly house had seventeen stairs just to get inside," added Widmer.
Their bungalow has only a few small steps up and down into different rooms, and is much easier to navigate. When they bought it, though, it was a little in need of love. It had been recently renovated, but only superficially.
"Imagine if a doctor told you that you needed major heart surgery, but you got a facelift instead," explained Widmer. "This house had only had the facelift."
The couple worked with Artis Construction to overhaul the boring bits like wiring and ductwork, and then began to make it their own.
It was COVID, after all, so they had nowhere else to be. They set to work, combining DIY projects that nailed it with their eclectic collections to create a space just for them.
"That's been the most fun part of this," said Widmer. "We're designing it just for ourselves, not for anyone else."
The Joy of Rooms
In the era of open floor plans, one of the most noticeable features of Park and Widmer's house is also its most basic: the space is divided into many separate rooms. There's a living room, whose centerpiece is a sumptuous velvet sofa in emerald green. A den with a hidden television for their pre-nap and pre-bedtime hours. A kitchen with a swinging door like something out of an old timey movie. A master bedroom with an elegant four-post bed and decadent blankets. And an actual dining room.
"We eat dinner in the dining room every night," said Widmer. "We did it all through the pandemic, too. It's intimate, having a dining room."
It helped them keep their days structured even during lockdown when all other rules flew out the window. Nowadays they host a few friends at a time over for intimate dinners in the dining room.
The home was originally considered a three-bedroom, but today, Widmer calls it a "one-bedroom, two-studio." Park and Widmer each have their own spaces, filled with their individual projects (Widmer is currently into Lego flowers), memorabilia, and photographs.
"That one's from the Provincetown days," Widmer said, pointing at a photograph of a beautiful young man surrounded by fuchsia taffeta.
Artwork Everywhere
Hanging in the dining room is one of their favorite pieces: a bird's nest etched into metal by Asheville-based artist Mitchell Lonas. It is, at its core, a series of lines, but somehow the nest is vivid. Three-dimensional. It's deceptive and sparkling.
Deception is, in fact, a not insignificant piece of the home's charm. Some of their decor falls into this category, thanks in large part to the internet. There are the expensive-looking wood panel prints from Society6, and vinyl floor mats that look like Gilded Age parquet flooring from Hudson and Vine. Some of the canvasses on their walls are photographs snapped around the house, blown up and printed by Shutterfly. The walls themselves are, in places, carefully and elegantly accented with Japanese Washi tape in intricate geometric patterns. Their home is proof that beautiful things can be reasonably priced.
Much of the artwork on their walls is from far closer to home, however. And it's the real deal. Widmer is a talented artist. His decoupaged collages feature feminine faces and swirling colors cut from magazines. In the hallway hangs a series of portraits titled "The Ladies Who Lunch." These line-drawing caricatures of high society ladies are as silly as they are eye-catching, and as a series are spectacularly fun.
The Whimsical Collections
Spectacularly fun. That's a theme throughout the house, although according to both Park and Widmer, their actual theme is a hashtag they've claimed: #theglampas. It's perfect. They're definitely glam.
Shelves and tables gleam with pottery by Jonathan Adler. Vases, bowls, plates, and urns are boldly colored with geometric patterns. Many feature eyes, despite Park's rule.
"I told David, no elephants, and no eyes," he said. "But I've gotten better about the eyes." Which is good, considering Adler eyes greet you in the foyer and watch you move through the house.
In the kitchen, you'll find Calamityware tableware. These pieces look, on first glance, like the classic blue-and-white stoneware found on any number of Charleston tables. A closer look, however, reveals a different reality: monsters and robots roar from their plates. Trolls lumber across their bowls. Calamityware is as quirky as it lovely, just like its collectors.
The Intimacy of Outdoors
The house backs up to the Coburg Marsh and has views of the old Coburg farm's weather-beaten milking barn.
"When we bought the house, if you can believe it, all that was outside was grass," said Widmer. The view deserved better. Park and Widmer worked with a local landscape architect to create intimate seating areas where, on calmer days, the couple sits outside and visits with neighbors. A growing magnolia tree protects their living room from the glare of headlights from the street, and bamboo lines their driveway. A dock reaches out into the marsh, making the outside as magical as the inside. Park and Widmer spend a lot of time keeping house, enjoying their new world.
"I would never have thought at age 71 that I would be having more fun and be happier than ever," said Widmer, smiling at his partner. "It's a great message for younger people. Later in life, I found the person I want to do things with or do nothing with."
That they get to spend it in such diverting surroundings is a bonus they'll both always treasure.