Waterfall countertops, semi-precious stone and custom cabinetry make a bold statement in these kitchen remodels
By Bill Davis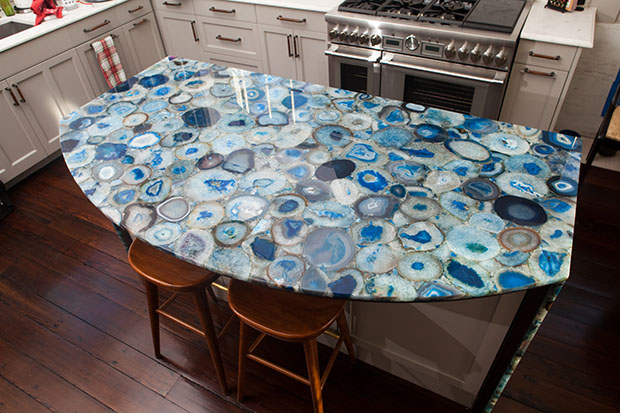 Atlantic Stone and Tile Care
843-998-0665
Photos by Mira Adwel
Some designers try to make a splash with a signature element in a kitchen. Joe Sykes of Atlantic Stone and Tile Care went above and beyond in the design for clients at a private home downtown.
The clients wanted to build a new island in their kitchen that would make a major statement and had been shopping around for countertop alternatives when they came across a very special piece of material in Sykes' Johns Island showroom.
Blue agate, a semi-precious translucent stone imported and processed in Italy, swirling with veins of lighter and darker blue punctuated with rivulets of white.
Blue agate stone is non-porous, so it not only makes life more beautiful for the homeowners, it also makes life more carefree since it doesn't stain.
Its sturdiness is like porcelain and man-made quartzes that are coming in vogue in kitchens and on designers' wish lists.
From there, a plan was hatched to lay out a massive 80-inch long slab two-and-a-half feet wide, and then couple it with two, matching waterfall countertops with ends cascading to the ground.
But then Sykes was able to take it up a level by installing lighting, controlled by a dimmer, beneath the two-centimeter-thick countertop, making sure that the light was equally diffused from beneath and there were no dark spots telegraphing to the surface of the stone.
Sykes said that the added tech does add a "wow" factor to the project, but what makes the difference is an Old-World attention to craft, detail, and precision in the stone.
"It comes down to finished project expertise," he said. "A lot of time projects have all this 'latest technology,' but it's the artist and his brush strokes that make the biggest difference."
Sykes has been installing high-end and exotic materials for the past 13 years and said projects like this project are perfect adventurous and bold clients who want to follow the latest kitchen design fashions, like running slabs off the counter and right up the wall.
"The machinery only does what you tell it to do," Sykes said. "So the movement and the flow of the stone never gets to 'pop' without the artist and the technology being married together."
Mevers Custom Kitchens
843-388-9633
photos by Billy Mevers
After living in London for 14 years, and a short stay in Connecticut, Michael and Tracey Handler were looking for a smaller city with that reminded them of their time in England. They fell in love with the charm of Charleston and moved to the Lowcountry in 2017.
They purchased a home in Mt. Pleasant's Olde Park, which had great bones, but was outdated and needed a full-scale renovation that spoke to not only their tastes, but their interests in cooking, entertaining and vintage wine.
They enlisted the help of interior designer Jennifer Patterson of Terra Designs, to strip the house to the studs and create a fresh new look which reflected their more modern English aesthetic.
Patterson is known for upscale renovations of interiors, bringing 20 years of design experience and her long-standing relationships with subcontractors to her projects.
The vision for the rooms included adding substantial paneling, custom cabinetry and an enviable walk-in temperature-controlled custom wine closet.
To handle the scale and scope of the projects, Jennifer brought on local craftsman Billy Mevers, owner of Mevers Custom Kitchens, to design the cabinetry for the house with bespoke details.
She brought in Dale McBreairty as the contractor and together the team transformed the home into an open, light filled interior with the latest in modern lighting, tile designs and custom cabinetry.
Michael Handler, who loves to cook, knew he wanted a large, functional kitchen, with a big island for work space and plenty of storage, like full-height pantry doors. He wanted a convection cook top which required a custom designed wood hood that Mevers made to seamlessly work with surrounding paneled appliances and the wood paneled ceiling.
"You have to make trim details and proportions work together in the space," Jennifer said.
A standout piece was a pair of navy blue furniture hutches that Jennifer and Billy designed, one with a TV and closed storage, and one for the bar glasses, a wine fridge and custom deep liquor drawer.
Both are functional serving areas with Carrara marble counters and marble mosaic fan-shaped backsplash tile which balance the far end of the all-white kitchen.
Mevers collaborated on site with Jennifer and the clients to create crown and wood details with impeccable attention to detail, from initial drawings to final installation.
The result is a standout remodel that stays true to the clients' dreams of English style in Coastal Carolina.
Classic Remodeling & Construction
843-763-3297
Photo by Jason Stemple
No one goes home-shopping with a vision of a dark, closed off kitchen that doesn't flow with the rest of the house due to a jutting angled wall. But that's what one Daniel Island family ended up with and they were eager to change.
Enter Parker Masterson, a design consultant at Classic Remodeling & Construction on Johns Island.
"The layout of the house, before we started, almost made the kitchen an afterthought," said Masterson. It was far from ideal, especially considering current design trends.
Masterson knew an enclosing wall had to go, and go it did. She then came up with a design that replaced it with a cased opening into the dining room, which made both spaces more open, and had a large island constructed for the busy family that called it home.
Two kids and two burgeoning medical careers means scant time to get together at the formal dining table, and more family meals eaten in the same spot where the kids could work on school homework projects. Hence, the island.
And thanks to the new flow and lightness, the dark dining room no longer resembled a tucked-away office space
Additionally, Masterson's plan called for a "flip-flop" of the kitchen's layout, moving major appliances and relocating the sink. And to top it all off? Removing the bay window and replacing it with a new, extended exterior wall that replaced dead space with more usable room for the expanded, lighter kitchen.
Now, the oven range backs up to a glisteningly simple white tile backsplash, framed by two windows that pour in light. Incorporating glass was a theme throughout the new kitchen, which took 15 weeks to complete while the family lived and ate upstairs during the progress.
The wife used to have a hobby in glassblowing, which drove the decision for the glass tile backsplashes. More so, she wanted to have handblown custom pendants installed throughout much of the kitchen.
For a seamless flow, Masterson championed extending the same wood flooring from the rest of the first floor into the new kitchen, tying the glossy and new to the existing.
The end result: A light-filled, airy and expanded kitchen, replete with a new island and connectivity to the rest of the house, with surfaces that you want to run your fingers along to see just how smooth and cool they really are. Simply unforgettable.