2021 Fall Football Preview
03 Sep 2021
South Carolina and Clemson gear up for an exciting 2021 season
By Willie T. Smith III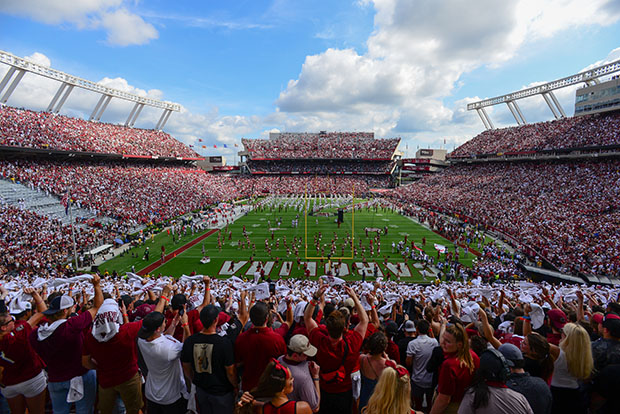 For different reasons, the 2020 football season was a disappointment for Clemson and the University of South Carolina (USC). Although it could be said that last season was a success with both squads managing to play a full season in the middle of a worldwide pandemic.
The Tigers were dominant, posting a 10-2 record. But, since Dabo Swinney became Clemson's coach, anything other than a national championship is unacceptable. Since that didn't happen, the team from the Upstate wasn't pleased.
Clemson was knocked out of the College Football Playoffs in the semifinals by Ohio State. It was also the final season for quarterback Trevor Lawrence, who became the first pick in the 2021 National Football League Draft, and will play quarterback for the Jacksonville Jaguars this season.
The Gamecocks suffered their second consecutive losing record under Will Muschamp, winning only two of 10 encounters.
After winning only four of 12 games in 2019, the Gamecocks coach was not only shown the door but was terminated prior to the end of the season.
USC filled the vacancy with a familiar face. Shane Beamer, who served as an assistant coach and recruiting coordinator under for USC coach Steve Spurrier in Columbia, got the call after receiving the backing of many influential Gamecock alumni, including some of the school's most successful former athletes.
The 44-year old hit the ground running, determined to make the most of his first head coaching opportunity.
"I have been preparing for this moment my entire life," Beamer said after officially being named the school's coach. "I am ready and excited to be the head football coach at the University of South Carolina. I am thankful to all the head coaches I have worked for and the assistant coaches and student-athletes I have worked with. My family and I are thrilled to be coming back to Columbia and the state of South Carolina."
While the program appears to have some catching up to do if it is to join college football's elite, Beamer and his staff have hit the ground running, having already won recruiting battles against more established programs.
"I love what I'm doing," said Beamer. "There are going to be bumps in the road. There will be tough moments this season, I'm sure. One of the things we talk about all the time is gratitude, positive energy. I have a lot of confidence in what we're trying to accomplish at South Carolina and in what the players in this program are about. I can't wait to get to work. I'm very excited about the position I'm in."
Further upstate at Clemson University, Swinney, of the most successful college coaches in the country, hopes to lead the Tigers to another invitation into the College Football Playoffs.
Further upstate at Clemson University, Swinney, one of the most successful college coaches in the country, hopes to lead the Tigers to another invitation into the College Football Playoffs.
One of the most successful coaches in the country, Swinney hopes to lead the Tigers to another invitation into the College Football Playoffs. Having won two national championships during his tenure, a third this season is a possibility.
"This is my 40th football season," smiled Swinney. "I started playing in the fifth grade, played eight years, then played five years in college. I spent 13 years at Alabama. It's my 19th year at Clemson, 13th as head coach. I can tell you it never gets old. I love it."
For the Tigers to earn its third title under Swinney, they have to find Lawrence's replacement. It's something the coaching staff has experience doing. After Deshaun Watson led the Tigers to a national title with a win over Alabama in 2017, Lawrence took over two seasons later and did the same thing, leading Clemson to a dominating victory over the Crimson Tide in the title game. Watson was also picked in the first round of the NFL draft that winning year.
Lawrence's successor, D.J. Uiagalelei, has already given fans a glimpse of his ability, completing 78 of 117 passes for 914 yards and five touchdowns while suffering no interceptions in two starts last season.
"I think you draw some confidence knowing he's been tested in that environment," said Clemson offensive coordinator Tony Elliott. "In the back of your mind, you're wondering: how are they going to handle it? Practice is very intense, but there is a different level of intensity when the games come, a different level of distraction, noise. We anticipate having a comfort level, but we still have to press him, put him in as many uncomfortable situations so when they arise in the games…you still have to pressure him to make sure he's not sitting back resting on his laurels, then we'll see what he can do because he is going to be the guy."
Clemson will also have to replace All-American running back Travis Etienne, who, like Lawrence, was a first-round pick for the Jaguars. Will Shipley, a freshman from Matthews, North Carolina, could swoop in and claim the position.
"He's going to be really good," said Clemson running back coach C.J. Spiller. "Will did a great job of just coming in and really wanting to learn. He was very eager to go in and learn the playbook. He's one of those guys that sometimes you might have to pull them back a little bit because they want to learn so much. You just want him to take it one day at a time. He comes from a great foundation in his high school. You see that translating over here to Clemson. I'm excited about seeing him grow as a player. He's going to hopefully have a special career here at Clemson."
Running back should be a strength at USC, where junior Kevin Harris returns after rushing for 1,138 yards and 15 touchdowns in only ten games in 2020. He led the Southeastern Conference in rushing yards per game (113.8). He was a first-team All-League selection by the Associated Press. However, he will have to fight to keep his position as redshirt freshman Marshawn Lloyd, one of the most heavily recruited high school players in the nation, returns after missing the 2020 season with a torn ACL.
"He's ready, and I think it shows," said USC running back coach Montario Hardesty. "You can see his excitement to be back out there, his competitiveness to get the first reps and doing the one-on-ones to hit the linebackers. I think he's ready. He has great internal motivation. He wants to be one of the top tailbacks in the country. He's doing things off the field that will make him better on the field. He's big, strong, and fast as all get up."
While Lloyd was a good teammate last season, he can't wait to get back on the field.
"We have one of the best groups in the country," Lloyd said. "We want to show the world what we can do. It's all competition in the (running back) room. You don't know who is going to play because it is so competitive. I was frustrated, not being on the sidelines. I'm a competitive guy. I love to play football. I'm 100 percent. My mind is right. Physically, mentally I'm ready to go."
While running back is a strength, the Gamecocks' play at quarterback has been inconsistent. Sophomore Luke Doty, who started the last two games of the season, is expected to be under center when USC hosts Eastern Illinois. Although he completed 43 of 71 passes for 405 yards and two touchdowns, Doty was intercepted three times.
For the offense to work, his performance will have to improve.
"USC offensive coordinator Marcus Satterfield has done an amazing job," said Doty. "He's going to keep pushing to make me the best I can possibly be. I look forward to him staying on me. I know the deep ball is something I need to get better at. Intermediate throws, short throws—I'm just trying to stay locked in on what I need to do. All that outside noise is just that, noise. Other people's opinions, they're entitled to that. What is important is what the people in this building think, what my teammates think. That's all that matters. It is a fresh start. You can tell there is a new life in the building. Guys are happy to be here. They want to come back and get extra work in, be around the coaches and their teammates. I think that's a testament to Coach Beamer and the staff he has put together. They're just guys that have an unbelievable attitude with what they do, whether it be meetings, walkthrough practice, or just getting to know somebody."
Satterfield is confident Doty will not only play well, but stand out.
"The characteristic of leadership - a vocal leader, demanding, confidence," Satterfield said of Doty. "He hears all the rumors: that we don't have a quarterback; he can run the ball, but he can't throw it. Luke Doty can throw it. He has a very natural throwing motion, beautiful. We're working on some lower body stuff. I think he has a chance to be an upper-echelon player. He and Drew Brees remind me a lot of each other. They're both the same height. They play with the same kind of pace and throwing motion. Just look at Luke's throwing motion. It's very, very, very good. If we get all the other stuff worked out, I think you're going to see a guy that continues to grow."
Satterfield plans to be aggressive offensively and believes Doty can make it happen.
"I'm not drinking and dunking," he said. "I'm not doing that. We're Pro Style, not West Coast, which is predicated on five to eight-yard outs – just getting completions. We want to throw the ball beyond 12 yards. In order for people to back up off us, we've got to push the ball downfield. It can't just be 30 plays of five-yard passes.
"We're making them throw the ball down the field. That's something I'm committed to, something our staff is committed to. I think our wide receivers are fired up about it. I know Luke and the quarterbacks are having a lot of fun with it."
Improved Defense
Always a Clemson strength, the defense was up and down under highly regarded coordinator Brent Venables last season.
Their worst performance came against Ohio State when Buckeye quarterback Justin Fields had his way with the Tigers. He completed 22 of 28 passes for 385 yards and rushed eight times for 42 yards. The offense finished with 639 yards as it advanced to the national championship game. Since then, Venables and the defense have done their best to gain from the experience.
"We got better from it in a lot of ways," said Venables. "Being uncomfortable, having to make a lot of adjustments. How to meet. How to practice. Having to tweak your schemes. I think we learned a lot. Anytime you have a tremendous failure—I've always used failure and had plenty of it—you learn from it. You grow from it. Through the strain and the pain, you get better. It's very humbling, disappointing. But I definitely feel we have gotten better from it."
The unit returned to fundamentals in preparing for the upcoming season.
"Physicality and physical concept was something that needed to improve," said Venables. "We needed to get better in the trenches, first, second and third level. We've got to get better and become a more physical defense. It has been a point of emphasis for us since the end of the season."
Despite the disappointing end to the season, Clemson displayed its loyalty to Venables by making him the highest-paid college assistant coach in the country, making $2.5 million annually on a contract that lasts through 2026.
"In whatever profession we're in, it's nice to feel valued and have some sort of security," Venables said. "We're very, very thankful for the support. It's been that way since the day I got here. It's very humbling. I'm very thankful and don't take it for granted whatsoever."
The Gamecocks appear to have some depth up front, defensively. Jabari Ellis is the group leader, while Zach Pickens, Rick Sandidge, Devontae Davis and M.J. Webb will play prominent roles. Tonka Hemingway and Alex Huntley should also play. Kingsley Enagbare and Aaron Sterling will be the starters on the edge, with Jordan Burch also slated to receive time.
Player Shuffled at USC
The USC coaching staff has had to work quickly in figuring out the secondary.
Wide receiver is also considered a Gamecock problem area. Junior Dakereon Joyner, after beginning his college career at quarterback, hopes to step to the front at the position. The North Charleston native admits to needing time to adjust to the position and being depressed after moving from changing positions.
"Quarterback, that was my dream," said Joyner. "Everybody knows that. It is what it is. I trust God. I trust my faith. I leaned on my family. My teammates, family and loved ones helped me get through those dark moments, the dark times. I give all the glory to God, or I wouldn't be here right now. How I got to a good place, I don't know. I feel like everything is a blur. It happened so fast. Every night I prayed and went through the process—just gradually getting better, gradually starting to love the game again. I thought about leaving the game at one time, but my mother and others that truly cared about me continued to show the love.
"I'm ready to roll. I'm definitely ready to go. I'm good. I expect to be the best version of myself every single day and continue to lock in on my preparation. I'm ready to roll. It was definitely challenging. A lot of people don't think about athletes' mental health. It is definitely important that I lock-in. I was at my low point, but I'm good now."
He has become one of the leaders at the position.
"I think he is in a really good spot," said wide receiver coach Justin Stepp. "He is the leader of our group. There aren't too many kids in the country that deserve success more than Dakereon. You're looking at a kid that played quarterback his entire life. He hasn't played receiver very long. He's a smart kid. He's cerebral. He knows where he struggles, and he is working on it. I think he has a lot to prove. He wants to have success. I want it for him so bad. If I could do it for him, I would, but he's worked hard. I think he'll do it."
While Clemson is expected to again be dominant, little is expected of the Gamecocks as most experts predict the team to win as few as three games.
That doesn't faze Doty, who, without a smile, had a quick and succinct answer to that prediction.
"I'll take the over," he said. "Hammer the over."