8 Fall Getaways
29 Aug 2016
Go ahead and plan that fall getaway. This may be the most delicious season of all.
By KATIE MCELVEEN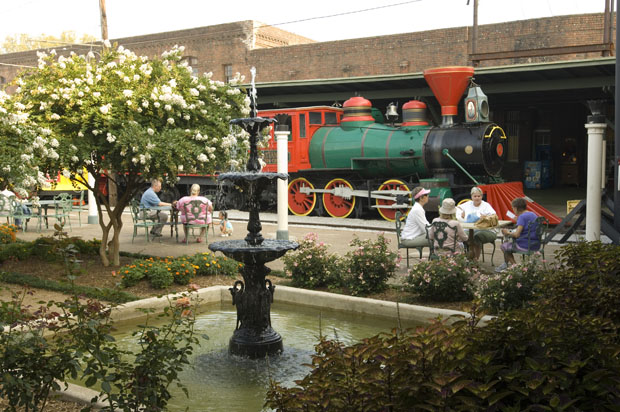 Spring travel is all about saying goodbye to winter. Summer vacations tend to involve a lot of moving parts. And fall? There's something sublimely satisfying about getting away, just as school is starting and the world is reawakening after a summer break. It could be the weather, energizing and brisk; we suspect it has more to do with the almost guilty pleasure of slipping out of town for a well-deserved travel break. To help you plan, we've identified eight destinations – some near, some far – that shine during the cooler months and will give you a bit of relaxation before the holidays.
Chattanooga, Tennessee
Fall fun: Leaf-peepers take note: Long before local leaves pick up even a whisper of color, trees in Chattanooga are ablaze with fiery hues. Whether you choose to stroll, run or cycle (pick up a bike at one of the Bike Share stations around town), Chattanooga's 13-mile long Riverwalk trail offers some of the best views in the city. Don't forget your wallet—the paved path also winds through the Bluff View Arts District, where you'll find galleries, shops and restaurants. Chattanooga's trio of mountains (Lookout, Signal and Raccoon) also offer easily-accessible opportunities for mountain biking and hiking that will make you feel like you're a world away – instead of just a few miles – from the city.
Where to stay: The mid-century-styled adults-only Dwell Hotel is walking distance from Chattanooga's lively downtown and is home to Matilda Midnight, the city's newest—and hottest—cocktail bar. Each of the 20 rooms is individually decorated around a fun theme – tiki, say, or Palm Springs – some have balconies or fireplaces, all have free wi-fi and coffee service.
Where to eat: You'll find attitude-free fine dining in an elegant light-filled space at St. John's Restaurant, where even spaghetti (homemade from semolina) and grits (enriched with mascarpone cheese) get star treatment. Thursday night jazz is fast becoming a local tradition.
Resources: chattanoogafun.com; thedwellhotel.com; stjohnsrestaurant.com
Savannah, Georgia
Fall fun: Go beyond the squares. Set on a bluff overlooking the Wilmington River, the 100-acre Bonaventure Cemetery could easily be a park if it weren't a cemetery—massive live oaks line shady lanes, sculptures dot the landscape and the river views are stunning. It's had its share of celebrity visits, too. Explorer John Muir spent several nights in the cemetery, sleeping on grave sites as he waited to continue his famous walk from Kentucky to Florida. Oscar Wilde, in town to perform at the Savannah Theater in the 1870s, called it incomparable. The Bonaventure Historical Society offers free tours the second Sunday of each month, or take a chance and visit on your own on Halloween.
Where to stay: Marble, fur, velvet and a world-class art collection come together at the Mansion on Forsyth Park, which is located in an 1888 turreted brick home across the street from Savannah's largest square. Rooms have white-on-white beds and deep soaking tubs; deluxe rooms overlook the square.
Where to eat: Cooking at Prune in New York gave chef Mashama Bailey the experience she needed to open The Grey; her time researching traditional southern recipes allowed her to craftily update generations-old dishes like country captain with more modern cooking techniques. The art-deco space, with its horseshoe-shaped bar, shiny accents and streamlined booths, is located in an old bus station and has received a number of design awards.
Resources: visitsavannah.com; mansionforsythpark.com; thegreyrestaurant.com
Rappahannock County, Virginia
Fall fun: Tucked into the Blue Ridge Mountains 70 miles from Washington, DC, Rappahannock County is home to charismatic small towns, sumptuous views, miles of hiking trails, vineyards and not a single intersection governed by a traffic light. There are also hundreds of artists and artisans turning out surprisingly sophisticated wine, small-batch whiskey, art and music at galleries, restaurants, distilleries and wineries in and around the towns of Washington – nicknamed Little Washington – and Sperryville. The best way to explore them is to follow the Rappahannock County Artisan Trail, which also lists cultural points of interest. If you visit on the weekend and neighboring Shenandoah National Park is just too crowded to bear, do like the locals and hike Old Rag Mountain instead.
Where to stay: Located in Little Washington, the 5-room Greenfield Inn B&B occupies a Georgian estate built between 1767 and 1769 that served as a home to relatives of George Washington and James Madison. Although many original features remain – including wood-burning fireplaces, 300-year-old trees and acres of manicured gardens – the inn has been lovingly and recently restored.
Where to eat: On the night you don't have dinner at the Inn at Little Washington, head across the street to Tula's Off Main, where dishes range from refined-roast rack of lamb with lobster couscous—to homey short ribs and grilled rib eye steaks. Best of all, there's live music most nights on the restaurant's pretty brick courtyard.
Resources: theartisancenterofvirginia.org; greenfieldinnva.com; tulasrestaurantandbar.com
Key West, Florida
Fall fun: It's always summer in Key West; take advantage of it with a kayak and snorkeling tour of Great White Heron National Refuge, a 123,000 acre mangrove wilderness that's home to sea turtles, rays, dolphin and 250 species of birds. Clearly Unique Charters will take you there in a high-speed catamaran; guided tours take place in clear kayaks and require no paddling against the current. If you'd like to get an even closer look at the sea turtles, visit the Sea Turtle Hospital, on Marathon Key, which rescues and rehabilitates injured loggerheads and other species. Those who can't manage life back in the wild take up permanent residence at the center.
Where to stay: Casa Marina Resort was designed in 1918 by the same team that created Manhattan's Metropolitan Opera House. Since that time, it's served as officer's quarters during World War II and, during the Cuban Missile Crisis, housing for Army Battalion. Today, the same white-sand beach that served as a lookout is now speckled with hammock-strung palms and fronts a 311-room luxury resort.
Where to eat: Located on the sun porch of an 1884 Key West-style home that's now a small hotel, Café Marquesa gives fresh fish, meats and poultry an Asian twist. Try the tea-smoked duck; grouper crusted with coconut and almonds and, for dessert, a Key lime Napoleon.
Resources: clearlyuniquecharters.com; turtlehospital.org; casamarinaresort.com; marquesa.com
Greenville, South Carolina
Fall fun: Linking Greenville's bustling downtown with Traveler's Rest, 22 miles away, the Swamp Rabbit Trail follows an old railroad line and is paved, fairly flat, safe and dotted with parks, bridges and sights. Post-ride, cool off near the waterfall at Falls Park, then explore the three notable sculptures within the green space: Rose Crystal Tower by Dale Chihuly; Falls Lake Falls by Bryan Hunt and Untitled 2002-2003 by Joel Shapiro. Next up: a stroll along Augusta and South Main Streets, where an artsy passel of stylish shops, restaurants and cafes comprise the city's West End.
Where to stay: The strikingly modern Aloft opened in December of 2015 and features spacious rooms (some of which open onto the rooftop pool), a gym, bar and restaurant and lots of breezy outdoor spaces. The dog-friendly hotel also offers free coffee, wi-fi, bottled water and the location can't be beat.
Where to eat: Plan your bike trip so you'll be hungry when you arrive in Traveler's Rest; that way, you won't miss lunch at Tandem Creperie and Coffeehouse, which fills the thin French pancakes nearly to bursting with everything from chicken, mushrooms and cream sauce to chocolate, caramel and pretzel bits. Since it's almost impossible to choose between sweet and savory, order one of each, and split them with a friend.
Resources: visitgreenvillesc.com; aloftgreenvilledowntown.com; tandemcc.com
Panama City, Panama
Fall fun: You might come for Panama's iconic canal, but you'll stay for the wide array of experiences available in this historic colonial city. Start, of course, with the Panama Canal, a marvel of engineering that linked the Atlantic and Pacific Oceans when it opened in 1914. After that, choices abound and include Playa Bonita, an in-town sandy playground; the Gamboa rainforest, with its fiery hummingbirds and vocal howler monkeys; the Frank Gehry-designed museum of biodiversity and exploring through 17th-century Casco Viejo, the city's oldest – and hippest – neighborhood.
Where to stay: Filled with art and presiding over a cobbled square within Casco Viejo, the American Trade Hotel is located in the 1917 headquarters building of the American Trade Developing Company. Rooms have high ceilings, hardwood floors and tongue-in-groove walls; within the hotel you'll find airy interior courtyards, a jazz club and a rooftop pool with gorgeous views of the city and Panama Bay.
Where to eat: Fun, festive and friendly, Tantalo Kitchen charms with ceviche, calamari, sushi and mussels all prepared with fresh flavors, interesting spice combinations and offbeat menu references—one shrimp dish that features a "secret ingredient from the chef's aunt." Classic dishes like Panamanian pulled pork on tortillas are earthy and satisfying.
Resources: acehotel.com/panama; tantalohotel.com
Amsterdam, Netherlands
Fall fun: Quirky Amsterdam is home to some of the top museums in the world and they're all located within an atmospheric city center that's hemmed by canals and speckled with bridges. Start at the city's celebrated Rijksmuseum, which reopened in 2013 after a 10 year renovation and houses celebrated works from Vermeer, Van Gogh and Rembrandt. There's also the Stedelijk Museum, which is devoted to the modern art of Picasso, Mondrian, Pollock and others; the Van Gogh Museum; the Rembrandt House Museum and the Anne Frank House, which accepts reservations.
Where to stay: The Pulitzer Hotel comprises 25 historic canal houses and is fresh from an August, 2016 renovation that added 147 rooms, including several apartment-styled family suites. Within the cool warren of buildings you'll also find four new Collector's suites that offer direct canal access and curated collections of books, musical instruments, antiques or art. Don't miss a canal tour on the hotel's vintage tour boat, which took Winston Churchill on a canal tour, and concierge-led walking explorations of the city.
Where to eat: Centrally located canalside in the trendy Jordaan district, Café van Puffelen started life as a cozy Amsterdam "bruin café" or brown bar; two decades later, the restaurant known as much for updated gastropub dishes – think lamb burgers and homemade ravioli – as it is for cheese and classic Dutch meatballs.
Resources: iamsterdam.com; pulitzeramsterdam.com; restaurantvanpuffelen.com
Paris, France
Fall fun: One way to see Versailles, Louis XIV's massive and glittery disco ball of a palace located about 15 miles outside of Paris, is to brave the crowds and make your way from room to room, audio guide in hand. Another way is to explore the estate's nearly 2,000 acres of gardens, meadows, woodlands and smaller castles by bike. Whether you choose to do it on your own or with a tour group, be sure to go on a Sunday, when you can grab a picnic lunch at the bustling market in the village of Versailles and enjoy it, wine and all, under a shady linden tree.
Where to stay: With its chic St. Germain-des-Pres location, art-filled public areas and free-flowing Champagne, Esprit St. Germain feels like the Paris apartment you've always dreamed of visiting. The friendly, English-speaking staff, well-appointed rooms and thoughtful gestures (adaptors, free wif-fi) make it feel like home.
Where to eat: There's no way to know exactly how many bistros line the streets of Paris, but you really just need to know about one: Le Christine. With its stone walls, exposed beams and location on a side street just off Boulevard St. Germain, give it a strong charm game; classic dishes like roast chicken with truffled jus make it perfect.
Resources: espritstgermain.com; restaurantlechristine.com