Indian Summer Palate
29 Aug 2016
We survived the brutal humidity, the mosquitoes and the tourists. It's time to let the brisk morning breezes and big yellow buses lead us into the most anticipated season of the year. From local fairs to harvest feasts, from tailgate parties to after-school treats, the South's fall is dyed deep in the colorful flavors of caramel, pumpkin, maple and plum. If we take a deep breath, we smell butter gently sizzling in the cast iron skillet. After months of holding in our poolside bellies, it's time to relax and enjoy a paper cup of vinegary fries and a basket of sausage and onions. So, grab your red wine or beer stein and settle into this colorful, cooler season of indulgence with a few blue-ribbon possibilities of your own.
Text and Photos by KIM BYER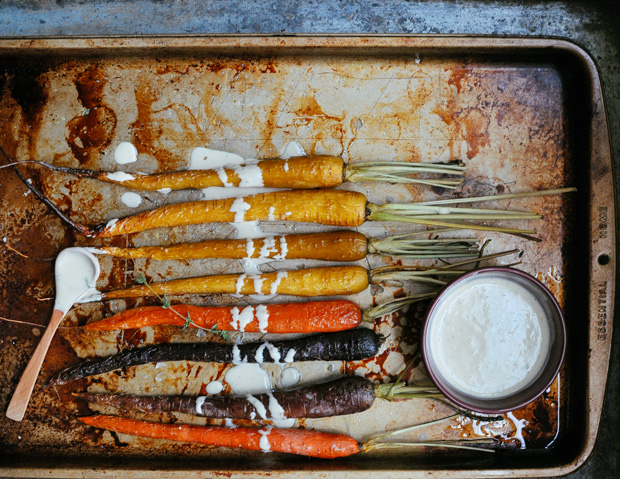 Sunny-Side Up Pasta with Maple Bacon Dressing
Serves 8
Ingredients
16 ounces pasta spirals, prepared according to package
6-8 slices of bacon, divided use
6-8 fresh pastured eggs, fried sunny-side up
1 dozen grape or cherry tomatoes, sliced or quartered
1/2 cup Parmesan cheese, finely grated
3 tablespoons toasted pumpkin seeds
Fresh herbs, such as basil or thyme
Maple Bacon Dressing
1/2 cup light oil, such as grapeseed or olive
4 tablespoons white vinegar
4 teaspoons Dijon mustard
4 teaspoons maple syrup
2 slices fried bacon, crumbled
Kosher salt & freshly ground pepper to taste
Directions
Prepare pasta as directed on package.

Fry bacon. Finely chop two slices and reserve for dressing. Tear the remaining bacon and add to salad bowl.

Combine all dressing ingredients in a jar. Cover and shake vigorously. Taste and adjust seasonings.

Fry eggs using a small amount of bacon grease.

Add pasta and remaining salad ingredients to a large bowl. Pour on dressing and toss. Gently spoon eggs and sprinkle herbs onto salad. Serve immediately.
Roasted Rainbow Carrots with Sweet Tahini Dip
Two carrots per serving
Ingredients
1 bunch rainbow carrots, cleaned and trimmed
Olive oil and salt for roasting
1/2 cup tahini
1/2 cup warm water
1 garlic clove, smashed and minced
2 tablespoons fresh lemon juice
2 tablespoons minced parsley
1 teaspoon maple syrup
1/8 teaspoon red pepper flakes or ground cayenne pepper
1/8 teaspoon salt

Directions
Preheat oven to 400° F. Lay carrots on a roasting pan and drizzle with olive oil and salt. Roast for 30 minutes (or up to 1 hour if larger carrots) or until soft.

While carrots are roasting, prepare dip. Whisk tahini and warm water in a small bowl. Add garlic, lemon juice, parsley, maple syrup, red chili pepper flakes and salt. Whisk until combined. Strain liquid through a metal strainer to remove larger pieces of parsley.
Roasted Butternut Squash Soup
Makes approximately 2 pints
Ingredients
2 medium-sized butternut squash
2 tablespoons butter, divided use
1 leek, cleaned and chopped
1 clove garlic
1 tablespoon coconut oil
3 cups good quality chicken stock
1 can of full fat coconut milk
2 teaspoons cumin
1 1/2 teaspoons salt
1/4 teaspoon dried red chili flakes
2 tablespoons cooking sherry (optional)
Optional Toppings
Roasted pumpkin seeds
Crème fraîche
Olive oil or honey for drizzling
Cilantro, chopped

Directions
Preheat oven to 375° F. Prepare squash by slicing lengthwise, rubbing with 1 tablespoon of butter. Place flesh side down on a roasting pan. Roast for 1 hour.

In a large skillet, sauté leek and garlic in the remaining butter and coconut oil until soft.

Transfer leek mixture into soup pot and add the flesh of the squash. Add next five soup ingredients and blend with an immersion blender until smooth. Heat until simmering. Remove from heat and swirl in cooking sherry, if using.

Transfer to soup bowls and add toppings.

Soup may be frozen for later use. Add fresh toppings before serving.

Overnight Oats with Fruit and Nuts
Serves 1
Ingredients
2/3 cup unsweetened nut milk or milk of choice
1/2 cup rolled oats
2 tablespoons agave, maple syrup or sweetener of choice
1 teaspoon chia seeds
Pinch of salt
Optional toppings: apples, bananas, berries, cherries, dragon fruit, figs, pears, plums, stone fruits, walnuts, pecans, peanuts, sliced almonds, dried berries, raisins, flax seed oil, hemp seeds, bee pollen, cacao nibs, or almond butter.

Directions
In a small bowl or jar, stir nut milk, oats, sweetener, chia seeds and salt together. Cover bowl or jar and refrigerate 4 hours or overnight.

Before eating, stir oats mixture and add fruit, nuts and toppings.
Buttermilk Pancakes with Butterscotch Pecans
Makes 16-18 small pancakes
Ingredients
2 cups all-purpose flour
3 tablespoons sugar
2 teaspoons baking powder
1 1/2 teaspoons baking soda
1 teaspoon salt
3 eggs
2 cups buttermilk
2 tablespoons butter + extra for frying
1/2 teaspoon vanilla
Butterscotch Pecans
1 cup pecans
1/4 cup brown sugar
2 tablespoons butter
4 tablespoons maple syrup
Pinch of Kosher or crushed maldon salt
Directions
In a large mixing bowl, combine flour, sugar, baking powder, baking soda and salt. In a smaller bowl, combine eggs, buttermilk, melted butter and vanilla. Pour liquid ingredients into dry ingredients and gently whisk. Don't over mix―small beads of flour and butter should remain intact.

Heat a skillet or large frying pan until water beads sizzle and bounce on surface. Add a few pats of butter and spread over the frying surface. Pour 1/4 cup of batter per pancake. When bubbles rise to the batter's surface, flip the pancake.

In a small skillet over low heat, melt brown sugar, maple syrup and butter. Add pecans and salt, and then toss. Spoon over pancakes. Serve with extra maple syrup.

Pancakes may be frozen individually between layers of parchment paper.
Pink Lady Apple Galette with Caramel Sauce
Serves 8
Ingredients
Galette Dough
2 cups all-purpose flour
1 1/2 sticks of cold, high fat butter, cut into small cubes
1 tablespoon sugar
Pinch of salt
A few tablespoons of ice-cold water
Filling
4 apples (to be cored and sliced 1/4" thick)
Juice of one lemon
1 egg white + 1 teaspoon water
2 teaspoons raw sugar for sprinkling
Cinnamon Caramel Sauce
1 1/2 cups sugar
1/3 cup water
1 cup heavy cream
1/2 teaspoon pure vanilla extract
1/2 teaspoon ground cinnamon
1/2 teaspoon salt

Sauce Directions
To make the sauce, mix sugar and water in a heavy-bottomed saucepan. Cook over low heat for 5 to 10 minutes, until the sugar dissolves. Gently tilt and swirl the pan instead of stirring. Increase the heat to medium and boil until the sugar turns light amber brown (about 350° F on a candy thermometer). This should take about 10 minutes. At 350° F, turn off the heat.

Slowly add cream, vanilla, cinnamon, and salt. It will bubble violently and the caramel may solidify, but this is okay. Stir over low heat, until the caramel dissolves and the sauce is smooth, about 2 minutes.

Using a metal strainer, strain caramel to remove the small sugar chunks. Cool for 2 hours or until the sauce thickens.
Tart Directions
To make the tart, preheat oven to 400° F.

In a large bowl, cut the butter into the flour, sugar and salt with a pastry cutter or combine with your fingers (quickly, to keep the butter cold). The mixture should be loosely incorporated and coarse with pea-size granules. Sprinkle small amounts of water into the dough until it can form a loose (but not wet) ball.

Cover with plastic wrap and chill dough for 20 or more minutes or freeze for later use.

While dough is chilling, slice apples and combine with lemon juice.

Using a rolling pin, roll dough on floured surface until it is approximately 1/8" thick and in the general shape of your (ungreased, parchment covered) baking sheet. Don't worry about frayed dough edges.

Arrange apple slices on dough leaving an inch or more edge, then fold the dough and baste with egg white mixture. Sprinkle edge with raw sugar and bake for approximately 45 minutes or until edges are golden brown.

Add a dollop of whipped cream cheese or top quality vanilla ice cream for extra-lovely taste and presentation.