A Charmed Life
04 Jan 2018
Artist Joyce Harvey creates fresh takes on her love of water with various techniques
By LEAH RHYNE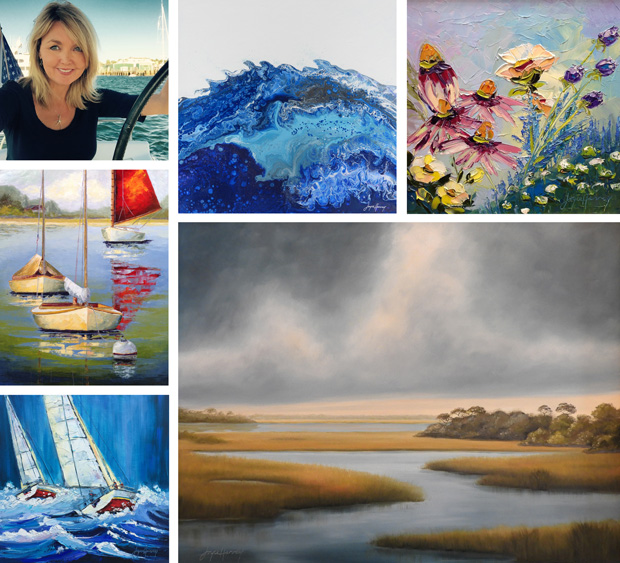 Joyce Harvey likes to keep things interesting, for herself and those around her. With a single glance at the paintings posted on her website or hanging in various galleries throughout the Lowcountry and New England, it's clear. From her career paths in journalism and fine art, to the diverse styles embraced in her paintings, Harvey has taken many tangled, intertwined roads through life as well as art.
"I go back and forth between styles because it's impossible for me to stick with method," she says. "I think working in a variety of styles and techniques keeps them all fresh and new. I never get into a rut."
The diversity of her styles is likely the first thing you'll notice about her work. Whether it's bright, vibrant paintings done with a palette knife using thick, textured oil paints; smooth, quiet, wistful brushed oils; or a new style with which she's still experimenting by way of acrylics and gravity flow processes, it's hard to imagine the same artist creating each. And yet, if you look closer, it's the topic of these pieces that pull them together into one coherent portfolio. The one road that Harvey travels, over and over again, through both her life and her painting is this: water. Water and boats are featured in almost all her paintings, and for a simple reason: they're what Harvey loves.
"I once had an instructor tell me to paint what I loved most," she says. "The answer was easy—water. I'm a lifelong sailor and spend as much free time as possible on the water."
Her passion began in childhood. "I started sailing and racing with my Dad at nine years old, and even met my husband through sailing at the Charleston Yacht Club. We spend our summers now sailing from Charleston to New England." Besides the simple love of boats and open sea, their journeys northward have a practical purpose. Harvey shows in a gallery on Martha's Vineyard. With each trip, they deliver paintings, like artistic Santa Clauses.
Reflecting this, most of her paintings involve boats or the sea, no matter the style. "I began painting boats with a palette knife, loving the vibrant colors and rich texture they provide," she says. "Even as a child I was drawn to paintings that made you want to touch them. The palette knife paintings speak excitement, happiness and joyfulness."
Her other styles are equally evocative, in different ways, but they all involve water. Her brush oils are calm and peaceful, reflecting the marshland of the Lowcountry. Her abstracts are mostly waves, thundering and crashing. They evoke movement and energy. Excitement. Fun.
A similar need for variety flavored with consistency fueled Harvey in her professional pursuits. Beginning with a career in broadcast journalism, working for CNN, the Weather Channel and her own media marketing company, she always worked to perfect the art of telling a story, regardless of medium. She says she "always loved the challenge of telling stories whether it's through art, video, photography or writing."
These days, though, it's art. That's her passion. "I love how being an artist heightens your senses in every way," she says. "It's a spectacular way to move through life. Once you paint a flower, a cloud, a sunset, an ocean wave or a beautiful harbor, you'll never be able to look at them the same way. You notice everything: the nuances, the tiniest details, and the extraordinary beauty that surrounds us every day. It's magical."
It's a magic that's working out quite well. Harvey's schedule is full. She paints most days, and is one of nine artist/owners of the Lowcountry Artists Gallery on East Bay Street. "I love creating art," she says, "but I also love the business of art. Connecting people with special art is amazingly rewarding. Nothing is more special than placing a painting in someone's hands and seeing the emotion and even tears in their eyes."
Of course, you can't do that if you're not out in the world. Artists can't create in a vacuum, nor can they sell. Apart from the gallery, Harvey participates in the Piccolo Spoleto Outdoor Art Exhibition in Marion Square each summer. It's a joy, she insists, despite the challenges of summertime weather in Charleston. "It is like an art day camp for grownups. I have great friends there and we hang out painting, sharing stories and experiences, and of course socializing. This is Charleston, after all."
Painting the things she loves in different methods and using different materials, all while spending summers on the water and with artists and clients as passionate about her work as she is sounds like a charmed life indeed. Maybe the art of Joyce Harvey really is magic. joyceharveyfineart.com