A Collaborative Approach
22 Jul 2015
Flatfish Island Designs offers remarkable home plans that can be customized to fit your needs
By ROB YOUNG » Photos by HOLGER OBENAUS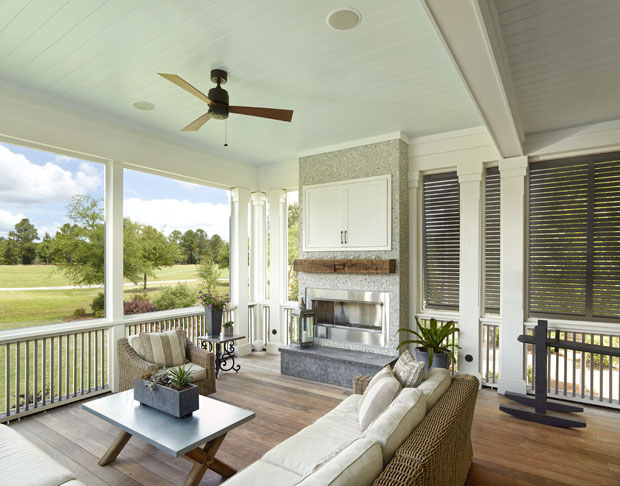 Call them catalysts for change. Through decades of designing homes around the Lowcountry, Herlong & Associates have developed a keen perspective in regards to coastal living. The company's approach is inspired, the firm's efforts on show around the Lowcountry's sea marshes, saltwater channels and tidal creeks.
Shaped by principals Steve Herlong and Jim Henshaw, the company has continued moving forward, broadening its horizons, and developing new ideas and new offerings for its clients. Here's the proof: Flatfish Island Designs, a collection of coastal home plans accessible to all in convenient, affordable packaging. The architecture firm began Flatfish in 2009 as an offshoot of their main business. Since then, Herlong and Henshaw have helped streamline the company by removing and introducing new plans, further refining relationships with area builders, and improving the website's elegant, interactive design.
"The plans are readily available on the website. We've spent a lot of time developing and strengthening those graphics on our sites," Henshaw says. "The images are remarkable – there are a lot of great homes up there. We were able to eliminate some plans, ones that didn't work as well. Then we introduced or worked on the ones that were more functional or more universal."
And particularly, for one home owner on Daniel Island, the approach worked magnificently. "We're just thrilled," the home owner says. "There's so much detail in the work. It's a special Lowcountry house. Everyone who stops by or comes over says the same thing: 'I just love this house.'"
A Plan For Everyone
Flatfish's set of house blueprints includes an assortment of builds for all shapes and sizes. Choices include:
Ibis (2,750-3,400 square feet): Wraparound porches and elevated plans suitable for coastal homes

Tide (3,111-3,800 square feet): A larger version of the Ibis plan, containing elevator access

Breeze (2,750 square feet): Containing considerable curb appeal and crawlspace

Creek (1,590-2,895 square feet): A comfortable home for smaller lots

Rest (4,120 square feet): Tremendous living space with large, open floor plan, and secluded master suite and private guest wing

Sparrow (3,100 square feet): Suitable for narrow lots, including a crawlspace

Villa (2,200 square feet): Optimal indoor and outdoor space with a private courtyard and integrated pool

Perch (2,688 square feet): The home makes efficient use of space with a one-level living space

Small Home (965 square feet): Perfect for off-grid sites, the rooftop deck affords great viewing opportunities

Kite (3,414 square feet): Elevated for coastal areas, the expanded porch provides great space for entertaining

Garage (1,213-2,002 square feet): With two-car parking, it provides a great addition to any Flatfish Island designed home
The Ibis and Tide remain two of Flatfish's most popular designs. "They're both very appealing and the floor plans are great in each," Herlong says. "They can be different sizes for various budgets and lots, depending on how the home owners expect to use the living spaces."
The Ibis, for instance, is comprised of eight varieties, ranging from three to five bedrooms and 3 ½ to 4 ½ bathrooms. The overall structure differs as well, varying from crawl space designs to elevated living spaces. Take the "Red Naped Ibis." It contains five bedrooms and 4 ½ bathrooms, including an office in the master suite, a separate living area, mud room and upstairs media room.
The "Reunion Ibis" checks in with four bedrooms and four bathrooms, and boasts a large master suite with sitting room, open living and kitchen area with dining alcove and upstairs den. The "Wattled Ibis" makes an impression, too, with its elevated design, large master bedroom, and downstairs guest suite accessible with a separate screened porch entry.
As for the Tide collections, choices vary from three to six bedrooms and 3 ½ to 4 ½ bathrooms. The five-bedroom, 4 ½ bathroom "Wateree Tide" highlights an expanded master bedroom with his and her closets and private access to a wrap-around porch. Then, the back porch off the two guest bedrooms offers great viewing opportunities. The "Kiawah Tide," another 5-bedroom and 4 ½-bathroom plan, resonates with potential owners seeking plenty of space, including three upstairs guest bedrooms, two full baths, an open study, and "flex space," to be used as seen fit.
There's also the "Folly Tide," an elevated design suitable for coastal areas and side entry. An open kitchen and living area leads to a "Carolina" sunroom and porch for terrific wildlife or sunset views. The "unfinished" attic is open to the imagination.
Study sets are available for purchase on Flatfish's website. These sets include graphic representations showing elevations and materials, plus floor plans that detail basic and overall dimensions. They allow potential home owners to see how the house may fit on a particular lot, or if modifications might be needed. The sets are great tools for builders as well, allowing them to begin budget pricing.
Also, construction sets are available. A construction set will contain dimensioned floor plans, including four exterior elevations, a roof plan, exterior opening schedule featuring doors and windows, building section, wall section and lighting plans (lighting, switching and outlet locations).
Customized Concept
One of their most recent homes, the one on Daniel Island, is actually a combination of designs, containing elements found in Flatfish's plans, as well as customized features. The design boasts aspects of the "Rest" collection, which are predominantly one-story homes. But it also shows off distinctive details too, such as the main, vaulted living space. Flatfish's sister company, Sandlapper Design Group, helped make the additional modifications. "It was really a hybrid plan," Henshaw says. "We took some things from Flatfish and custom plans, and bridged them together."
Flatfish partnered with Structures Building Company to complete the project. Overall, Flatfish and Henshaw have found great partners among many of the area's home builders who seek collaborative approaches to satisfy home owners' requests. "We have excellent relationships with builders in the Charleston area, and we often work with them for the betterment of home owners to fully flesh out the design and to see how it would best fit their property," Henshaw says. "Our relationship with builders is a tremendous asset for us."
Structures, a custom home building and remodeling firm headed by founder Steve Kendrick, might be atop that list. "We were an earlier adopter," Kendrick says. "We worked with Herlong & Associates in various capacities previously, and Flatfish definitely emerged from a visible need. Clients don't have to start from scratch. They can begin with existing plans."
For clients and builders alike, it can expedite the schedule. "It makes the process quicker," Kendrick says. "It's nice to sit down with clients and show them drawings and nice renderings. They can see how the plans may work for different styles and needs."
The Daniel Island home is a single-story, 4,000 square foot residence. "It's unique in that a lot of houses are built for narrow lots, but this one was built for a wider lot," Kendrick says. "It opens up to great views in the back of the golf course."
And it makes for easy indoor and outdoor living, the architectural quality evident by the large vaulted ceiling containing exposed wood trusses. Dormers protrude on the house's front and rear, and the master bedroom suite is spacious and comfortable. Dramatic living spaces include a large, professional kitchen, fireplace wall, and fine details such as shiplap wood siding.
"It was wonderful," the home owner says. "They were so accommodating. I had my own portfolio – a collection of pictures that represented how I wanted the house to look. He listened to me and finished some extra drawings. (Flatfish) was so receptive to our needs. They understood us. We're just thrilled."
Flatfish Ecosystem
The customized concept actually fits well within Flatfish's ecosystem. The design firm offers services for minor and significant revisions to its plans. Many times, the minor revisions are simple, requiring only non-evasive changes. Examples include the reorganization of interior, non-load bearing walls, kitchen planning, changes to exterior materials and reversing plans. Sandlapper Design Group is consulted for significant changes, which may include room, stairs or elevator additions, and porch extensions.
In totality, it's simply another offering, another way to comply with client desires and dreams, another way to make sure they emerge happy and rewarded by the experience. "We had big expectations when we started Flatfish," Henshaw says. "In purchasing a Flatfish home, our business is really set to allow clients to research and share options with their family. When they're ready to make a decision, we're ready to help deliver exactly what they want."
Resources
Flatfish Island Designs, 843-882-8123, flatfishislanddesigns.com
Herlong & Associates Architecture & Interiors, 843-883-9190, herlongarchitects.com
Structures Building Company, 843-856-6901, structures.net