The Americano
22 Jul 2015
Stepping foot inside the Americano, one of this year's newest Mt. Pleasant eateries, is like stepping back in time.
By JENNA-LEY JAMISON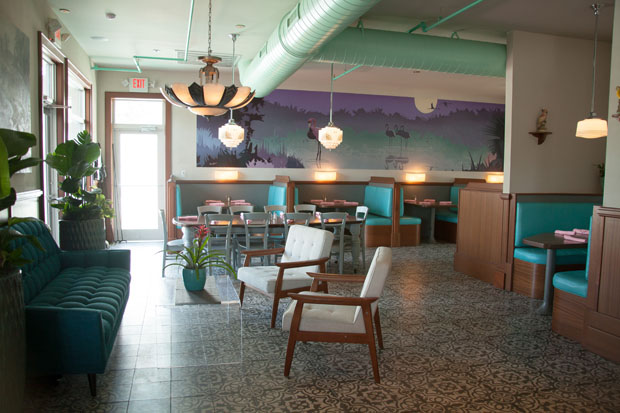 Décor from past decades lines the walls and fills the Latin restaurant with pops of color and creative splash sure to leave a lasting impression on all customers, even before tasting a bite.
With wall sconces from a South Beach hotel, vintage light fixtures from a car dealership during the 1920s and '30s, hints of deco and asymmetrical elements, the bona fide vibe is a reflection of one owner's personality and artistic flair.
"The concept…is a Latin person moves over here in the 1940s and opens up a bar/restaurant," co-owner John Adamson said. "We are a celebration of Latin foods from an American perspective."
He and his Georgia Southern college buddy Brandon Omahoney started their new business venture in November—both seasoned vets of the restaurant industry, each having previously owned eateries — Adamson in Charlottesville, Va., and Omahoney in Savannah, Ga.
Together, the two have ample experience in restaurant startups, pleasing thousands of individual palates.
"I've worked with over 2,000 people in over 10 years," Omahoney said.
Located on Coleman Boulevard, the Americano building has been home to a number of eateries over the years, J-Bistro being the most popular.
It also served as brief operations for Next Door diner and Greek restaurant Samos Taverna.
While Omahoney focuses his attention on menu selection and operations, from crunching the numbers to orchestrating all the business's behind-the-scenes initiatives, Adamson controls the entirety of eye-catching concepts from large-scale facility design and layout to miniscule details pertaining to color, paint, patterns, lighting, fixtures and furniture.
"I do all the fun stuff," he said laughingly—propped back on a teal antique couch near the restaurant's center.
"I'm trying to create an experience for people that they otherwise wouldn't have."
With a natural knack for creating aesthetically-pleasing spaces, Adamson ironically obtained a degree in sports management. However, he ultimately knew working in that particular industry wouldn't bring him happiness or fulfill his true passion for art.
His medium is larger than an easel or pad but no less creative or significant for his skill set.
"I never ever thought of myself as an artist," he said, "because I can't draw a stick figure, but I realized when I got into the restaurant business I was really into design, and for whatever reason my (strength) seemed to be creating an atmosphere."
The Lowcountry eatery is the second he's opened since moving to downtown Charleston about six years ago. In December 2012, he started The Rarebit — another term for "rabbit" — as a mash-up between a cocktail bar and a diner. He was perhaps inspired, he said, by his longtime love for Waffle House and described it as a "bar inside of a track in the 1960s."
And while he could've moved anywhere after leaving Charlottesville, he felt the Southern coastal city his best option.
"Charleston just made sense," he said.
Adamson had outgrown Virginia and desired a residence closer to his parents and Georgian roots, calculating Atlanta — his childhood stomping ground — too busy a place to settle.
While he still owned three Charlottesville restaurants when he first transitioned to the state's top travel destination, he eventually sold two of them to cover operational costs for The Rarebit. He sold his third restaurant for expenses related to the Americano.
Though much more costly than first determined, the Americano is anything but a regret for the close friends.
Adamson said he knew certain pricey design choices would keep the restaurant's look high-quality and authentic and chose them purposefully.
He was particularly adamant on creating permanent wall fixtures and paintings. One back wall features a painting of flamingos while part of a lighthouse covers a wall near the entrance.
"I stay as true to concept as I possibly can," Adamson said. "Back (in the 1940s) you had lots of permanent installations on walls."
But pricey decor is anything but evidence of a pretentious or over-priced dining experience, he noted. The owners believe in pairing an upscale atmosphere with affordable prices.
"I prefer a casual restaurant someone can come in 2-3 times a week instead of once a month," Adamson said.
Americano items range in price from $3.75 tacos to a braised brisket plate for $14.50.
Though Adamson controls food choices at The Rarebit, he felt unqualified to pick the menu selections for his latest initiative.
"I know (The Rarebit) food," he said. "It's American and classic, but when it comes to Latin food, I am sort of lost. It's not what I grew up on."
On the other hand, Omahoney knows Latin and has always envisioned a place like the Americano. He still remembered the first time he and Adamson spotted the building.
"We were having brunch one day, and this space was available," he said, "so we came by and looked at it, and that was it. I just thought it was a homerun."
For Omahoney, one of the best and most popular dishes on the menu is the pollo con mojo—a mixture of seasoned chicken, Cuban rice, black beans and sweet plantains.
With everything made in-house, the Americano offers restaurant-goers a healthier option in a fast food world. And Adamson couldn't say enough about the list of fresh, chemical-free alcoholic drinks on tap—classic mixtures with a unique spin.
"In theory, making it better than you've ever had," he said.
He and Americano bartender, Brent Sweatman, are even in the process of launching an additional business venture bottling their drink varieties for sale nationwide.
Sweatman's name is already part of certain drink titles on the Americano menu.
Adamson considered the restaurant's bar scene to be one of the most innovative in the area, particularly for its lack of bar guns and willingness to offer freshly-juiced, chemical-free blends. Refreshing options include mojito on draft, an original ginger-tonic combo, frozen cocktails and seasonal sodas, among countless other flavorful fusions.
"The things that we're doing from a bar standpoint are above and beyond what anyone is doing in Mt. Pleasant and Charleston as a whole," Adamson said.
The owners actually had the 1,000-square-foot bar space added to the original building, in addition to constructing a front patio similar in size for outdoor dining. Lined with stringed lights, it's the first thing customers see when pulling in to the Americano.
Parking spaces are situated behind the building—a concept Adamson said Mt. Pleasant officials are urging all new businesses implement to give the area a "more main street kind of feel."
"The city is really encouraging that anybody who builds anything knew, be built at the street," he said.
Though money is at the root of running a business, it's the last thing on the duo's minds. They want to please customers and treat them like family.
"It's not all about making money; it's about providing something," Adamson said. "A lot of work went into it, and I hope people appreciate it."
Oh, and did I mention, it's a hotspot for Bill Murray & Darius Rucker!
The Americano
819 Coleman Blvd., Mt. Pleasant
843-352-2641
theamericanomp.com.