A Focus on Patient Care
15 Nov 2014
Trident Health continues to expand its presence in Charleston's medical-rich environment under the leadership of Todd Gallati
By HOLLY FISHER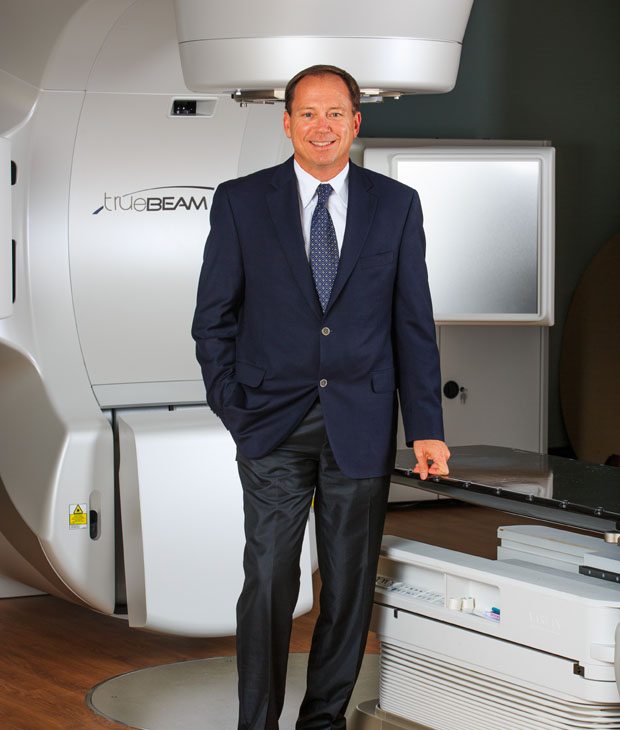 With a father who was a general surgeon and a mother who worked as a nurse, it's no surprise Trident Health CEO Todd Gallati ended up in the health care industry. As a child, Gallati set his sights on becoming a doctor, even working as a hospital nursing assistant in high school and college. But it was while he was studying at Florida State University that Gallati found his interests were less in science, and more in business. And yet he couldn't quite shake his medical side.
"I gravitated toward business, but health administration allowed me to be in health care," he said.
It was the best of both worlds. So after earning a bachelor's degree in management, Gallati went on to get his master's degrees in business administration and health administration from the University of Florida.
In his more than two decades as a health care administrator, he's never regretted his decision.
"Looking back, I can't think of any other profession I'd rather have been in," he said. "Every day is different. My first day in my administrative residency I followed the nursing supervisor (in the morning) and, in the afternoon, I was working on the financial analysis for a new project."
Taking on Trident
After college, Gallati started his career with Hospital Corporation of America (HCA), working for three HCA hospitals in Florida before coming to South Carolina. Headquartered in Nashville, Tenn., HCA was one of the nation's first hospital companies. Today it has 165 hospitals and 115 free-standing surgery centers in 20 states.
In October 2008, Gallati left Florida and came to Charleston to become the CEO of Trident Health, another HCA organization. Trident Health operates two hospitals: 296-bed Trident Medical Center and the 94-bed Summerville Medical Center. Moncks Corner Medical Center is an outpatient diagnostic center offering such services as general radiology, mammography, laboratory drawing station, physical rehabilitation, and ongoing health education programs.
A Period of Growth
Those three facilities only scratch the surface of Trident's growth in the Charleston market. Gallati has been leading the hospital system through six different projects totaling $30 million.
"It's a big investment," he said. "We're able to bring on new services we haven't had before and enhance some services."
An example of enhanced services came in September with the opening of the expanded Trident Cancer Center.
The 3,500-square-foot expansion includes the addition of the Trubeam Linear Accelerator, which delivers more powerful cancer treatments with pinpoint accuracy and precision. Trident Cancer Center's Trubeam is the first in the Charleston area using optical intracranial tracking solution software. The Trubeam imager can produce the three-dimensional images used to fine-tune tumor targeting in 60 percent less time than previous image-guided technologies.
The project also included upgrades to treatment planning software and additional aesthetic improvements. The total project cost was $6 million with half of that budget spent on the Trubeam Linear Accelerator.
Trident's Cancer Center had two linear accelerators but was at capacity, Gallati said. So they added a third machine with the latest technology and created a new addition to accommodate added equipment and the growing patient need.
Recently opened at Trident is a new behavioral health unit, which will offer 17 inpatient beds staffed by psychiatrists, social workers and nurses.
"We will not have to wait for placement for patients coming into the ER in crisis," Gallati said prior to the unit's opening. "Right now, we're holding a lot of those (patients). There's just not enough beds in our area to treat the behavioral health needs of our community."
Trident had an outpatient behavioral health unit inside the hospital, but wasn't licensed as an inpatient facility and couldn't offer the full gamut of services. Trident was able to handle the crisis, Gallati said, but not provide the needed future treatment. This new behavioral health until will change all that.
Also coming online in late October was the $7.5 million Centre Point Emergency, a free-standing emergency department near Tanger Outlets and the Charleston Area Convention Center. Open 24 hours a day, seven days a week, this facility will be staffed by board certified emergency medicine physicians.
Centre Pointe Emergency will accept walk-in patients as well as patients who arrive via ambulance. The emergency department will provide diagnostic services such as CT/X-ray and lab. The 12,300-square-foot facility has 12 private patient rooms and a dedicated ambulance bay. In addition to the emergency medicine physicians, there are 18 available specialists on call, including neurology, cardiology and surgery that Center Pointe will have access to through Trident Medical Center's Emergency Department.
In looking at that area around Interstate 526 and International Boulevard, Gallati said Trident saw the incredible growth of businesses – in large part thanks to Boeing – but also realized there was a dearth of medical services.
He expects 30 to 40 patients a day will visit Centre Pointe Emergency for ailments that are classified as emergencies along with less serious issues like colds and flu.
Gallati said he knows when people feel bad they just want to go where they can get the help they need to feel better quickly – even if that's a free-standing emergency facility in their area. "We don't want our community to feel guilty about having to come to the ER for something they may not consider an emergency," he said.
A Hospital in Berkeley County
One of Trident's long-term projects is for Berkeley Regional Hospital, but that project has been tied up in the courts for years. Both Trident and Roper St. Francis submitted a certificate of need to the state Department of Health and Environmental Control for approval to build hospitals in Berkeley County. Roper wants to build a 50-bed hospital at Carnes Crossroad near Goose Creek. Trident has plans for a 50-bed, acute-care hospital in Moncks Corner at the location of its existing emergency facility.
In 2009, DHEC approved both hospitals for Berkeley County, and each hospital filed suit. Both projects came to a halt. An Administrative Law Court agreed with the state's approval of two hospitals. Trident Health appealed that decision.
Gallati has long argued that Berkeley County simply can't support two hospitals. "We truly do believe one hospital can offer more than two small hospitals," he said.
He points to what Trident Medical Center currently offers: "in-house" 24/7 anesthesia, OB hospitalists, ICU intensivists, hospitalists and an ER doctor. "If you look at smaller hospitals these days, they really only have the ability to have one physician in house all the time, which is an ER doctor.," he said. "Size really does help you provide higher quality care, I believe."
As of press time, an appeals court hearing was set to take place in October in which a judge would determine if one or two hospitals would be built in Berkeley County. If only one was selected, Gallati said it would be sent back to DHEC to determine which hospital would best suit the needs of the community. He said he anticipates an answer by the end of the year.
A Passion for Patients
Regardless of what happens with Berkeley County, Trident continues to expand its presence in Charleston's medical-rich environment. Adding facilities, expanding services and continuing to focus on patient care will allow Trident to keep up with Charleston's fast-growing population, and stay competitive in a market with a high concentration of medical facilities and services.
Something simple – and maybe a little crazy – like feeding ER wait times to billboards around the area demonstrates Trident's commitment to efficiency, Gallati said.
"It holds us accountable," he said. "I'm very proud of our 6-minute and 8-minute wait times that I often see on our billboards."
Gallati wants current and future patients to know patient quality and efficiency are top of mind.
"We can mention the awards we've gotten, the certifications we've gotten, but it's how we take care of the patients in our hospital today that matters most," he said. "One-hundred fifty people will go through our ER today, and we need to treat those patients like they are our family. When we continue to do that, we will continue to grow like we are."