Stalwarts of the Local Garden
15 Nov 2014
Tips and advice from our garden experts
By Patty Craven and Nick Popovich of DIG Landscape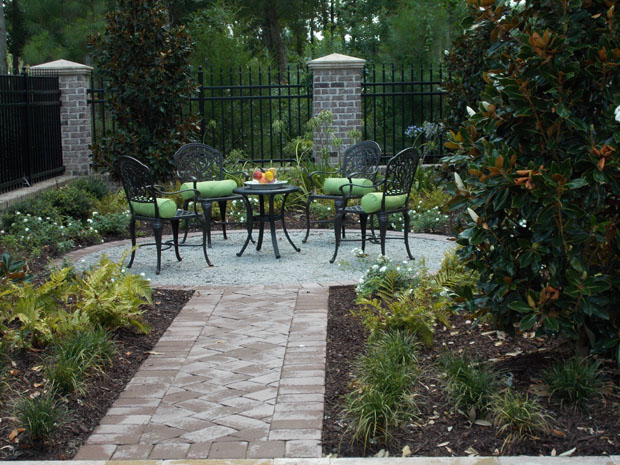 Charleston has really cemented itself as not just a tourist destination, but also as a mecca of regional cuisine. Numerous chefs have attained celebrity status for their implementation of the so-named 'farm to table' movement. At no other time can I remember the term "local" having such immense stature.
The 'local' moniker also applies itself with great importance to our designed landscapes, and I think it would be justified to review certain elements that really should be considered as stalwarts in the Lowcountry garden. Some may be overlooked but are worthy of incorporation within one's landscape efforts. Here are the elements that I feel make our region (and your yard) so special and significant:
Tabby Concrete
Oyster shell infused concrete is such a great surface, and really an economical one as well! The shell comes graded in varying sizes so the texture can be altered to one's preference. Consider it for your next driveway, walking path, or patio. It also pairs well with other media and can be scored (saw-cut) with a pattern of lines to bring even more life to it.
The Kitchen Garden
Almost every property has a spot for a lovely little herb or vegetable garden. Think of a small raised planting bed, edged in brick or wood that isn't just utilitarian, but becomes a landscape attribute in itself. Enjoy the change of seasons with various plantings that yield throughout the year.
The Tropics
Our climate allows for foliage that speaks to our connection with the West Indies. The foliage of various palms and cycads perks up most any landscape and juxtaposes itself against other leaf forms. Think of some smaller growing ones that aren't as commonly utilized: Chinese fan palms, needle palms, lady palms, and silver saw palmettos.
Bluestone and Brick and Ballast Stone
Head downtown (Chalmers Street for instance) and remind yourself of these materials and their possible uses in your own landscape.
Even just small accents of these materials (due to their inherent costs and associated installation labor) can truly heighten the Lowcountry look in your landscape. The Fieldstone Center of Charleston is a great local resource. Bluestone comes in many sizes and varied colorations (not just "blue"). And while the use of antique, oversized, English brick is fantastic, it's also a scarce commodity and thus quite pricey. Consider a replica of a handmade brick from Boral that mimics quite well indeed the feel of old Charleston.
Citrus
Yes, there were citrus orchards in the area way back when. And, while last winter was a rough one, do try to pick just the right spot for a Meyer Lemon tree—you'll be rewarded with the best of fragrances and a glass of lemonade that never tasted so good!
Structures
Outbuildings, trellises, and pergolas (at least one of these) should find a home in every landscape in South Carolina. We are a place of important historical architecture. This architectural design doesn't stop with the residence. The relationship between home and garden is enforced with well detailed and well situated structure that helps create the out-of-doors destination, and really creates that prized atmosphere of an outdoor room.
So the simple advice is to stay true to your roots (yes, pun intended) and embrace that which makes us such a destination. We are indeed blessed to call this place home!
Wait ― I almost forgot #7 ― Charleston Green paint! What other city has a color association? Whether it's applied to a fence, a gate, or an aforementioned pergola, the accent of this stately color truly brings the feeling of Charleston all the way home.