A Heartfelt Mission
05 May 2021
Director of Jewish Family Services of Charleston is committed to leaving the world a better place
By Holly Fisher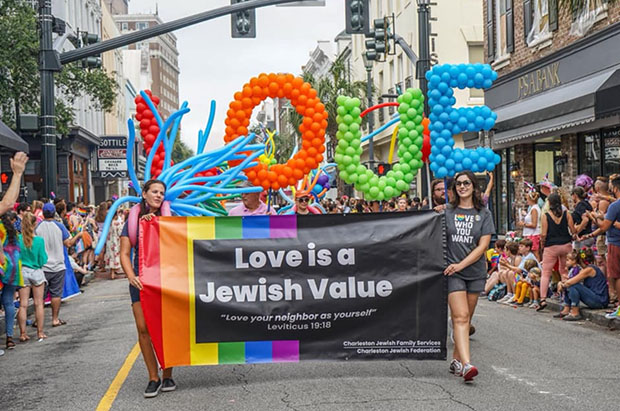 When Sara Sharnoff Tick was a child, she didn't ask her mom for bedtime stories. Instead, she wanted to hear about her mom's work as a clinical social worker. Forget the fairy tales. Tick was interested in how her mom had helped someone that day.
It's no surprise that Tick went on to study psychology and family therapy. Her nonprofit work over the last decade further cemented Tick's overwhelming desire to help people facing hard times.
"Being a therapist is wonderful," Tick said. "You get to hear people's stories. You walk by people on the street and never know who they are and what they're going through. But (as a therapist), I get to spend an hour with someone talking about their life. It's an honor to do that, to help them reach their goals and transform. It's the best job in the world."
Tick wears her therapist hat and several others as executive director of Jewish Family Services of Greater Charleston.
Her hands were full over the last year managing community needs in a pandemic and launching Jewish Family Services as a standalone nonprofit. There are just two other staff members: full-time director of senior outreach and case management Judy Hinman and part-time Jewish community chaplain Rabbi Aaron Sherman.
While the organization is, as Tick says, "tiny but mighty," the small team accomplishes a great deal of good for the greater Charleston community.
Since Tick came to Charleston in 2012, and since then, the need for mental health services, a kosher food pantry and emergency financial assistance has grown. Her first job in Charleston was director of Jewish Social Services, at the time, a new department within the Charleston Jewish Federation. She was tasked with helping address emotional and financial needs in the community.
The requests from families, seniors and other vulnerable populations increased. In 2014, Jewish Social Services became the Charleston Jewish Family Services, joining the Network of Jewish Human Service Agencies.
The organization kept growing and expanding, Tick said. As it became financially stable, Tick said it was time to launch Jewish Family Services of Greater Charleston as an independent organization. The newly-minted nonprofit officially launched in January 2021 with its new name, but the same mission of helping those in need.
Expanding Community Needs
Jewish Family Services works throughout the tri-county area providing much-needed assistance to mainly families and seniors. Tick said the global pandemic was incredibly challenging for the community on so many levels, including mental health.
As a licensed therapist, she offers counseling to all ages and often pro bono.
"We don't turn anyone away," she said. "I'm a therapist first. Mental health service is something people cut if they have to choose between that and groceries. But if you don't take care of your mental health, it's hard to get back on your feet. We want mental health care to be accessible."
She saw a spike in depression and anxiety during the pandemic as well as more hospitalizations.
"All around, it was a tougher year," Tick said. "So, I'm passionate about offering that service."
In addition to mental health services, the organization runs a kosher food pantry. That service was also in high demand during the pandemic. With their office in West Ashley closed, Tick said they were able to open a drive-thru food pantry at Sherman House, an independent living complex in West Ashley for seniors and those who are disabled.
Tick said right now they plan to keep the drive-thru kosher food pantry running at Sherman House in West Ashley every other Friday. One of the benefits of being a small organization, she said, is that they can quickly adjust to community needs and circumstances.
Charleston's older population is burgeoning as people retire to the coast—and Jewish Family Services is feeling the impact.
Judy Hinman, director of senior outreach and case management, stays busy checking in on seniors who may not have family close by. Particularly during the pandemic, seniors have been isolated so Hinman and volunteers made phone calls or dropped off groceries and other necessities.
Jewish Family Services also provides emergency financial assistance for seniors who need medication not covered by insurance or help paying their rent, mortgage or utilities.
"A lot of seniors are on a fixed income. And we have many clients over 100 years old. They have outlived their means," Tick said.
Staying True to the Mission
Thanks to donations and grants, Tick said Jewish Family Services can stretch its dollars and do a lot of good despite being its small staff. Part of that is staying focused on providing case management, mental health and emergency financial aid.
"We try not to expand too much. We try to zone in on how we can be the most effective," she said. "We're trying to help people get out of crisis."
One of the misperceptions about Jewish Family Services is that the organization only serves people of Jewish faith. Not so, Tick said.
While Jewish Family Services will certainly assist any of Charleston's more than 11,000 Jewish families, the organization has an open door to the community at large.
"We are here to help anyone we can," she said. "We are here for people who are in need."
So why leave "Jewish" in the organization's name? It's simple, Tick said. "We want to make sure we are running the organization with Jewish values."
At the heart of Jewish Family Services' mission are two fundamental Jewish values: tzedakah (charity) and tikkun olam (repair of the world). Tick said her team is committed to leaving the world a better place. Other core Jewish values that drive their work are an obligation to create justice in the world, treating others with dignity, compassion and caring for others, and acts of kindness and assistance toward others.
Tick's own Jewish faith is integral to her work and her desire to help.
"I've always felt very tied to my Jewish identity," she said. "Especially growing up in South Carolina and being a religious minority. It made me realize I have to be tolerant of all people. You can't tell who someone is by looking at them or their name. Inclusivity of all people, races and backgrounds is something I carry with me through this job every day. I treat people the way I want to be treated."
Sara Sharnoff Tick
Director of Jewish Family Services of Charleston
Education: Bachelor's degree in psychology and gender studies from Indiana University; master's degree in family therapy from University of Massachusetts, Boston
Hometown: Columbia, S.C.
Family: Husband, 4-year-old son and three stepchildren
Hobbies: Spending time outdoors enjoying the Lowcountry