A Midsummer Night's Breakfast
07 May 2018
Let the parents sleep in on Mother's Day and Father's Day―treat them to breakfast-for-dinner instead.
By KIM BYER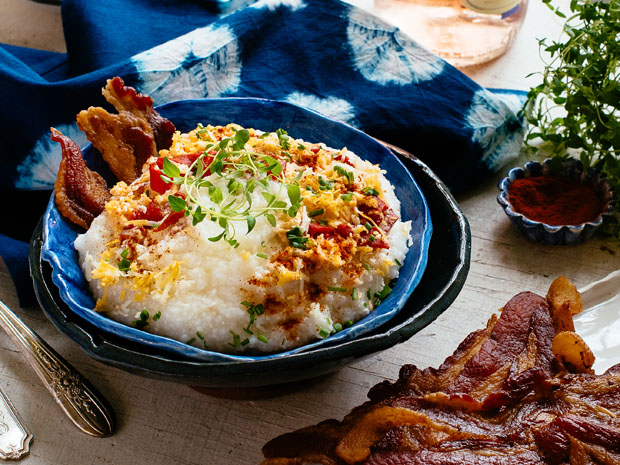 You've probably heard the delicious rumor that breakfast isn't just for mornings anymore. It's a bona fide food trend for folks who need to be told what to eat (and when, apparently). But for all of us not-a-morning-person people, this trend is simply a joyful excuse to add more bacon to our diets.
So, let's celebrate this newfound breakfast-in-bed-at-all-hours freedom. Pour yourself a big bowl of granola (or Cap'n Crunch) and cuddle up with these morning-to-midnight menu ideas. Our prime-time lineup includes spicy tortillas made with breakfast sausage, three-ingredient biscuits as big and fluffy as your cat's head, smoky pimiento cheese grits, and a smoked salmon toast so elegant, it tempts a cocktail. Breakfast-for-dinner desserts include a puffed up Dutch baby pancake (be sure to circle the guests when you unveil it from the oven) and a French toast casserole bursting with baked fresh blueberries.
Summer is here, friends. Grab a glass of rosé and an egg whisk and let's slay this breakfast dragon.
Sausage and Cheddar Tortillas
Serves 4
1 lb. breakfast sausage
4 eggs
4 flour tortillas
4 ounces shredded cheddar cheese
Butter for frying
1 avocado
Handful of cilantro, chopped
Sour cream, limes, hot sauce, and sliced jalapenos for serving
In a large skillet, fry the sausage and strain the grease. Cook eggs with the sausage, until the yolks are set and the egg whites are opaque.

Place four tortillas onto a buttered grill. Sprinkle cheese on top. When cheese melts, place one egg and ¼ of the sausage onto a tortilla.

Add slices of avocado, cilantro and toppings and serve.
Mayonnaise Biscuits
Yields 4 biscuits
¾ cup whole milk
½ cup mayonnaise (yes, Duke's)
2 cups flour plus extra for dusting
Preheat your oven to 400°F. Using a medium-sized bowl, whisk the milk and mayonnaise together. Put the flour into a larger bowl and make a well. Slowly incorporate the liquid into the center of the bowl. The mixture will be very sticky, so with flour-covered hands, gently turn onto a generously floured flat surface.

Coat the mixture with flour until a soft-as-air dough ball forms. Slice the ball into four equal parts and gently form hamburger-bun sized biscuits.

Place these onto a greased baking sheet and bake for 15 minutes or until golden.
Tip: Serve warm BLT-style with basil or try honey and cantaloupe.
Twilight Toast with Smoked Salmon & Caviar
Serves 4
4 ozs. cream cheese or crème fraiche
4 slices of bread, toasted with butter
1 8-oz. package wild-caught smoked salmon
1 small cucumber, thinly sliced
Salmon roe, lemon rind, dill, and/or chives for topping
Spread toast with cream cheese then layer cucumbers, smoked salmon and toppings.
Tip: This toast tastes better with a flute of champagne or a chilled glass of rosé.
Smoky Pimiento Cheese Grits
Yields approximately 1 cup pimiento cheese
4 ozs. cream cheese
1/2 cup mayonnaise
1 tablespoon smoked paprika
4-5 whole pimientos, sliced
4 ozs. sharp yellow cheddar cheese, grated
4 ozs. extremely sharp white cheddar cheese, grated
Kosher salt and freshly ground pepper, to taste
Good quality grits, prepared according to instructions
Thyme, chives, basil or other fresh herbs, snipped
In a medium-sized bowl, blend cream cheese, mayonnaise and paprika until smooth. Stir in pimiento and cheeses, and then season to taste.

Add hot grits to bowls and spoon the pimiento cheese on top. Top with snipped herbs and serve.
Dutch Baby Pancake with Bananas, Berries & Chocolate
Serves 4-6
½ cup all-purpose flour
½ cup milk
3 large eggs
1 tablespoon sugar
1 teaspoon vanilla extract
¼ teaspoon kosher or sea salt
3 tablespoons butter
Banana slices, berries and hazelnut spread for serving.
Heat the oven and a heavy 9 to 10-inch skillet to 425°F. In a blender or food processor, blend flour, milk, eggs, sugar, vanilla extract and salt until smooth.

Carefully remove the hot skillet and melt the butter, swirling it around the pan and up the sides.

Pour in batter and bake for 25 minutes or until pancake edges are puffed and golden. The pancake will fall quickly after cooling. Add toppings, slice and share!
Blueberry-Lemon French Toast Bake
Serves 6
4-5 cups of day-old sweet bread, such as brioche or Hawaiian rolls, chopped into cubes
4 eggs
10-oz. jar prepared lemon curd (divided use)
¾ cup whole milk
1 tablespoon poppy seeds
12 ozs. fresh blueberries
Zest of one lemon
1 tablespoon granulated sugar
Butter a medium-sized casserole dish and add the bread cubes.

In a small bowl, whisk the eggs, half of the jar of lemon curd, the milk and poppy seeds together. Add blueberries to liquid and pour over bread cubes.

Sprinkle on sugar and chill for one hour (or overnight).

Bake for 30 minutes at 350°F or until puffed and golden. Serve with remaining lemon curd and lemon zest.
Tip: This casserole can be assembled and chilled overnight for an easy morning meal.