French Style Down South
07 May 2018
Enjoy shopping for home décor and personal gifts straight from Europe at Lavender Hill Designs
By TERI ERRICO GRIFFIS
Photos by GRAHAM CERCEO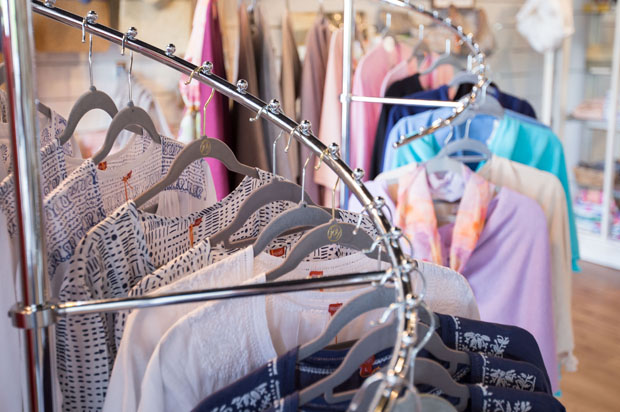 Europe may feel far from our Lowcountry coast, but shopping in Paris is just a car ride away. Well, almost. Take the scenic route to Belle Hall and pop into Lavender Hill Designs gift shop where you can find home décor, gifts and personal accessories straight from France. Owner Tracey Wonnacott takes the trip overseas to hand-pick each item and she and her partner Beth Hoehne love sharing them with their regular shoppers.
It's been 27 years since Wonnacott and Hoehne met in Massachusetts, becoming friends when their children started pre-school together. Wonnacott had previously been a gift basket-turned-gift shop owner and the friends cultivated a dream of opening a shop in Charleston—a city Wonnacott fell in love with on her honeymoon 30 years ago.
Wonnacott fell in love with France long before then, however. Her mother was born in England and the shop owner and her family took frequent trips to visit their British relatives. The City of Lights was just a jump away and it was then that her passion for the French culture began. In 2016 she and Hoehne combined their joie de vivre and opened their artisan shop in Belle Hall Shopping Center.
"Shops here are very geared towards coastal and carry the same things, so we thought something from Europe would be different," says Wonnacott, a self-proclaimed Francophile. "We try to find things that would pair nicely with the coastal look, but can't be found in other local stores."
One unique line is Sophie Allport's homeware designs, a brand that's wildly popular in London. There's also bcharmed jewelry and beautiful Wanderlust stationery found primarily overseas.
"We try to stay away from something a tourist would pick up when over there," Wonnacott says. "So instead of having small Eiffel Towers they can buy, we have hand-blown glass from Biot, France, which has been done in the same small town in the south of France for generations."
Biot is located in the Provence-Alpes-Côte d'Azure region in southeastern France, near the French Riviera. The bubbles in the glass are indicative of the glass blown there and they come in delicate colors and are all marked with the BIOT signature.
Walking the shop, you'll spot items that are decidedly French, such as Lavender Hill's linens. "The napkins and tablecloths are old style, bright colors, and they wear like iron," Wonnacott explains. "Before a shopper even touches them or looks closely, they know it's French."
Then there are items you would have no idea are from other countries until you flip them over or read the label, such as totes or beach bags made in the Netherlands or home décor from Spain and Portugal. Inventory changes regularly. Wonnacott heads to shows in Paris and London twice a year—they no longer head to stateside shows because they found local vendors often purchased the same items and Lavender Hill Designs is proud to be both authentic and different.
The Paris show the owners buy from is one of the biggest in Europe, and while Lavender Hill Designs leans towards French and English items, Wonnacott and Hoehne select items from designers all over the continent. "We find such interesting, different, cool things," says Wonnacott. "Something new we picked up were notecards from this girl in London who paints, and prints her paintings onto cards. Not only are the paintings original, but the envelope is vellum so you can see the card through the envelope. We look for those kinds of things that are unusual and that our customers would like."
In addition to notecards, linens and bags, the artisan shop carries dishes, be it cute, bistro-style serving plates or trendy black sets, and a delicate selection of champagne and wine glasses. Peruse beautiful pillows, furniture, lighting and decorative pieces for your home, such as candles and vases. Treat yourself to a bathrobe and bath products, gift a friend with gorgeous jewelry. Even shop for the season with everything from scarves and ponchos to beach tunics.
"I just love that I get to go to Europe and shop for a living," Wonnacott says. "I get to go to the places I love and bring home beautiful items and share them."
Wonnacott happily shares her finds with the loyal following who visit her store on a regular basis. "They come for their gift needs, something for their home or just to stop in and chat," Wonnacott says. "They tell their friends and family about us and recommend us to whoever will listen!" Other patrons just like the store and some are true Francophiles or lovers of all things European and come simply to see what's new. "Customers constantly tell us that the store is lovely and the music is so relaxing and reminiscent of their visit to Europe. We try to make coming into the store an experience. We invite our customers to have a coffee, relax and wander around." In the end, Lavender Hill Designs hopes their shoppers feel the ambiance of their favorite European place—without having to leave the Lowcountry. 843-352-7042 , lavenderhilldesigns.com