A New Way of Seeing
04 Jul 2014
Karen Ann Myers explores the patterns of life
By JASON A. ZWIKER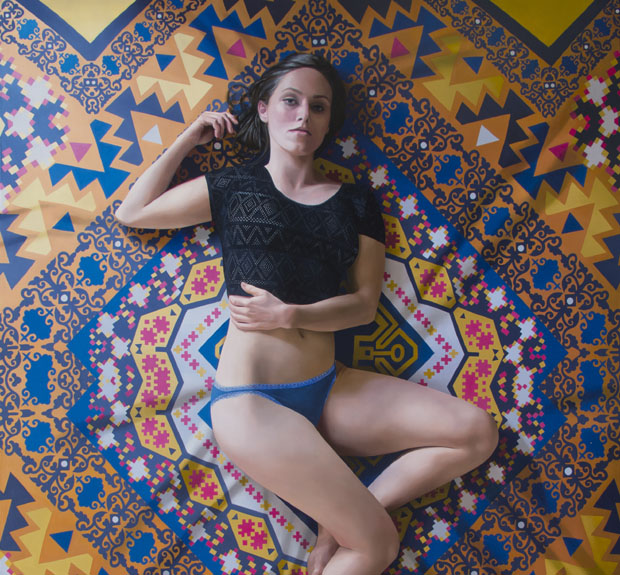 The package arrived, quite heavy, postmarked from Georgia. "Hey," Karen Ann Myers asked her boyfriend. "Did you order anything recently?"
He had not.
Curious, she tore the package open and found… a vintage Lathem mechanical time recorder. A workplace punch clock, from the days of old. It was a gift from her good friend Jeffrey Whittle, former Gallery Director of The University of Georgia, Athens.
"That was the coolest day ever," she says. "He was so kind to send that to me."
She'd first seen the time clock in his office a year before when she was showing her work at UGA. It was an "Ah-Ha!" moment for her. "Managing time is such an important part of being an artist," she says. "The act of clocking in means that you're scheduled to work."
Hundreds of hours go into each of Myers' paintings. It's not hard to see why. Her work is meticulously detailed, almost startling in its photorealism and vibrancy. Young women, limbs at strange angles, appear in bedrooms that shimmer with pattern and color. There's a profound psychological exploration at work here, almost as if the blankets, rugs, wallpaper, and woodwork were more inner landscape than outward surrounding.
Originally from Grand Rapids, MI, Myers came to Charleston in 2008 after completing her MFA at Boston University. As executive director of Redux Contemporary Art Studios and as a solo artist, she quickly established herself within the local art scene. She became associate director of the Halsey Institute of Contemporary Art in 2011. In 2012, Oxford American named her among the 100 Under 100 New Superstars of Southern Art.
Standing in front of one of her original paintings – and really, that's the best way to appreciate any painter's work – can be an emotionally stirring experience. Look long enough and the patterns surrounding the young women she paints almost seem to shimmer.
The unconventional viewpoint of her paintings – quite often a bird's eye view of a young woman on a bed – allows her to focus more on figures and patterns than a traditional straight-on shot might allow.
"A by-product of the psychology behind that is that it puts the viewer in a really weird place in relation to the subject," she says. "You wouldn't expect to be looking at someone from that perspective."
She is positively in love with patterns and her art is filled with exquisite detail. It pays to look closely at that detail and see how it harmonizes with the other elements of the painting. There is something musical in how it all comes together.
As both gallery director and artist, Myers has watched the art scene in Charleston evolve over the years. And while there has been plenty of good, she's also seen missed opportunities.
"The art scene in Charleston is growing, that's true," she says. "But, at the same time, it's sad that many of the more experimental art venues have left. Eye Level, Outer Space, Scoop; all of these were important outlets for non-traditional artists in Charleston, and we've seen all of these close. A lot of great, emerging artists at College of Charleston and other places don't see a place for themselves locally and are looking elsewhere to grow as artists."
"As an artist, it's important to make contributions to the community that you're involved in," she says. "Creating opportunities for new, emerging artists is important."
One of the ways that Karen has given back to the community is through Charleston Supported Art, a program initiated by Kristy Bishop. Based on the agricultural model of CSAs, in which people who love fresh produce are connected to local farmers, Charleston Supported Art strives to do the same for art collectors and artists. "Leaders from the art community were selected to help facilitate this program," Myers explains.
"The amount of support we've seen already has been absolutely tremendous."
Solo exhibitions of Myers' work have received acclaim all across South Carolina and Georgia, and as far as Lansing, Michigan and Los Angeles, California. A new solo show of 15 of her works will be on display at Robert Lange Studios, 2 Queen Street, beginning June 6.
There's an intensity to Myers that isn't surprising to anyone who has truly appreciated her art. She is a passionate speaker, often lecturing on topics of interest to the art community, and she is generous in sharing her considerable knowledge with new and emerging artists.
A day not spent in the gallery or studio might be a day browsing through fabrics, discovering new patterns, new textures, and new ways of seeing. She has an eye for matching patterns in a way that stirs the senses and the technique she uses to create these on the canvas is meticulous to say the least. It can take most of a month to go from the initial rough sketch of the scene through to the finished painting.
There's a famous quote by Lincoln in which he says that given a number of hours to chop down a tree, he'd spend most of them sharpening his axe. There is something of that in the way Myers works. She plans exhaustively, washes her brushes thoroughly, and carefully creates precise palettes of color to apply to each section of the painting. Only then, slowly and steadily, is an intimate look into the inner realm of each woman she paints brought into being.
The time invested is well worth it, each satisfying clack of the time clock marking another step toward a dream fully realized.