A New Year's Eve to Remember
09 Nov 2018
Bringing in the New Year at home sounds simply luxurious. You've invited your favorite friends. Selected the perfect party attire. Bought the champagne. Now what? Don't settle for the same old recycled party menu to kick off 2019. Instead, throw an unforgettable with delicious hors d'oeuvres and cocktails that will leave your friends clamoring for the recipes. Luckily for us, Kelly Franz, Executive Chef at Magnolias (with help from Pastry Chef Mallory Ellis and Kristine White, Bartender) has personally whipped up new creations for the new year, and she's only sharing them with our readers.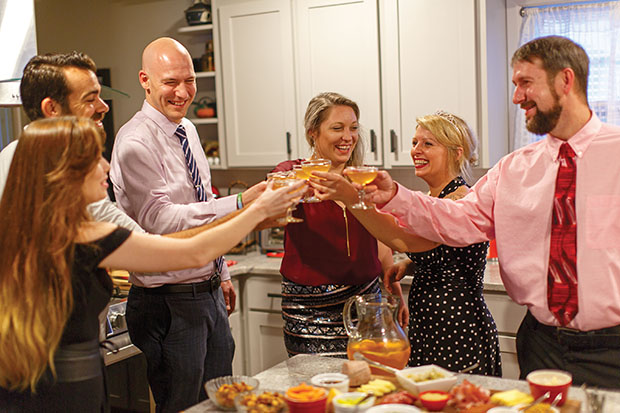 Party Olives
24 pimiento stuffed green olives
1 pint Grey Goose vodka, or your favorite
8 ounces cream cheese, softened
1/4 cup finely chopped toasted walnuts
1 tablespoon finely chopped parsley
zest of 1 lemon
In a container with a lid, soak the olives in vodka and refrigerate overnight.

Drain completely and pat dry. (Reserve the vodka for dirty martinis later in the evening!)

Wrap each olive in a thin layer of cream cheese.

Refrigerate olives for at least 30 minutes (or up to two days).

In a small bowl, combine walnuts, parsley and lemon zest.

Roll the olives in the walnut mixture just before serving.
Smoked Trout Deviled Eggs
8 eggs, boiled & peeled
4 ounces smoked trout, skin & pin bones removed
1 small minced shallot
1/4 cup mayo
1 tablespoon Dijon mustard
1 tablespoon finely chopped fresh dill
2 tablespoons capers, drained
1 ounce quality caviar, optional
Cut eggs in half, separating the whites and the yolks.

In a small food processor or with a fork, mix the yolks with the trout, mayo, mustard, dill and shallots until completely smooth; fold in the capers last.

Using a spoon or piping bag, fill each egg half with the yolk mixture.

Top each egg with caviar. (You can also use capers and sprig of fresh dill as a garnish if you don't have caviar).
Brussels Shots
12 2-ounce shot glasses
Fill each shot glass three-quarters of the way up with the potato fondue. Top with crispy Brussels sprouts and finish with a teaspoon of balsamic reduction. (Servewith a small spoon.)
Potato Fondue
2 large Russet potatoes, peeled and cubed
3 tablespoons butter
1/2 cup whole milk or heavy cream
1/2 cup grated sharp white cheddar cheese
2 tablespoons grated Parmesan
kosher salt & freshly ground pepper to taste
In a medium saucepot, add just enough water to cover the potatoes.

Boil potatoes until soft and remove from heat. Drain completely.

Add butter and milk to potatoes while they are still hot.

Using a hand mixer on medium speed, whip potatoes until all ingredients are incorporated. (Add more milk if necessary to achieve the desired consistency.)

Using a rubber spatula, fold in both cheeses until they are melted.

Season with salt and pepper to taste.
Crispy Brussels sprouts
2 cups thinly sliced Brussels sprouts
1 tablespoon olive oil
kosher salt to taste
Preheat the oven to 400 degrees.

Toss Brussels sprouts in olive oil and lightly season with kosher salt.

On a sheet pan, evenly spread Brussels sprouts and roast for 20-25 minutes. (The leaves should be crispy and caramelized.)
Balsamic Reduction
1/2 cup balsamic vinegar
2 tablespoons sugar
In a small saucepot, mix vinegar and sugar and bring to a boil.

Reduce heat to a simmer and allow mixture to reduce by half.

Remove from heat and allow to cool completely before serving.
Charcuterie & Cheese Board
For the perfect board, choose an assortment of cheese varieties with different textures and flavors, such as Roquefort blue, Port Salut, sheep's milk Manchego, Gruyère, and a simple sharp white cheddar. For the charcuterie, add a thinly sliced Prosciutto, a soft and spicy 'nduja, soppressata, and duck confit rillettes. Add crackers and a fresh baguette, sliced thin and toasted. The key to a great cheese and charcuterie board are the condiments and accompaniments, after all!
(Recipes for Franz' pickled vegetables, onion jam, beer mustard and dessert can be found online at charlestonlivingmag.com).
Duck Confit Rillettes
4 cooked duck legs
2 tablespoons bacon fat
2 tablespoons unsalted butter, softened
1 minced shallot
2 minced cloves garlic
1 lemon, juice and zest
1 tablespoon fine cognac
Pull the meat from the duck legs while they are still warm.

In a food processor, pulse duck meat with remaining ingredients until smooth and fat is incorporated.

Season with kosher salt to taste.

Refrigerate for at least 2 hours or overnight before serving.
COCKTAIL
Blushed Apple Champagne Cocktail
1/2 cup Lillet, a French wine-based aperitif
2 bottles of your favorite sparkling Rosé
Combine shrub (recipe below) and Lillet together in a pitcher.

Add sparkling rosé and serve immediately.
Apple Cardamom Shrub
1/2 cup apple cider vinegar
1/4 cup turbinado sugar
2 teaspoons crushed green cardamom pods
2 red apples, grated
Mix vinegar, sugar and cardamom pods together.

Add grated apples, cover and allow to sit at room temperature for two days.

Strain well; it can be refrigerated for up to 5 days.
Blood Orange Mimosa Cake
Recipes follow for: Coconut Buttermilk Cake (cooled), Blood Orange Mimosa Mousse, and White Chocolate Ganache
Coconut Buttermilk Cake
3/4 pound (3 sticks) unsalted butter, at room temperature
2 cups sugar
5 extra large eggs, room temperature
1 1/2 teaspoons pure vanilla extract
3 cups all-purpose flour
1 teaspoon baking powder
1/2 teaspoon baking soda
1/2 teaspoon kosher salt
1/2 cup milk
1/2 cup champagne
Preheat oven to 350 degrees. Line greased cookie sheet with greased parchment paper

Using an electric mixer fitted with a paddle attachment, cream butter and sugar on medium-high for 3-5 minutes

Crack eggs in a small bowl; add 1 egg at a time to the cream mixture on medium heat, continuously scraping down the bowl while mixing

Add vanilla extract and mix well

In a separate bowl, sift flour, baking powder, baking soda and salt together

On low speed, add dry ingredients, milk and champagne in 3 parts to cream mixture; begin and end with dry ingredients

Pour batter into pan and smooth with a knife

Bake in center of oven for 20-30 minutes; top should be brown and cake tester should come out clean

Cool on baking rack for 30 minutes, then turn cake out onto rack to finish cooling
Blood Orange Mimosa Mousse
1 (8 oz.) package cream cheese, softened
1 cup granulated sugar
1/2 cup blood orange Juice
1 1/2 cups heavy cream
1 teaspoon gelatin
1/4 cup champagne
Combine cream cheese and sugar in a mixing bowl with the paddle attachment until sugar dissolves

Add blood orange juice and scrape the bowl to thoroughly combine. Set aside

Begin whipping heavy cream

Melt gelatin in a pan with a bit of water; when dissolved gelatin should be clear liquid but do not over-heat

Add gelatin to whipping heaving cream when it is almost down; add champagne. Continue to whip to stiff peaks

Fold 1/3 of whipped cream into blood orange mixture; then fold in the rest
White Chocolate Ganache
1/2 cup heavy cream
1 cup white chocolate
Pour heavy cream into a saucepan over medium heat; heat until just boiling

Remove from heat; add white chocolate chips

Whisk gently until white chocolate chips are melted and blended into the cream

Cool until slightly thickened, about 15 minutes
For final dessert:
Cut cooled cake in half

Place top side down; spread with mimosa mousse

Top with second layer, top side up

Pour slightly cooled ganache over the top of cake

Freeze overnight

While frozen, trim any excess ganache that might have spilled over; cut cake into 1 1/2 inch squares

Decorate with any topping you choose, such as chocolate pearls or sprinkles; serve cold