A Porch for the Holidays
09 Nov 2018
Our local stylist offers timeless decorating tips that will last from Thanksgiving to New Year's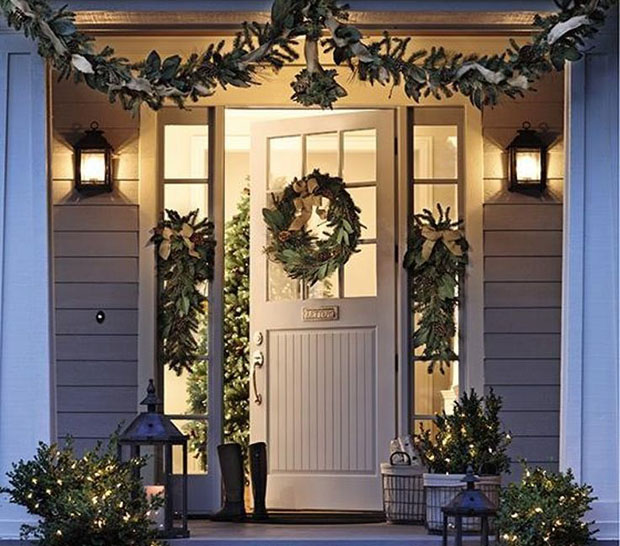 First impressions are everything and the front porch is the first "room" that your guests walk through when they visit. It perfectly ties in your outdoor curb appeal with your indoor style, and Sharon Payer, Interior Stylist and Owner of The Station Park Circle, shares her go-to designs to seamlessly decorate through the holidays.
Here in the South especially, it's important for your porch to feel welcoming and inviting as guests enter. "After all, we are known for our hospitality!" Payer says. "The holiday season allows us to embellish our porches and front doors even more, maybe going bolder or styling it in a way we may not do so year round."
To make the transition from autumn to New Year's smoother, simple touches, such as swapping out the mums with poinsettias, holly bushes, or Norfolk pine can make all the difference. A new door mat and festive seasonal outdoor pillows are another simple way to express you holiday spirit, while also incorporating your color theme.
As you plan, there are three basic elements to consider when decorating: texture, color, and light/sheen. The holidays always allow for a little more sparkle after all.
"When considering you outdoor décor, start with the inside of your home," advises Payer. "Decide what color theme you're going with and don't be afraid to steer away from tradition. You can make any color feel festive, and know that white and metallic are colors too."
Remember to keep the interior and exterior feeling consistent, and carry your design aesthetic throughout. "Color does an amazing job of tying a design together," Payer notes. "For the texture, if you're using pines outside, use the smaller clippings as fillers on your mantel, an entry table, a console, or in a vase as the centerpiece on your dining table."
Greenery and other holiday plants and flowers are Payer's "one-must-have no matter" because they add great texture. "Whether it's a formal look with shaped topiaries, a traditional cluster of poinsettias, or an urn of rustic pine branches, bringing something natural to the front porch warms up the entry into your home and is a welcoming invitation," she explains.
Payer's go-to is loblolly pine branches, which are native to Charleston. "These freshly clipped, long-needled beauties strung with lights are an unexpected element to a porch," she explains. To create the ideal display, gather enough branches to fill an urn or tall vase.
Fresh garland and a wreath are classics, as are poinsettias. Payer personally loves designing with pink poinsettias, which complement a neutral holiday color theme and carry over into the new year. They also play well with the variety of hues in which Camellias bloom this time of year.
"Local nurseries and florists provide you with all the live greenery and plants you'll need," says Payer, who frequents Roadside Blooms on Spruill Avenue. "The staff and selection there are top-notch."
Keep in mind scale as well when tying in your landscape with you front porch. "A small yard and porch may not be able to carry garland, a wreath, and greenery flanking the door," says Payer. In this case, less is more. Stick with one textural element to make the bigger impact.
For the final touch, add the sparkle! String lights, ornaments, and outdoor candles are a must-have to give you a warm and welcoming holiday front porch. Plaids and ginghams are also great style designs that carry over well from Thanksgiving into the holidays, Payer notes. Their warmth transitions beautifully, and you can simply add holiday greenery and festive lights.
"You don't have to go over the top styling your porch for the holidays," Payer says. "Even the simplest of elements will set the tone and make you guests feel welcome as they walk through your door." Tis the season. Cheers!