A World of Discovery
04 Sep 2022
Empire Oyster's RAW LAB is the most memorable meal you'll eat in Charleston
By Jenny Peterson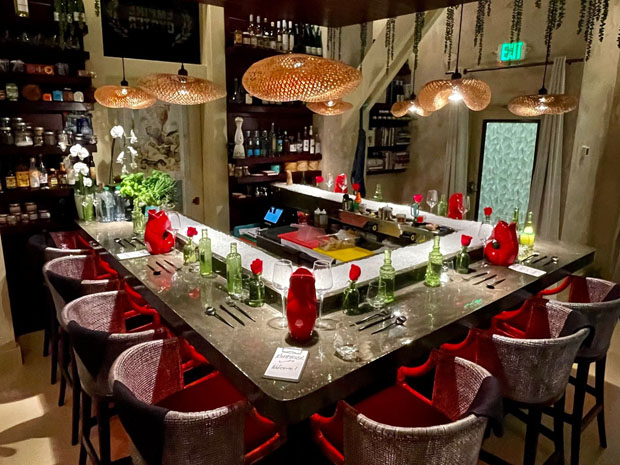 Describing one of the greatest meals of your life can magically transport you back the moment, remembering the vivid flavors that stay with you for weeks, months, even years later.
That's the experience for the 600 diners who have discovered Empire Oyster's RAW LAB, the most unique fine dining experience in Charleston. The magic unfolds inside a room the size of a master bedroom behind a nondescript door along the historic Charleston City Market.
With seating only for 12 diners each night at communal bar seats, diners are given no menus, putting their entire dining experience into the hands of Kevin Joseph, a mermmelier (sommelier of seafood), aquaculture expert and hospitality veteran, who takes them on a nine-course raw seafood journey unlike anything they've ever seen.
It's a prix-fixe Omakase raw bar experience—the first of its kind in the world done with oysters and seafood and not traditional sushi.
"Omakase in Japanese means 'to entrust;' diners entrust me to find the best ingredients and guide them through this meal," Kevin said. "It was the best way to deliver the experience that I want to deliver."
Diners sit at highboy bar seats surrounding a custom U shaped bar topped with a trough of ice. They're welcomed with a personal chalkboard hello and silver platter of snacky accoutrements—on my visit, Old Bay-spiced goldfish and local craft pickled vegetables.
Chatting among other diners at the communal bar is inevitable; it's clear you're all there for a special experience the moment you sit down and settle in for the four-hour dining event.
In addition to water, diners are given a glass for champagne, and later, an effervescent white
white wine—the only alcoholic beverages that effortlessly pair with oysters.
Kevin is the maestro for the evening. He's approachable and informative, brimming with information without being pushy. He explains how the service will go—he'll prepare raw courses in front of everyone in a one-man assembly line, such as shucking fresh oysters and placing them on the ice trough in front of each guest and then go around and dress each with surprising ingredients.
When the dishes are ready to be eaten, he says animatedly to the diners, "Release the hounds."
The only other instruction of the night: place your empty wine glass along the edge of the ice trough when empty; with Kevin, no glass goes unfilled all night.
While each RAW LAB dinner is different depending on ingredients, or Kevin's mood or inspiration for that day, it starts out with about four rounds of raw oysters, shucked cleanly and expertly, and topped with creative, never-before-eaten combinations of flavors. No heavy sauces here; Kevin's goal is to let briny oysters and raw fish sing with minimal fuss.
Think raw oysters topped with mezcal tequila and a jalapeno slice; another with fresh-grated wasabi and a squeeze of fresh lime juice.
The dishes—and conversations—flow throughout the evening as we watch Kevin like a movie, anticipating what masterpiece will come next—like cold-smoked oysters, with Kevin filling a hookah-like chamber with a leafy substance and then smoking the oysters under a glass cloche, the smoke dramatically filling it up while he turns up his curated music for the presentation.
More dishes come out in perfect timing: a ruby colored beet-soaked salmon that Kevin shows off to each diner in its plump entirety before slicing thin and serving it raw with a salty sea bean on top.
Some dishes are heartier than others; the gazpacho topped with shrimp and Caesar salad topped with a lobster tail were the most filling, as was the shrimp ceviche served with homemade chips made out of shrimp shells.
Other dishes are purely interactive, like the "caviar bumps"—buttery caviar that Kevin places directly onto each diner's hand with instructions on how to gorge it down and tips for how to best enjoy the flavors in your mouth.
Throughout the entire evening, Kevin discusses his passion for "marine cuisine" and where he sources his dishes. Not everything he serves is from Charleston waters or even South Carolina waters; but no matter what, he sources seafood responsibility from vendors across the country.
"People like to talk to the chef that's making their food and people like to know they're eating something safe and healthy and responsible and sustainable," he said. "It's been a lifelong desire for me to understand nature and ecosystems—what is salmon in its natural state versus farm-raised salmon? What's the deal with oysters and the 'R' months?"
Throughout the meal, Kevin is as talkative as diners want him to be; years in hospitality have given him cues for his level of interaction. He's in charge of the vibe, the music, the food and the presentation. The entire experience is like visiting his house for a lively dinner party.
"I have a desire to talk and entertain and engage, and people leave knowing so much more than when they came in," he said.
His goal is to get as many diners in Charleston excited about RAW LAB as possible for his dream gig: his one-of-a-kind dining experience eaten on his 52-foot long tugboat, built in 1959, while puttering around the Charleston Harbor. The boat is set to arrive in Charleston in summer 2023.
"In order to launch that, I needed to generate a community of people in Charleston who would say, 'That dude's legit. I want to go with that guy,'" Kevin said.
Whether on land or sea, if you can swing the cost, the RAW LAB dining experience will go down as one of the most memorable meals you've ever had.
"This whole experience to me is the pinnacle of how one puts food in their mouth and in their bellies. I've had to adjust the model and the method in order to deliver it," he said.
And we're here for it.
RAW LAB is serving guests at 99 S. Market St. from Wednesday until Saturday during one 6:30 p.m. seating. Prices are fixed at $225 per person to include up to 12 wine pairings. Reservations are available through Resy and on the website at www.empireoyster.com/rawlab.