Abundantly Fresh Food + Drink
05 Jul 2022
In the Kitchen
Photos and Recipes by Kaitlin Gooding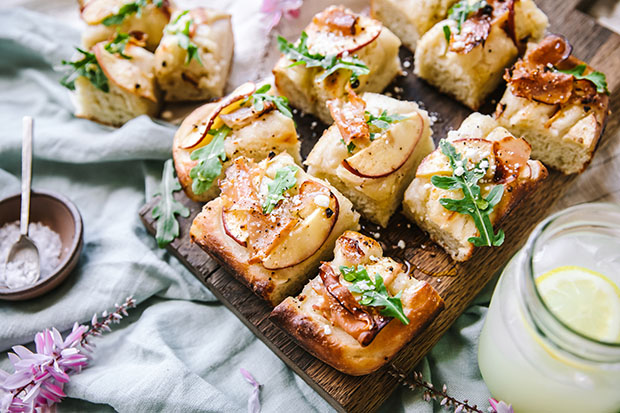 Now is the time to get into the kitchen and create delicious recipes with an abundance of fresh produce to make for your family this summer. Take these berry-licious hand pies on your next picnic. Trying to figure out what to do with that pile of carrots from the garden? Try out this carrot hummus that pairs perfect with crackers or toast for a snack by the pool. When the kids come in from playing out in the hot sun, these chocolate peppermint popsicles will be a refreshing treat! You'll be the favorite parent if you make these cinnamon-sugar French toast sticks for breakfast. From fruity raspberry-basil gazpacho to savory prosciutto focaccia, you'll be ready to host a dinner party, or just to keep the kids full and happy this summer.
BLUEBERRY-LEMON HAND PIES
10-12 mini pies
Ingredients
Dough
cups flour
2/3 cup butter (unsalted)
eggs (large)

5-6 tbsp water
Dash of salt
Filling
1.5 cups blueberries
1/4 cup sugar (extra for sprinkling over top)
1 tbsp flour
1/2 lemon, juiced
Zest of 1 lemon
Whipped cream cheese
1 tbsp butter (unsalted)
Directions
In a medium-sized bowl add the flour and salt and cut the butter into the flour. Once the butter has become small bits, add the eggs and mix well. Add 5-6 tbsp of water till it's not too dry and can form dough into two balls that will hold together. Cover and place in the refrigerator for 20 minutes.

Add the blueberries to a bowl and zest/juice the lemon over top. Add sugar and flour and mix well. Set aside. Preheat the oven to 350 degrees.

Generously flour a work surface. Using your first ball of dough, slowly roll the dough out to about 1/8 inch thick. Use a biscuit cutter (mine was 3.5 inches) to cut an even number of small circles out of the dough. Place the circles on parchment paper on a baking sheet. Do the same with the other half of your dough, making the same amount of circles.

Spread a small layer of whipped cream cheese as a base layer on each circle from the first dough. Use a spoon to dish out about 1 tbsp of filling on top of the cream cheese.

Fill a bowl with water. Wet your finger and spread the water around the edge of the circles. Place the top half of the crust (circles from the second dough) to make the pie and seal the edges with a fork, lightly pressing the dough.

Melt a tbsp of butter and lightly brush the tops of the pies. Sprinkle with extra sugar if desired. Cut small slits at the top center for the pies to vent.

Add the pies to the oven and cook for 15-20 minutes or until they are golden brown. Allow the pies to cool before serving.
PEPPERMINT CHOCOLATE CHIP POPSICLES
6-7 popsicles
Ingredients
2 cups yogurt (plain, full-fat)
1/2 cup milk
1/4 tsp peppermint extract
2 tbsp maple syrup
1/4 tsp vanilla extract
3/4 cup mini chocolate chips
3 tsp matcha powder (for natural green coloring) or green food coloring
Directions

1. Whisk together the milk, yogurt, peppermint extract, maple syrup, and vanilla extract.
Add in the matcha powder (you can add more if you'd like more of a green color) or use the food coloring to get the desired color.

Add in the chocolate chips and stir until well combined.

Pour your mix into silicone popsicle molds and insert the sticks.

Place your popsicles into the freezer up to 6 hours.

To remove the popsicle, run the silicone molds under warm water until it becomes loose enough to detach the popsicle.

Option to drizzle cooled melted chocolate over the top.
APPLE- PROSCIUTTO FOCACCIA
3-4 servings
Ingredients
4 cups all-purpose flour
2 tsp salt
2 tsp instant yeast
2 tsp honey
8 slices of prosciutto, cut into small pieces
1 apple, thinly sliced
1/4 cup goat cheese crumbles
Sea salt & pepper (desired amount for topping)
Butter for greasing pan
5 tbsp olive oil
Arugula for garnish
Directions
Begin by whisking together the yeast and 2 1/4 cups of warm water. Once the yeast is blended, allow it to sit for about five minutes.

Add the flour, 1 tsp honey, and 2 tsp salt and mix until the dough is formed.

Add 3 tbsp of olive oil into a separate bowl and transfer the dough into the oil, turning the dough over until well coated in oil.

Cover the bowl and

place in the refrigerator to sit and rise overnight.

Grease a 9x13 size pan, drizzle 1 tbsp olive oil on the bottom and place the dough in the middle. Stretch the dough to fit the pan.

Allow the dough to rise for another two hours on the pan in a warm location.

Preheat the oven to 425 degrees. Create depressions into the focaccia with olive-oiled fingers throughout the dough and drizzle one tbsp olive oil over top.

Scatter the prosciutto, apples, and goat cheese evenly on top of the focaccia. Sprinkle the bread with sea salt and pepper.

Cook for 20 minutes or until golden brown.

Once finished cooking and ready to serve, slice into squares for easy eating.

Drizzle with the remaining honey, and arugula on top (you can substitute any greens) for a garnish. This recipe is best enjoyed the day you bake it!
FRENCH TOAST STICKS
2-3 servings
Ingredients
6 slices of thick cut bread, cut into thirds
(I used a loaf of brioche bread to cut it to my desired thickness)
3 eggs
1/2 cup whole milk
1 tsp brown sugar
1/4 tsp vanilla extract
1 tbsp maple syrup
1/4 tsp cinnamon
Cinnamon sugar topping
1/4 cup sugar
1 tbsp cinnamon
Directions
Using the 6 slices of bread, cut each slice into three sticks per slice.

Preheat the oven to 350 degrees.

Combine the eggs, milk, brown sugar, vanilla extract, 1/4 tsp cinnamon, and maple syrup into a bowl.

Roll the sticks through the egg mixture and let the excess run off back into the bowl.

Place the egg-dipped sticks onto parchment paper on a baking sheet.

Cook in the oven for 10 minutes and then flip them and cook for another 10 minutes.

While the sticks are cooking, add your sugar and cinnamon in a bowl and mix until well combined.

Once the sticks are finished cooking, plate them while they're still hot. Pour the maple syrup over top and sprinkle the cinnamon sugar over them.
RASPBERRY-BASIL GAZPACHO
3-4 servings
Ingredients
3 tomatoes
1/2 cucumber (peeled, roughly chopped)
2 cups raspberries
1/4 cup basil leaves
lime, juiced
1 garlic clove
1.5 tbsp honey
1/2 tsp salt
Herbs & fresh ground pepper for garnish
Directions
Add all the ingredients into a high powered blender and mix until smooth.

Pour the liquid through a mesh strainer to remove the seeds.

Pour the gazpacho into small bowls, cover, and place in the fridge until chilled.

Garnish with pepper, and herbs of choice.
CARROT HUMMUS
side dish, approximately 6 servings
Ingredients
1 can, 15-ounce chickpeas, drained
1/2 pound carrots, peeled and chopped
1 garlic clove, chopped
1 tsp honey
2 tbsp tahini
1 tbsp lemon juice
5 tbsp olive oil
1 tsp salt
Salt and pepper for seasoning
Directions
1. In a large pan, add the carrots and drizzle 1 tbsp olive oil over the top with salt and pepper. Cook the carrots for five minutes until they are softened. Add your chickpeas and garlic and cook for another five minutes, occasionally stirring.
Add the carrots and chickpeas into a high powered blender. Add the lemon juice, 1 tsp salt, tahini, honey, 4 tbsp olive oil (you can add more if needed) and blend until smooth.

Pour into a bowl, top with salt & pepper, and serve with crackers or veggies to dip!