An Accommodating Home
15 Jan 2016
Sea Island Builders steps up to a challenging new build that needs to be ADA compliant as well as withstand renters
By HELEN MITTERNIGHT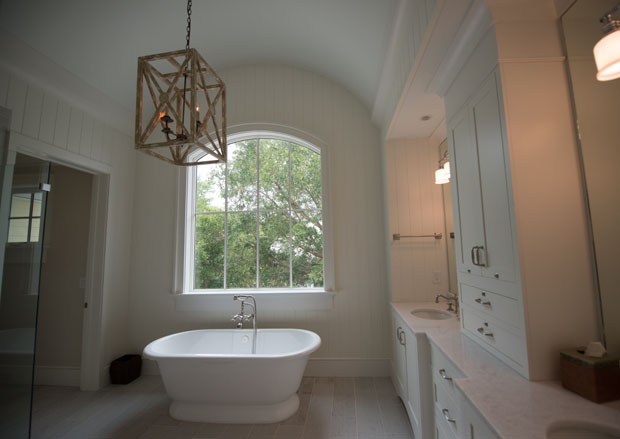 With one daughter in Mt. Pleasant and another at the College of Charleston, Charleston was a dream city to visit for Lori Mercede of Stamford, CT, and her husband, Frank.
But that dream was frustrated when they couldn't find anywhere that could accommodate their 18-year-old daughter, Jaclyn, who has cerebral palsy.
"Charleston was this magical place that was only an hour and a half plane ride, and it was almost impossible," Mercede says. "It's really hard traveling with our daughter, hard to find a house that has what we need. Finally, my husband said, 'Let's look for a condo.' But every place they showed us, the elevator was too small. They were really made for someone who is in one of those foldable wheelchairs and ours wouldn't fit."
They were about to give up when their real estate broker suggested building their own place. At first, the idea seemed too expensive, but when the broker mentioned renting the place out when it was empty, the dream was suddenly within reach again.
"We found this amazing lot two blocks from the beach (on Isle of Palms). The house there had burned down, but the lot still had all the utility lines from the street," Lori Mercede recalls. "It was not far from Lauren and Nicki (their daughters) and could give us exactly what we need for Jacki."
They hired Jason Fowler from Sea Island Builders of Sullivan's Island.
"We especially liked Jason and his dad," Mercede says. "My husband worked for many years with his dad in a construction company and when he saw Jason's relationship with his father and the pride in their work, we really liked them."
Fowler's father, Sam, started the business in 2004 with his cousin, Jeff Mathis, and Jason joined the firm in 2009. Sea Island Builders is a full service general contractor specializing in new construction and additions.
Mercede also hired architect Carl McCants of Mc3 Designs in Mt. Pleasant, because she liked his work on a home across the street from their lot.
"They told me they had a special needs daughter in a wheelchair who has to have constant care. She is a teenager, so this was not a small child and we had to do a plan for a home that would allow for adult care," McCants says.
"We had a house that was about 4,100 square feet that had to be ADA (Americans with Disabilities Act) compliant, and the whole house had to be designed to function around her lifestyle and help them provide a good lifestyle for their daughter," Fowler says.
Fowler says that from the start, the Mercede family was kept in the loop.
"This was an out of town client. To make the client happy, you have to utilize technology and communicate very well. We did a lot of things in managing the process long distance. They made about half a dozen trips down and each one had a purpose, where we made decisions and made sure that everything was selected that needed to be. On this project in particular, the collaboration of all involved was very good. You have to do that if you want to build a house this size on schedule and on budget," Fowler said.
The five-bedroom, five-bathroom house would take just under 11 months to complete.
Fowler says Sea Island Builders installed an electric lift system and track so that the daughter could be lifted in a harness from her bed into the bathroom and shower.
Another key feature was a centrally-located elevator.
McCants says elevators are standard in the beach houses he designs, which all are elevated to meet FEMA (the Federal Emergency Management Agency) standards.
But the elevator for the Mercede house required a bit more planning.
"You can only use elevators of a certain size or they are commercial elevators and you have to deal with a whole different set of codes," McCants said. "We were able to work with the elevator company to customize a residential elevator to fit in her semi-reclined wheelchair."
The customization continued inside the house. The shower in Jaclyn's bathroom is curbless so the chair can roll right in. Fowler says the doorways on the first floor are three feet wide to accommodate the chair, and the door to the outside is ramped.
"We had to do special commodes, special sinks so she could brush her teeth, make sure she could do the everyday things she is tasked with," McCants said. "A lot of focus went into that, they wanted to provide her with an outdoor space so she could see her sister and everyone else playing in the pool. They didn't want her detached. They wanted her to be able to see everything."
Fowler says the Mercede family chose an in-ground swimming pool in the backyard with a Travertine deck. The tile in the master bathroom looks like reclaimed wood. The kitchen countertops are white Quartzite.
"The homeowner made a lot of the selections herself. She did a gorgeous job with it," Fowler says. "Jacki's sink is pretty. You wouldn't look at that and say, 'It's a handicapped sink.' It doesn't strike you like you're walking into an ADA-compliant space. You really have to look for it and then those things become obvious."
"We call the house style 'edgy beach'," McCants says. "It's an open floor plan, somewhat on the contemporary side but not stark or cold. There's lots of wood, and there is trim work throughout the house. We used taller ceilings, bigger windows and doors. We wanted an open floor plan where the kitchen flows through the house, and that absolutely helped with the wheelchair access too."
The house had to appeal to renters, too.
"Actually, there are a lot of people who have children with disabilities, or elderly parents, who want to go away for a vacation," Mercede says. "Having that room on the first floor, having the elevator, having the lift if they want to bring their own harness, it's nice. It's good having a room right off the porch so they can be part of the family and the openness of the living room and kitchen makes it so the wheelchair is not sitting on top of everybody."
Mercede says the house held 10 rental families, and it still looks good. Fowler says that's deliberate.
"One of my favorite things is the European Oak floors with an oiled finish," he says. "It's easy to touch up any scrapes or marks, you can grab a towel and oil and buff it out and you don't have to sand and refinish a whole room."
Ultimately, Fowler says, the house succeeds because of good initial planning.
"With our design-build approach, working together from the design onset, we were able to provide accurate costing early so they could make decisions. We actually finished this project on schedule and under budget. It allowed the owners to do some things they didn't expect to do and get it all done for the same overall budget," Fowler says.
Resources
Builder: Sea Island Builders, 843-883-7430, seaislandbuilders.com
Architect: Mc3 Designs, 843-906-1502, mc3designs.net