Art from Across the Ocean
05 May 2021
Italian painter Silvia Belviso brings her talent to the Lowcountry
Jenna-Ley Jamison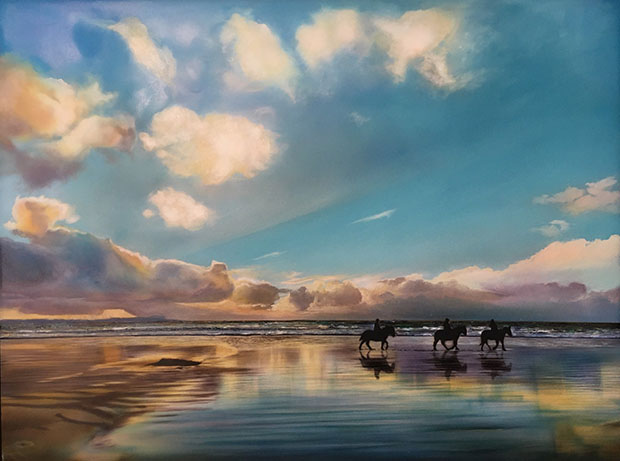 Silvia Belviso is a Southern gal; however, her cultural roots and artistic prowess weren't birthed in the Palmetto State. The internationally-renowned and classically-trained painter hails from a boot-shaped Motherland more than 4,000 miles from the Holy City.
For at least two years, Belviso seesawed between continents, traveling between her native Italy and the United States in order to create and show off her art as she awaited word of her Visa approval, securing spots to display her work in two prestigious local fine art galleries: Dale Gallery in downtown Charleston and Sandpiper Gallery on Sullivan's Island.
Belviso's big move to the Western world occurred last January, just prior to the onslaught of the COVID-19 pandemic. It was a long-awaited milestone moment that finally uprooted her from Italy's Southeastern coastal city of Bari. Settling in Charleston, Belviso found a similarly cozy, friendly place celebratory of art.
"I love the American style," she said. "I thought it was the best place for me, and I love the ocean."
Belviso's admiration for the sea is evident in her paintings, as she often crafts pieces featuring waves and sea life.
"I paint a lot of ocean scenes; I love all the blues and turquoise colors," she said.
Belviso is not beholden to waterway landscapes and scenes; she also portrays people, figures and animals, often using a photo—many she's snapped herself—as a reference point.
"I go take my own pictures of the beach or kids on the beach; other times when I paint a shark or lion, which is very difficult to take a photo of, I try to find a nice reference," she said.
Also evident is Belviso's immense range. Just a quick glance at one of her paintings and there's no denying her talent. Her work is anything but amateur, with her skills seemingly limitless. They span the artistic spectrum between the diverse painting styles of impressionism and photorealism, among other styles. Belviso further explained the distinction between the two.
"Realism is something that looks most like a photograph and it's probably the highest level of artistic technique," she said, "I enjoy that because it's very challenging for me."
On the other hand, impressionism is less stringent on accuracy, encouraging more autonomy with the brush.
"With realism you have to be really accurate with colors and very precise with details. Impressionistic (style) is more loose, so (you) use big brushes so very more instinct(-like) technique," Belviso said.
While she is most well-known for her oil, acrylic and airbrush paintings, her aptitude for art far extends into clay sculptures and drawings—one of her first artistic tinkerings.
"I think I was born with a pencil in my hand," she said with a laugh. "Since I was a little child, I really couldn't help myself; every time I had a pencil or marker or something, I had to do some doodles."
As to the origins of her imaginative abilities, Belviso has always been slightly stumped. No one else in her family paints; however, her father is musically-inclined.
"I think it's something that was in my blood," she said. "My father used to play music and sing and had some artistic passion."
It was a unique combination of drawing—and sculpture—that helped launch her successful career. Both niches luckily led a 17-year-old Belviso to the door of Bari's Bottega d'Arte G.De Nittis, where the Italian maestro Giuseppe "Peppino" Signorile worked and housed his magnificent masterpieces.
At the time, Belviso was studying languages and literature in college, along with art history—the greater interest among her studies. In pursuit of that passion, the teen entered a local art competition in Bari, but just days before the event, the sculpture she fashioned crumbled. Devastated but still determined to submit an entry, Belviso worked to secure plan B: produce a drawing.
"It was a holiday, and most of the stores were closed that day, and I wanted to get some paper and pencils to make a drawing very fast, in a few hours," she said.
Much to her surprise, a local frame shop owner suggested she speak to Signorile. Having never met him, Belviso knew much about the famed 70-year-old—his legendary name and revered reputation made her reluctant at first; but that didn't halt her courage.
"I was very shy at that time," Belviso said, "But all of a sudden I thought, 'I have to do this. I have no choice,' so I introduced myself, and I saw his paintings and tools all over the wall of his shop."
The maestro's response proved life-changing.
"He said, 'Don't worry; I have whatever you need. I give it to you,'" Belviso said. "He said, 'Go home, do your drawing and bring it back.'"
After she returned with her drawing, Signorile framed it for his wall. He even helped her repair her broken sculpture.
"After that, I never left," Belviso said.
The unlikely pair's seemingly destined encounter turned into a decade-long mentorship and friendship. After Belviso secured a Fine Arts degree in 1979, she studied and refined her craft under Signorile.
"I was very lucky to meet him," she said.
Belviso now finds herself in the mentor role as she teaches local amateur and advanced artists at Blair Center for the Arts in Mt. Pleasant, where she teaches a variety of painting techniques like oil, acrylic, watercolor, drawing, and even some clay work.
"A little bit of everything," Belviso said. "Most of our students are beginners. I enjoy teaching the adults more because they are more challenging for me; but I love kids, too.
And it's that insatiable craving for challenge that drives her to create one-of-a-kind pieces—never duplicating.
"Every time, I want the challenge to be different," she said.
She's created countless paintings, on surfaces ranging from canvas to wood panels, and is hard-pressed to pick a favorite; each one special in their own way.
Belviso detailed one wildlife painting that most sticks out to her. Titled "The Passenger," the piece showcases quite the odd pairing of an egret and an alligator. According to Belviso, while painting the scene of the coastal white bird resting upon a rock, passersby observing her enticed her to change the rock to the hair-raising reptile. In response, she combined two photos for that piece.
"But, you can't see the alligator right away," she said. "It's kind of muted with the environment. After a few seconds, you realize that there is an alligator."
For Belviso, picking up a paintbrush is more than a hobby; it's a way of life that invigorates her.
"It makes me feel alive," she said. "I feel that it's something that I need. If I don't paint, I'm not as happy.
And the feeling is one she hopes to convey to her audience.
"For me, my art is something that helps me, and I think I can help other people to feel better," Belviso said. "I don't want to create something that gives you anxiety. That's my style; I try to transmit positive feelings."
While the pandemic has prompted many artists to reflect the reality of the times in their work, Belviso has remained true to her artistic goal—to capture beauty, whether it's the face of a white tiger, the physique of a woman resting on the sand or the warm, interwoven cloud colors of a sunset.
"I see a lot of artists paint a lot of stuff about COVID and people with masks," she said. "I decided I didn't want to do that. The moment was really difficult, and we already knew it was happening. I didn't want to put those feelings on my paintings."
Belviso's next series entails something new, but she's currently keeping details of the project under wraps.
"I don't want to spoil it too much," she said. "It's going to be different things, different subjects—some of them are about life and nature."
For more information on Silvia Belviso, visit www.sandpipergallery.net/ARTIST/SILVIA-BELVISO.