At Home on Johns Island
29 Aug 2016
Moving from across the bridge, R.M. Buck Builders constructs a home with expansive marsh views
By ROB YOUNG » Photos HOLGER OBENAUS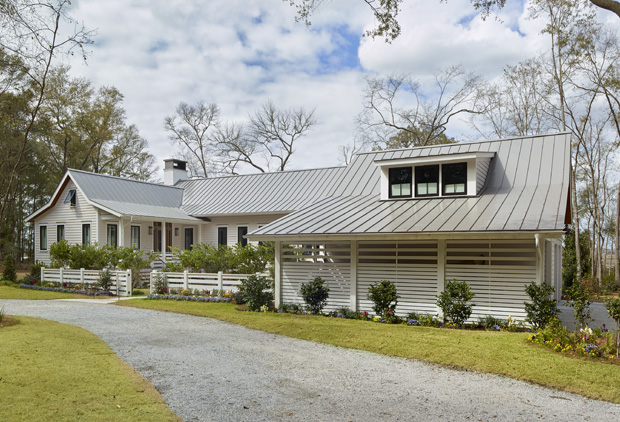 For years, family firm R.M. Buck Builders has fashioned luxury homes in downtown Charleston and on Kiawah, Johns and Seabrook islands. And now, they've built one just a little closer to home. Buck Builders – helmed by Bob Buck, his wife Renee, and son Ryan – finished work on Anne and Massimo's home about a year ago. At approximately 3,000 square feet, it contains three bedrooms and 3½ baths. "It's a spectacular property and a very nice house, a Lowcountry-style home on Johns Island on the intracoastal waterway," Ryan says.
Additionally, Buck's offices are only a few miles from the Maggiaris' home. They're practically neighbors. "It's very, very close," Ryan says. "It was an unbelievable convenience to build something in our backyard. It worked out really well."
Anne and Massimo Maggiari approached R.M. Buck Builders about the build after first doing some homework. "In recent years, the builders in the area have been so busy, and it was not easy to find one," Anne says. "If you want a start-up builder, there are plenty of those. But we wanted someone with a proven track record and history of doing beautiful work. Many of those are based in Kiawah Island or Seabrook Island, and they were too busy to take the work. But the Bucks met us, and even though they are very busy, they got it done. But the real reason we chose Buck Builders is because they were highly recommended."
Moving Home
The Maggiaris moved to Johns Island from Mount Pleasant, where they raised their two daughters. "Mount Pleasant is just beautiful and we loved raising our two girls there," Anne says. "But we wanted to have a big garden, and to have an opportunity to have access to water. Johns Island was just a good match for us."
Architect Tyler A. Smyth designed the space, providing traction for the Maggiaris' vision. "I was very specific about a few things during the design process," Anne recalls. "I really don't care for the all-in-one room where everything is together. I wanted separation for the dining room and kitchen, but I also wanted people to be able to walk around in a way that would reduce traffic flow between the great room and kitchen and dining room. I wanted to avoid people getting stuck in the kitchen, and people watching every move you make because they're all in there. And then, if you're making an elaborate meal, you don't want the formal area to be close to the clutter of the kitchen."
Ah, the kitchen. Anne spends a lot of time in the space and in many ways, she wanted to recreate one of her favorite features of their Mount Pleasant home. So they did – only better. "When we were considering ideas, we knew we wanted a lot of windows, and we wanted them to face the river because we have a wide enough property do so," Anne says. "I told the architect that one of my favorite features in our old home was the windows in the kitchen. I spend a lot of time hanging out in the kitchen, chopping things up over the sink – just hours and hours facing the window."
Now, the new home affords a spectacular view from the kitchen. "It overlooks expansive marsh views and a big, long green lawn and wax myrtles. Then we have a long dock that leads to the river," Anne says.
The Bucks also installed custom cabinetry in the kitchen; the woodwork is built and assembled at R.M. Buck's sister company, Island Cabinet Company, just a few miles down the road as well. Husband and wife Bob and Renee started the business in 1990, supplying its clients with furniture-grade and hand-crafted customized items, all of it fashioned right on Johns Island. Buck Builders begins with birch plywood, and uses solid wood – cherry, maple, oak, hickory – as the base. It amounts to high-end cabinetry as formed by local artists, as opposed to pre-fab cabinetry, such as particle boards or wood fillers.
"I really thought it was neat that (Bob) is able to do what he loves best, which is cabinetry. I have zero complaints about the cabinetry," Anne says. "We've made great use of it."
Well-Polished
One of the build's biggest challenges involved book-matched granite, the delicate placement of two slabs similarly cut and perfectly positioned. The fireplace area is composed of the stone, creating a handsome geometric pattern. "There's zero room for error," Ryan Buck says. "It was a full slab, and to be able to align the details requires a great deal of consistency."
The idea came from interior designer Rebekah Carter, owner of Red Element Design Studio in Charleston. She has worked with the Bucks on previous projects, and has demonstrated a keen, intuitive eye for understanding homeowners' needs. It's almost instinctual. "The book-matched granite was Rebekah's idea, and it was cut almost as if you had a thick slice of bread that was divided in two," Anne says. "I really didn't talk about the details to Rebekah. I talked to her more about the feeling of the home, clean surfaces, for instance. I gave her a basic idea of the colors I preferred and gave her pictures of current furniture. She's just very good at picking up on what you like. I didn't have to tell her much at all."
Like Smyth, the Bucks have also collaborated with Carter in the past. "Rebekah did the interiors, and she always does such an amazing job," Ryan says. "We worked very well together. (Smyth and Carter) are excellent people and very easy to deal with. It made for a really smooth build."
Maintenance and Upkeep
R.M. Buck also provides maintenance services for property owners, including homes the company builds or renovates. It creates a vibrant, long-term relationship that typically eclipses the one or two years required for construction or renovation projects. RMBB Property Management provides custom weekly and bi-monthly service for homes through consolidated monthly billing, offering a variety of benefits, including: property inspections, home repairs, landscape maintenance, hurricane and storm preparation and cleanup, and pest control.
"We take care of the house and maintain it for the Maggiaris," Ryan says. "From house cleaning to landscaping services, pressure washing, HVAC maintenance, to pest control – we handle it all. It's a great convenience."
Family Affair
But perhaps what separates the Bucks from comparable builders is their close, tight-knit operation. "My mother, father and I all work so well together. They're really the pioneers," Ryan says. "I take on the projects in a bigger way, but my father manages everything from the ground up, and my mother helps complete the projects. She comes in during the last three or four months and helps with the punch list, overseeing the painting and countertops and other finishes."
Anne especially appreciated Renee's eye for detail. "Renee is really particular, and has an excellent eye for details," Anne says. "She picks up on a lot that I would never consider. All of them just really made themselves available, and were eager to answer any questions if we developed problems."
Which – in the end – made for an enjoyable, enlightening experience. "This is the first time we've ever built a home," Anne says, "and we couldn't be more pleased with the outcome."
Resources
Custom Builder: R.M. Buck Builders, 843-559-1155, rmbuckbuilders.com
Architect: Tyler A. Smyth Architect, 843-724-7787, tylerasmyth.com
Interior Design: Rebekah Carter, Red Element Design Studio, 843-768-0951, redelementdesign.com