Back in the Game
07 Sep 2019
Sports medicine specialists keep athletes healthy and happy
By Jenny Peterson
Photos provided by MUSC Health Sports Medicine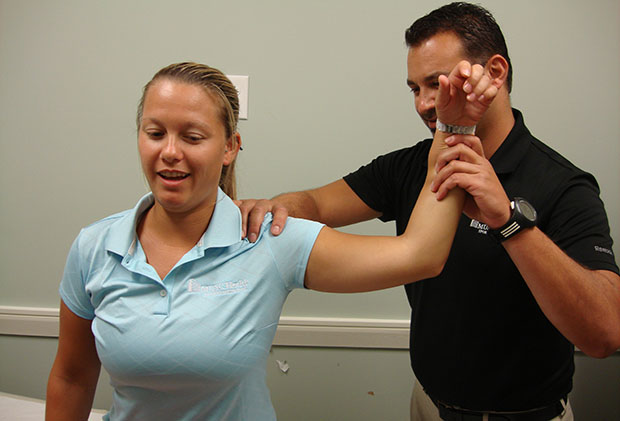 In Charleston, there's no shortage of sports for all ages. With temperate weather almost year-round, the Holy City an outdoor paradise for tennis players, golfers, and even year-round runners.
Sports events are held all year in and around Charleston, with thousands of participants.
It's not just about having fun on the field or the court, it's about staying safe and healthy…and knowing when it's time to see a professional.
Sports injuries can affect anyone, from adults to children. Thankfully, there's an expert group of sports medicine specialists in Charleston have one goal: getting athletes of all levels back to doing their preferred activities.
"The goal to go back to their previous level of function," said Michael Barr, Sports Medicine Manager for MUSC Health Sports Medicine. The department oversees all sports medicine and athletic trainers for The Battery minor league soccer team and the Riverdogs Minor League baseball team.
The good news is that with most injuries, rest can get you back to normal in no time.
"Most things are treated with rest and ice simple physical therapy," Barr said. "Sometimes you only need to go in for handful of visits following an injury to put you back on the right track. Many things can be treated with changes in activity, for instance runners who run 50 miles a week might cut back to 20 miles a week for a period of time."
At Roper St. Francis, board-certified doctors and athletic trainers see athletes of all ages.
"Most of the time orthopedic injuries are non-surgical can be treated with rehab and controlled rest and other measures," said Kyle Prothro, manager of sports medicine at Roper St. Francis. "A lot of times, people are able to go back to doing to what they like doing."
Common types of injuries
There are several common types of sports injuries: acute injuries like strains and sprains, and overuse injuries from repetitive movements.
"Injury can come with overuse, especially with 'weekend warriors' who might push it too hard on the weekend," said Prothro.
Barr says even manual labor jobs and strenuous household activities can cause injury.
Experts agree that it's time to see a doctor if an injury comes with a deformity, swollen or tender spots and doesn't get better or respond to rest, ice, compression and elevation (The RICE method) after a few days.
"If it's not getting better or it's changing your lifestyle like you're not able to walk on an ankle, or you can't reach for plate in a higher cabinet due to a shoulder injury, then it's time to get it checked out," Barr said.
Injury prevention is key
Proper stretching before and after activity along with proper training is essential to prevent injuries.
"Make sure you're not going full force and gradually ramp up activity," said Prothro. "It's also very important to get controlled rest and give you time to recover."
In addition to stretching, Prothro recommends using foam rollers to reduce stiffness.
Barr said a cool down following activity is also vital to reducing injury.
"A lot of people forget that after playing they need to take about ten or fifteen minutes to cool down," Barr said. "Many people take their body from 100 mph to zero—that's like slamming on the brakes instead of slowing down the car."
Caring for kids and school athletes
Roper St. Francis provides athletic training for almost all high schools in Charleston County and are the team physicians for the College of Charleston and The Citadel.
Barr suggests that kids switch up their sports rather than play one season all year long to prevent muscle overuse.
"Many youth baseball players and soccer players are playing on multiple teams all year long—that's a lot of constant overuse," Barr said. "One of the biggest things for prevention is cross training and switch up the sports during the year so kids can use their bodies differently."
Have an injury?
During fall football season, Roper St. Francis offers a free walk-in free clinic for youth athletes on Saturdays at the Bon Secours St. Francis in West Ashley from 9-11 AM.
MUSC Health East Cooper offers walk-in sports medicine sports injury clinics for athletes of all ages in the fall on Saturdays in Mt. Pleasant at 1600 Midtown Ave. from 9-11 AM.