Setting the Stage
07 Sep 2019
Gaillard Center team brings world-class performers to Charleston
By Holly Fisher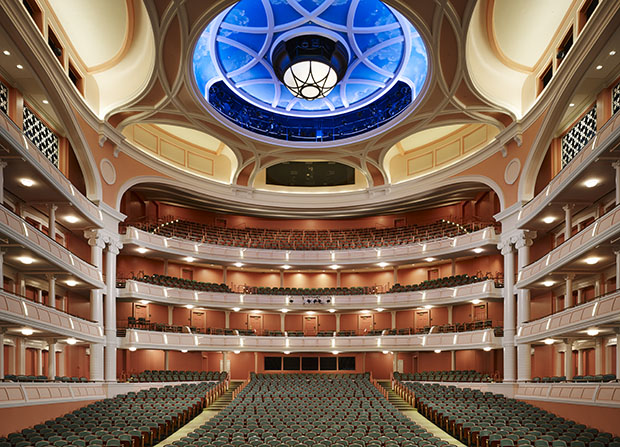 When the Charleston Gaillard Center re-opened four years ago after a major renovation, the programming staff was hard at work on a wish list of performers. They were contacting agents, urging them to take a chance on Charleston's new performing arts venue.
Fast forward to today, and the tables have turned. Agents are emailing the staff, and artists are eager to make a stop in Charleston.
"It took awhile to put us on the map, but now artists are requesting to come here," said Therese Spaseff, director of entertainment and programming.
Spaseff works closely with Jason Nichols, director of classical programming, to curate a varied and cultured season including everything from Broadway productions and classic symphonies to comedians and concerts.
"We want the Gaillard to be a place for everybody," Nichols said. "When we curate a season, we want a variety – vocal, instrumental, dance."
And, the goal is quality over quantity. Some shows like the Vienna Boys Choir at Christmas easily pack the house, but the programming team is looking not just for the sell-out but for a quality show.
"We're going to get a quality performance that will move you in a positive way," Spaseff said.
This fall, the Gaillard Center is hosting the Lowcountry premiere of several Broadway shows along with classical music and its play.
Spaseff said she's excited to introduce patrons to "Once on This Island," winner of the 2018 Tony Award for Best Revival of a Musical. It's the story of a fearless peasant girl in search of her place in the world and ready to risk it all for love.
In March 2020, the Gaillard hosts its first play, "The Play That Goes Wrong." This classic murder mystery is full of mishaps and mania, making for a hilarious performance. And, just in time for spring, Spaseff said audiences will love "Escape to Margaritaville," a musical comedy featuring original songs and well-loved Jimmy Buffet classics.
On the classical programming side, Nichols has booked Grammy award-winning a cappella men's group Chanticleer for November. Also on the schedule is the Royal Philharmonic Orchestra in January 2020, along with VIVA MOMIX, a company of dance-illusionists coming to the Gaillard stage in March 2020. Winding out the season in April 2020 is an engaging performance by the Philharmonix.
Big names come to Charleston
Spaseff and Nichols are already at work booking some shows for 2022. Each year they attend the conference for the Association of Performing Arts Professionals in New York City, meeting agents and booking classical orchestra and ballet companies for a stop at the Gaillard.
The two can point to some pretty incredible artists who have performed at the Gaillard, such as Tim McGraw and author Jon Meacham who came through Charleston earlier in the summer on a tour with their joint book, "Songs of America."
Spaseff said hosting Kristin Chenoweth at the Gaillard in 2018 was an exciting accomplishment. And having Tony Bennett perform at the Gaillard was one for the books, she said. "To have him in our venue was such as honor."
Nichols has a few folks on his performer wish list. In fact, he's negotiating with a few now for possible future performances at the Gaillard.
Booking artists, reviewing contracts and keeping up with new performers, productions and trends keep the programming staff busy.
"Within a week, we go from [comedian] Tom Segura to Peppa Pig," Spaseff said. "It keeps us on our toes. We keep up with who are the top comedians, what kids shows are trending and who's about to win a Grammy. We try to stay in tune with what's popular in Charleston and all over."
A commitment to arts education
While booking both popular and up-and-coming artists and filling the concert hall is important, the staff at the Gaillard Center has another equally important role: community education and outreach.
The Gaillard Center operates as a nonprofit organization, giving it a unique mission and opportunity to provide arts education and programming for the Charleston community, particularly children and students. Many of the artists who perform at the Gaillard will devote some of their time to educational programming.
Award-winning musician and songwriter Keb' Mo' is passionate about arts education, so students are invited to his sound check where he takes time to explain the history of blues. When Keb' Mo' returns to the Gaillard in September, and students from the Charleston Jazz Academy will get to listen in on the sound check.
Back in March, the Gaillard Center partnered with several other organizations to host the duo Black Violin, featuring classically trained string players Wil B. (viola) and Kev Marcus (violin). They blend classical and hip-hop music as way to overcome stereotypes and encourage people of all ages, race and economic backgrounds to come together to break down cultural barriers. The Gaillard deeply discounted the ticket price to make the show as affordable as possible for the community, Spaseff explained.
Students from low-income schools in Charleston were invited to attend, and the sold-out evening show was a truly diverse mix of ages, races and backgrounds.
Quite often, many of the students who come to the Gaillard for one of these educational programs have never been to a live performance before, Nichols said.
A passion for performance
Spaseff and Nichols find themselves living their dream jobs bringing quality performances, artists and programs to the Lowcountry.
Nichols has been working in Charleston for more than 30 years, booking classical artists for the Gaillard – long before it was the renovated, world-class venue it is today. Spaseff was a student at the College of Charleston watching the Gaillard construction from the ground up. With a background in ballet and a degree in international business, she started as a booking coordinator and worked her way up to the programming team in 2016.
Their devotion to the performing arts is evident in their day-to-day work and in the remarkable calendar of events they create for the Gaillard Center each year.
"Most people go into arts administration because of their passion and love for what they are producing and bringing to the community," Nichols said. For a full list of upcoming events, visit www.gaillardcenter.org.