Backyard Bliss
05 Mar 2022
An outdoor space worthy of entertaining with Classic Remodeling and Construction
By Leah Rhyne
Photos by Shallah Dozier with Mind of Divine Photography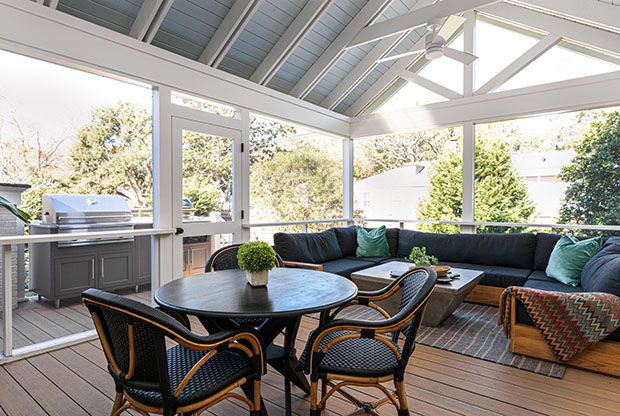 When Christy Ammerman, the project consultant with Classic Remodeling and Construction, first saw the West Ashley backyard in which her new client wanted to create a private paradise, she saw nothing but opportunity. The yard was large and welcoming and French doors led into the house, offering an easy transition between indoor and outdoor spaces.
Ammerman has been with Classic Remodeling and Construction for six years, but the design/build company has been around for much longer. With over 30 years of experience building in the Lowcountry, the Classic Remodeling and Construction team has its systems and process down pat. From design through construction, their team of experts guides homeowners through the remodeling process to deliver a high-quality, custom-built space they'll love.
First comes the design phase. Ammerman met with her clients—a family with a young child—and learned how they planned to use their new al fresco oasis. They wanted their new retreat to feature a large seating area to accommodate the oversized, super comfortable furniture they'd already purchased. But they also needed a dining area, as well as a play space for their little one.
Ammerman got right down to business.
"We really worked with the size of the screened porch to make sure it accommodated their furniture and a dining table," she said. "They really wanted that open feel, so we vaulted the ceilings."
Classic Remodeling and Construction is a full-service firm, handling design, permits and submitting drawings and plans to clients' HOAs. The entire project took about three months from start to finish.
"I loved working on this project. The family would finally be able to utilize the big backyard and have the outdoor space a lot more family-friendly," Ammerman added.
The biggest challenge the team ran into came in the shape of an electrical meter.
"We needed to relocate the electrical meter. It was right where we wanted to put the porch," said Ammerman. "We had to work with an electrician, Dominion Energy, and plan a power changeover as quickly as we could without leaving the homeowners without power for too long."
The end result was transformational: a sprawling porch with lofty ceilings and exposed beams that welcomes you in, and out. The interior porch space is a mix of warm and cool color palates, with white fans blending into the white painted beam ceilings to create a refreshing breeze on those hot Charleston summer days. The composite floors—for ease of cleaning and maintenance—are a warmer, umber shade to match the sprawling sectional furniture. The blend of temperatures and colors creates a natural, calming feel. It's almost beachy, a play of warm sand and cool water.
To accommodate the husband's love of grilling and entertaining, they built a raised deck and incorporated his grill and Big Green Egg to provide ample outdoor cooking space. Custom-built cabinetry with stainless hardware to match the grill pulls the design together, along with quartz countertops.
The backyard retreat is enhanced by a wraparound slate-and-brick patio and walkway that mimics the interior's play with colors and textures. Flower beds, within a season or two, will add a meadowy soundtrack to the owners' coffee breaks as morning breezes play with the tall, green grasses. It's an outdoor escape, a peaceful oasis where the family can retreat from the hustle and bustle of a busy day.
Ammerman loves the finished product. She has advice for anyone setting out on a backyard remodel like this one.
"When you're thinking about porch design, really think about what you want to use the porch for. Do you just want seating? Or do you want seating and dining space? And don't forget to think about your neighbors and your privacy needs," she said.
Whatever the wish-list, Ammerman and the entire team at Classic Remodeling and Construction is ready and waiting to help you achieve the transformation of your dreams.