Beach Cottage Style
02 Nov 2021
Bringing the beach home on Folly
By Rob Young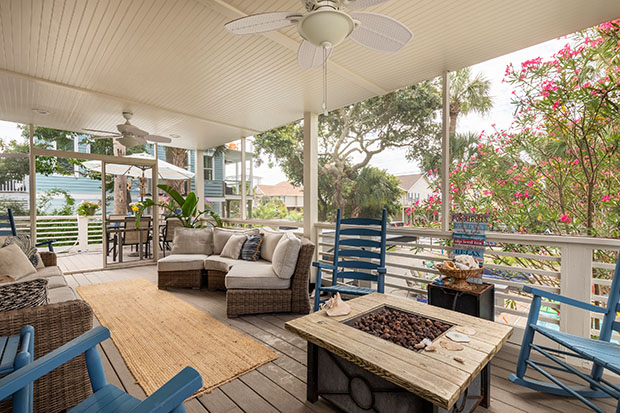 Even though it checks in at just 1780 square feet, the features of this Folly Beach lilac cottage are plentiful. It contains a fenced double lot, which provides plenty of off-street parking and helps prevent beachgoers or others from walking through the yard. Even better, the house was built with two levels of porches, so that it takes full advantage of the partial ocean view.
When Elizabeth Baker first bought the home on East Arctic Avenue on Folly Beach in 2018, it needed a lot of work.
"There were popcorn ceilings, laminate floors, walls where walls shouldn't be. The carpeting was worn and original to the house," she says. "The roof was leaking; we lived with buckets gathering water. Then after Hurricane Dorian (in 2019), some water started coming from under the floor, which caused the laminate floors to peel. Once we removed those, contractors found black mold beneath the floors and cabinets."
Now, it bears little resemblance to its predecessor both inside and out. Bright blue Bahama shutters on the outside and thick white plantation shutter blinds in the bedrooms add a classic coastal touch and large glass doors to the screened-in porch open into the renovated open living and kitchen space.
A major improvement was adding a heated, 30-foot pool, built by Heritage Pools, a locally owned and operated company from North Charleston. Baker and her two kids spend lots of time in and around the pool with an impressive collection of inflatable pool toys.
With ample outdoor seating, it's easy to spend relaxing days and evenings with friends, family or kids. "For resale and rental, having a pool is priceless," Baker says.
Professional Stager
As a Charleston realtor with REMAX Southern Shores, Baker knows the score.
She puts it bluntly: "We live in an HGTV society."
HGTV has found a niche among Americans interested in buying and renovating their homes. She was featured in the HGTV Island Life, for James Island buyers.
It's a growing audience, and the prescient Baker has capitalized on the trend. "People just can't envision a space without the accompanying pictures or footage," she says.
That's why she focuses not only on selling homes, but staging them.
"I realized these houses weren't equipped for staging," Baker says. "I thought if you want to list it, I'll stage it for free to get it sold."
Her staging is a valuable service. "Say, if you have an office, but it can actually be used as a bedroom, I can place a queen-sized bed in the room to help buyers understand the space," she says.
She often uses buyers' own items to stage their home, adding a bit of coastal touches, which is a major selling point for any new buyer to Charleston.
House Highlights
Her own house reflects her love of coastal style and consists of four bedrooms and three bathrooms, highlighted by its bright and open feel. A spacious kitchen has granite countertops, mermaid tile, stainless steel appliances, and other amenities, including a gas range. A standout turquoise tile in Dynamic Celeste from Melcer Tile in North Charleston brings the beach indoors.
The centerpiece is a dining table that doubles as a pool table.
"You don't have to go custom with everything," she said, adding that most of the lighting fixtures and bathroom floor tile came from Lowe's.
The downstairs bedrooms both have TVs. One has a king-sized bed, while the other has a queen-sized bed and en-suite bathroom. The other two bedrooms are upstairs. One has another queen-sized bed and private porch, and the other comes with two twin beds, and a bunk with a full-sized bed on bottom and twin on top.
What would a beach house be without taking advantage of the beach views? Three levels of porches boast ocean views, with the second floor screened in to optimize comfort and a top floor veranda off the master bedroom.
Market Trends
Baker arrived at her real estate career in a roundabout way. Originally from St. Louis, Baker joined the U.S. Marine Corps at 19. She spent three years on Parris Island, another year on Okinawa Island, and two years in California. The experiences gave Baker her first taste of coastal life.
She later worked in law enforcement and as a private investigator prior to becoming a realtor. "I took a class and really got into real estate on a whim," she says.
But you can still see evidence of her prior careers today. She often appears in star-spangled attire, her skirts bright red, blue or striped. The box truck she uses for work features a dual-sided profile of herself sitting on a couch. Half of the portrait shows Baker in her Marine uniform, the other half depicts her wearing one of her patriotic dresses.
Folly Life
When not relaxing at her house on Folly, Baker tends to spend her days traveling with her two kids, a son and daughter. "We bounce around camping," Baker says. "We're all over Charleston and Myrtle Beach, and I'm closing on a home on Lake Marion so the kids can experience lake life."
But she always looks forward to coming home. The ocean is right across the street, and the Folly Pier just one-and-a-half blocks away. Folly Beach bars and restaurants, such as Chico Feo, Rita's, Taco Boy, and Jack of Cups Saloon are within walking distance. "It's just a very walkable life," Baker says, "which is the reason I chose Folly."
Builder Resources
Heritage Pools, LLC
843-762-3417
Top Dog Roofs
843-901-5824
Charleston Billiards
Olhausen Farm Edition Pool table
SonofaBrew
Custom woodwork
843-834-1225
Pella windows & doors of Johns Island
Bloomin Blinds of Charleston (interior plantation shutters)
Lowcountry Hurricane Protection (Bahama exterior shutters)