Beach Retreat
07 Sep 2019
Personal touches make this house a home on Folly Beach
By Rob Young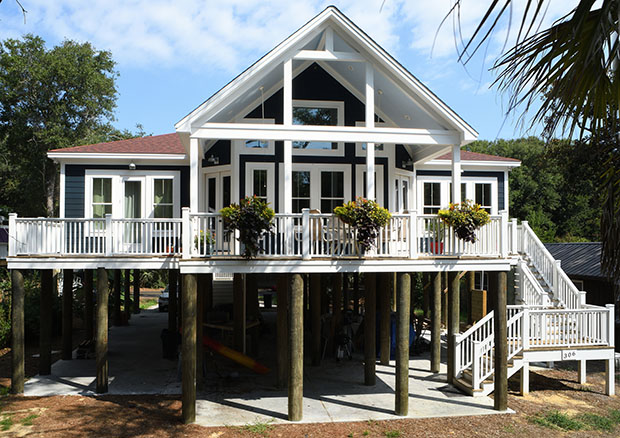 Rob and Cathryn DiPrima's new home on Folly Beach resembles a composition, a musical refrain that instructs their lives. After all, they first met at a musical festival down in Florida, building to this year's triumphant opus: a new house and marriage. "Folly, and our home, is something special for both of us," Rob says. "To live and work out here – it's a pleasure."
Steeped in musical décor, bathed in light, the home reflects the couple's personality: bright, positive, playful. "I's all very personal to us," Cathryn says.
Couple connection
About that musical festival: The couple initially connected in 2009 at an event in Live Oak, Fla. Titled Wanee Festival, the concerts showcase jam bands and similarly minded musicians at the Spirit of the Suwannee Music Park. Both Rob and Cathryn lived on Folly Beach at the time and managed to recognize one another amongst the crowds.
Shortly afterward, Cathryn moved back to her hometown of New Orleans for five years. Then – remarkably – they reconnected once more at the Wanee Festival in 2015. They began dating, Cathryn moved back to Folly, and the two wed on March 9 this year. Their wedding was held where they first met at the Spirit of the Suwannee Music Park, as their guests camped, stayed in cabins, piecing together a personal musical festival of sorts.
They chose to stay on Folly Beach. Just had to. Rob grew up in Rochester, New York, then moved to downtown Charleston in 1999. He was living on Folly Beach three years later. "We looked at a couple places right off the island and looked at a couple of other properties on the other side of the bridges. But we realized we wanted to stay here. My work office is on the first block of Ashley," Rob says.
DiPrima co-owns the Folly Beach-based My Ocean Rental, which manages about 75 rental properties in the Folly community. Cathryn works at MUSC, but helps Rob with his business as well. Founded in 2004, My Ocean Rental uses a cloud-hosted reservation and marketing system, and performs full-service cleaning and maintenance. "It's more of a family business," Rob says. "We live and work on the island and never plan on ever changing that."
Moving in
Construction on the home started in January. Then after Rob and Cathryn's wedding and their honeymoon in San Juan and Culebra, a small island off the east coast of Puerto Rico, they moved right in. Not too shabby for a wedding present.
The one-story home, situated three blocks from the beach on East Erie Ave., contains four bedrooms and two bathrooms. They adjusted the plans to accommodate for higher, 10-foot ceilings, and taller baseboards, similar to New Orleans flavors of interior design. "It's a personal touch," Cathryn says.
It's not necessarily a beachy home either. Set in dark tones, the exterior color can vary depending on the light, a compelling contrast to its red roof. "Sometimes the house can look dark green or dark blue, and sometimes it can look navy or black," Cathryn says. "We were really influenced by the colors in Cuba and Puerto Rico. That's what we wanted."
'An open area'
The open floor plan also features a large great room and kitchen. The four bedrooms are located in the home's corners. "We wanted an open area," Cathryn says. "We entertain a lot." Yet the kitchen squarely remains the center. "It's the focal point of our home," Cathryn says.
The kitchen's main attraction: "an absurdly large butcher block," says Rob. It was first used in a butcher shop in Ohio, and later belonged to Rob's aunt and uncle, who used it as an island centerpiece at their home in New York in the 1980s. "Our entire family was incredibly helpful during this whole process. Both of our families are old-school Italian, and they brought it down to us from New York and it weighed somewhere around 650 pounds," Rob says. "A friend from Charles Towne Woodworks brought in a portable sawmill to plane the wood in our driveway. Now it's about 40 inches by 30 inches, and 18 inches deep. It was basically sliced in half."
Robert Stronjy from BNN Construction built the home, and Jeremy O'Sheal from Patriot Construction helped design and build the kitchen, and also poured concrete for the countertops. Additionally, Lindsay Paylor at Garden State Tile helped with the tile design, and David Tomblin from The Tomblin Company acted as the landscape architect. "We had readymade plans that we used and we just changed a few details based on what we needed," Rob says. "Everyone did a really great job, and this time we got to share in the project management of the home."
Musical tendencies
The couple's collection of personal artwork and music memorabilia adorns the walls. Cathryn's great aunt painted many of the pieces. Another of the pieces even portrays a live depiction of the couple's first dance. Painted by the couple's good friend Alex Harvie, the portrait sits above their mantle. The mantle itself is made from Louisiana cypress, given to the couple by Cathryn's parents. "The wood behind the mantle and wedding painting was laid personally by Rob and our builder, Robert," Cathryn says".
Then the music décor includes a framed T-shirt depicting Widespread Panic's tour in 2002 that Rob and his friends help design. Another shows one of Widespread Panic's founding member and lead guitarist Michael Houser, who died 2002. It rests above the refrigerator. "It's a painting of Mikey with a beautiful wave behind him that our friend Dave Snyder painted for us," Cathyrn says. "Lots of things in the house have sentimental values and were made by our friends and family."
The shelving is open, too, accommodating wooden pieces and Cathryn and Rob's grandmothers' china. The windows are big and welcoming. "We've got everything from the wooden pieces, to our grandmother's china to crystal," Cathryn says. "It's a combination of funky meeting elegance. And the final product made us really happy."