Bringing the Outdoors In
07 Sep 2019
Flowers are for more than your front yard or Valentine's Day
By Teri Errico Griffis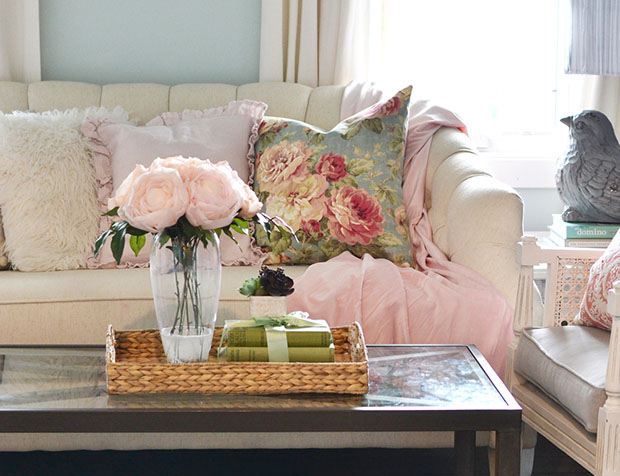 Summer may be simmering down, but it doesn't mean you have to give up the sunshine-y vibes in exchange for decorating your house with pumpkins and spice-scented candles just yet.
Keep your indoors fresh and natural with floral décor, giving it that summerlike sensation all year long. The ideas are endless, from lovely succulent accents to large floral fabrics.
"Florals are huge right now when it comes to interior design," says Dani Silver, owner of Dani Silver Designs. "You're seeing floral patterns and floral styles become more of a trend, whether it's fresh plants, furniture patterns, wallpaper, or rugs."
If you're not ready to commit to big, bold patterns on your wall or sofa, start simple with plants. Decorate a credenza in the entryway to greet guests. Add a bouquet to your center island or dining table, your living room or bedroom. Even as an accent on a bookshelf.
"I think people should have plants and flowers all the time in their house, not just for holidays, certain seasons, or special occasions. It gives life to your space, and makes everything look fresh, and so much more beautiful."
Local florists are everywhere from Charleston Flower Market's live arrangements to inexpensive greens and pre-cut bouquets at Trader Joe's.
If ornamental plants aren't your forte, succulents are stylish – and simpler to care for.
"I love succulents, or live walls where you hang baskets with plants growing out," says Silver. "Add something extra or unexpected by hanging planters that are wall-mounted in your hallway or kitchen. It adds a breath of fresh air to your whole living situation."
Silver means this both figuratively and literally. Plants offer so many added health benefits from cleansing the air of toxins to emitting water vapors to increase humidity. (A little secret that Silver offers is if you struggle keeping plants alive, mix faux and real to divide the work.)
If you're seeking more impactful ways to incorporate florals – but aren't ready to commit to a wild couch pattern – Silver recommends taking baby steps. "Start with throw pillows. They're easily replaceable, less of a cost commitment, and you can test out the waters," she says. "Then move on to a side chair and something more dramatic like draperies, rugs, or a couch."
Want to go real big? "Floral wallpaper is really popular right now," Silver shares.
It could be palm frond patterns, big blooms, or a toile that brings outside scenery into the home. If you shop around, local artisans are even starting to create toile wallpaper based on Charleston locations. For gorgeous textiles, Silver recommends seeking out Emily Daws, whose collection is inspired by the Holy City's palmetto trees, magnolia blooms and its beaches.
"What I love most abut floral patterns are the subtle touches and colors," says Silver. "You don't have to go crazy with orange and yellow and fuchsia if that's not your style. You can do a toned down floral pattern, or shades of green. You can even find blacks or greys."
Silver adds, "Other popular ideas are to incorporate the outdoors with your materials, such as rattan or bamboo furniture, or utilizing an earthy tile. A growing trend is laying hand-painted tiles to provide a floral backdrop or accents on a wall or floor."
Whether it's on your floor as a sweetgrass rug or dried eucalyptus on your mantle, "the idea is to add accent colors and whimsy," says Silver. "You can still have neutrals, but adding this eclectic mix of florals creates an unexpected texture and fun."