Best-Dressed Windows
06 Nov 2020
Custom treatments at Advanced Window Fashions
By Allison Bolt
Photos by Aleece Sophia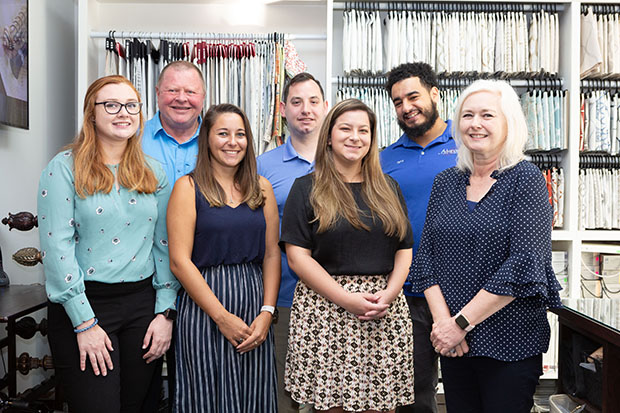 Family owned and women-run, Advanced Window Fashions (AWF) has provided custom window treatments to Charleston and the surrounding inland and island communities for over two decades.
At AWF, customers will find products from trusted manufacturers, a dedicated team, a wide variety of fabrics and hardware, gallery displays of different operating systems.
AWF was founded in 2003 by Larry McCrae and his wife, Nancy McCrae. At the time, Larry McCrae worked with a friend traveling back and forth to Florida installing shades with another company. When that path ended, he came back home to his family.
"One day I received a call from a past client looking for silhouette shades in the Charleston area," says Larry McCrae. "That was when I realized that was it! I came home to Nancy and said we were in business."
AWF has been a staple in the Mount Pleasant area ever since. Today, the family-owned business is women-run by Nancy McCrae, Jacquelynn Maxwell, the operations manager and Rachael Lolar, marketing specialist.
Exclusive brands
As the only Hunter Douglas Gallery showroom in the Charleston area, AWF specifically works with Hunter Douglas because of their quality and design options.
"They have a variety of products to choose from to help reach a variety of needs from energy saving to noise reducing," says Maxwell.
Hunter Douglas products are made in America, have a variety of styles, a limited lifetime warranty, impeccably high child safety ratings and offer multiple automated options so the customer can control their window treatments right from their phone anywhere in the world.
"We take pride in the service and products we provide," says Maxwell which is why they partner with multiple trusted manufacturers.
"O'Hair Shutters is a manufacturer we love partnering with. O'Hair Shutters provides a home warranty on wood shutters which ensures if a customer sells their home, the O'Hair warranty will transfer to the new owners. The product itself is manufactured in Texas and is a family-owned business just like us," says Larry McCrae.
Customers can visit the stunning AWF Hunter Douglas gallery, which offers a full showroom for customers to view the products, hardware, fabrics and designs in person while working with a specialist to choose their perfect window treatment.
"It's always important to understand that each client is unique and there will be different needs," says Maxwell. "The best part about our showroom is you will always be treated with a friendly face."
Free Design Consultations
During a consultation, AWF gets to know what the client is looking for, what their style is as well as what they like or dislike about their current product or past products they have had. "Building a relationship with our clients and learning about what they need and want is important," says Maxwell. "We are dedicated to providing our customers knowledge about their products so that they feel confident having them in their home," says Maxwell.
Custom window treatments from AWF are the perfect choice for any Charlestonian's home or business.
"If you have a custom product, you know it was made specially to fit your window so it will look great and fit your window perfectly," says Maxwell. Also, custom window treatments often come with great warranty, elevated safety and a professional to install them.
Every small detail is taken into account and can range from the trim to obstructions such as window locks and knobs on doors. As the only authorized Dealer Service Center in the Charleston area, AWF has a Hunter Douglas Master Installer on call and Hunter Douglas Certified installers on staff to ensure every window treatment is installed professionally and per installation guidelines.
Unparalleled Service
Following installation, AWF continues to provide assistance to their customers should any problems or questions arise. Through the Dealer Service Center, professionals are available to do repairs and service calls.
One of the team's favorite projects was for a house on Kiawah Island. The new-build house was still in the construction process and simultaneously, the window treatments were being chosen.
"We got to watch the house transform from ground up," says Maxwell. "We got to work with the
builder to create the appropriate spacing and wiring for the hardwired shades that were going to be installed."
After the consultation process, the new house was completed with Designer Screen shades and Nantucket shades from Hunter Douglas featuring Powerview Motorization. The shades were also set up with a home automation system allowing the homeowners to control their shades with an app even when they were away from the home.
Advanced Window Fashions is located at 502 Wando Park Blvd #105, Mt. Pleasant. For more information call 843) 881-8858 or visit www.advancedwindowfashions.com.