Building a Home Away From Home
06 Nov 2017
A new home build collaborating with two architects proves a worthy challenge for builder Buffington Homes
BY ROB YOUNG » Photos by JIM SOMERSET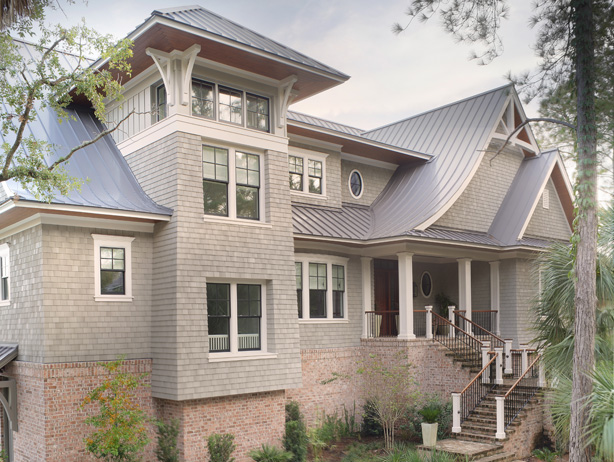 So have you heard the one about the two architects who walk into a room? Turns out they built a pretty fine house. Rimshot, please.
Okay, that's admittedly a weak punchline. But architecture leaves little room for funny business. And when architect Michael Spivey and builders Dan and Cathy Buffington teamed up to design and build a custom home for their client and architect Jeff French, a collective wisdom soon emerged.
"One of the most difficult parts of a project like this is that you always want to please the homeowner and the architect," says Cathy Buffington, wife to Dan, and an owner of Buffington Homes. "But when you have two architects and another builder, there's more pressure. You know they understand the process."
Choosing Kiawah
Jeff and his wife, Anne, and their family began vacationing in South Carolina in 1988, attending a family gathering at Wild Dunes resort on Isle of Palms. During the trip, they ventured to Kiawah Island and found themselves smitten. Two years later, they began annual vacations to Kiawah. "Each year, we asked our kids if they wanted to go to, say, the Grand Canyon, or anywhere else," Jeff recalls. "And they would always say no. They wanted to go to Kiawah."
Jeff's job at Ballinger, a Philadelphia-based architecture and engineering firm, often brought him to Charleston. Ballinger specializes in designing academic science and research centers. One of Ballinger's Principals, French helped oversee master planning and design for the College of Charleston's School of Sciences and Mathematics.
Jeff and Anne's affection for the Charleston area only grew, and in 2008 they bought a lot overlooking a golf course on Kiawah. They thought about the future, too. What it might bring, and where they might live. "We sat on that lot for five years. I asked Anne if we were to get serious about building, would this be the spot," Jeff remembers. "She said no. All she wanted was a secluded, screened-in porch where she could have a cup of coffee in the morning overlooking a marsh."
The Frenches flipped one lot for another, acquiring a site in the Preserve neighborhood, which contains several hundred acres of wetlands, forests, marshlands, and various nature trails. "We thought about the cost of living here, which we could have chopped up into a lot of vacations around the world," Jeff says. "But Kiawah had already become our home away from home."
Teamwork
The decision made, the couple soon began searching for partners, and found a pair in Spivey Architects and Buffington Homes. Jeff and Anne shared an immediate rapport with Michael Spivey. "That's the thing about Michael," Jeff remembers, "he was very comfortable in the contemporary shingle style we were seeking because he had designed his own house in a similar style. We needed someone who was comfortable having another architect as a client, and as a collaborator, and who wouldn't be offended taking input from a professional peer. We found that guy in Michael. All architects walk a fine line between creating something of which they will be personally proud and ensuring client satisfaction. I don't believe this could have worked better."
Spivey also helped advocate for Buffington Homes, presenting the firm as a preferred Kiawah home builder. "Michael helped us find Cathy and Dan. We talked through four different candidates, all very solid. Once again, we were looking for chemistry and compatibility," Jeff says. "Dan and Cathy live on the island, and we figured that these folks wanted to do a good job because we would be neighbors. We really felt like they had a great command of constructing and designing homes on the island."
The build represents the third time Buffington Homes has built a home for an architect owner. "It was another double architect situation, but we really did click from the beginning. As soon as we walked into the room, Jeff said, 'Come on over here. I'm not used to sitting on this side of the table as a client,'" Cathy says, laughing.
Emily Woollcott of Slate Interiors rounded out the team, having been introduced to the Frenches by Spivey. Perhaps an unsung hero, Woollcott was the interior design lead, and also a point person relative to coordination and communication. "She was so important to the overriding challenge of designing and building for a remote client," Jeff says. "While it's not unusual for Kiawah clients to live out of town, Emily emerged as a key boots-on-the-ground contact for us, for all of those things that both parallel and follow construction. Not only does she have a great design eye, she received samples and organized material options for us, recommended the final colors and furnishings, and arranged to receive deliveries until Anne and I could be there. There was great compatibility, and another wonderful collaboration."
Best Practices
Remarkably, the group experienced very few challenges. But again, that may reflect the team's camaraderie and spirit, and drive to collaborate. "We were building during the flooding [in 2016], which caused us to lose two weeks during the process, as we took down most of the scaffolding and got everything mobilized," Cathy says. "And we were building in the Preserve, which generally has stricter standards than other areas on Kiawah. But overall, it was extremely smooth."
Here's one of the reasons: Buffington Homes' standard practices include providing weekly status updates to their clients, particularly important for remote clients. "I suspect it is institutionalized at the firm, but every Friday during the course of construction we got a one- or two-page summary," Jeff says.
The report, prepared by Buffington's on-site project manager, Scott Whitson, contained details regarding the subcontractors working at the home; progress from the past week; upcoming build tasks; a section focusing on decisions to be made; and pictures. "Scott was so proactive, we didn't have to be there. We saw the photographs, and knew when the outstanding decisions were needed," Jeff says. "Anne and I made very few visits, during which we reviewed plumbing, materials, tile options, or light fixtures. It was very efficient, and we were comfortable with being there infrequently. It became a weekly ritual—I would race home from the office so we could review the report together, particularly the progress photos."
The outcome speaks for itself. "It's a transitional style home," Cathy says. "Not harshly modern, but just very clean, and focused on small details."
Tying it Together
The 3,500 square-foot house—small, at least by Kiawah standards—is comprised of three bedrooms and three-and-a-half bathrooms. But Jeff and Anne willingly sacrificed extra square footage for quality. "To us, it's not about the resale value," Jeff says. "It's about enjoying an active lifestyle." The design features memorable marsh views from all the living spaces, which necessitated a departure from traditional concepts. To wit, they placed the laundry room, stairs and bathrooms on the front of the house rather than the rear, facilitating the living space views. A staircase tower now dominates the front of the house, an eye-catching element that provides great curb appeal. "It creates a sense of scale and volume from the street that the house would otherwise not have," Jeff says.
The flow of the living spaces was important, the rooms tightly integrated, and the stylish use of natural woods is apparent throughout the home. "For me, the approach sought cohesion and continuity between spaces, as opposed to treating each room as if it is its own thing," Jeff says.
Other features the Frenches love: live edge counters in the powder room and family room; the walnut floors throughout the home; unique wall tile selections; carefully selected light fixtures; exposed wood trusses and beams that extend into the kitchen; and the Dutch door dog gate that helps to accommodate the couple's three Labrador Retrievers. Oh, and Anne, got her screened-in porch too.
As for Buffington Homes, Spivey Architects and Slate Interiors, the Frenches' continued admiration and accolades are thanks aplenty. "They were just amazing. They had absolute determination to make things right, and there weren't many things that weren't right," Jeff says. "They were tremendously responsive—absolutely first rate. We would definitely engage with everyone again."
Resources
Builder: Buffington Homes, 843-768-8525, buffingtonhomes.com
Architect: Spivey Architects, 843-795-9370, spiveyarchitects.com
Interior Design: Slate Interiors, 843-270-6031
Home Insurance: Robert Phelan, Maury Donnelly & Parr, Inc., 843-819-3304, insurekiawah.com