Fast and fit healthy burger choices come to Mount Pleasant
By JASON A. ZWIKER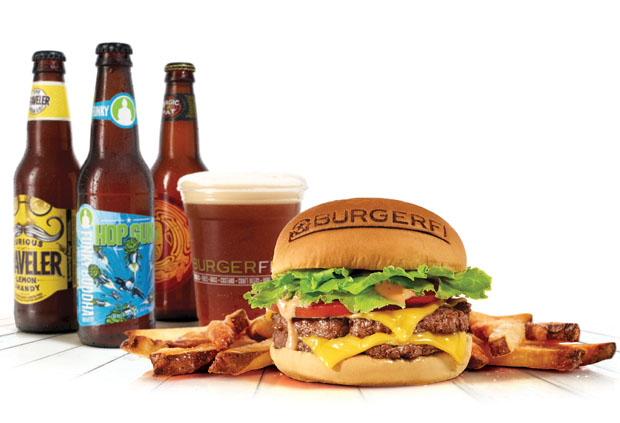 The first time Chuck Jenkins walked into BurgerFi, he knew something special was happening. "It was about three years ago," he recalls. "I was on a business trip to Winter Park, FL. I saw this place and it immediately grabbed my eye. It just drew me in."
One of the best burgers ever – that's what he was promised and he was not disappointed. "The entire meal was delicious," he says. "But the best part about it was how good I felt an hour later." There was none of that heavy fast food feeling deep in his belly - none of the lethargy or heaviness. He felt like he had eaten good, all natural, healthy food. That's exactly what he had eaten.
Chuck returned home determined to bring this amazing taste to the Charleston area. Now, together with co-owner and operator Tony Tonelis, he's done that. BurgerFi opened this May at the Boulevard Apartments in Mount Pleasant. This is BurgerFi's third location in South Carolina – there are two in the Grand Strand – and the first in the Lowcountry. It has already got locals talking.
What BurgerFi delivers is all the grab-and-go convenience of ordering at the counter, the classic all-American trio of burgers, fries, and shakes, but with a groovy, upscale vibe.
The idea is to present top-notch ingredients without the wait time of a sit-down restaurant. Keep the methods healthy, earth-friendly, and do right by the local communities.
Hey, call us crazy, but some of us actually prefer to know what we're putting inside of our bodies when we dine. The ingredients are simple, fresh, and natural – the meat doesn't get pumped full of hormones and antibiotics and the drinks aren't tossed together in a lab out of unpronounceable chemicals and dyes. Even the soda is made with real cane syrup – the popular Mexican variants of Coca-Cola, Fanta, and Sprite as well as Boylen sodas available by the bottle. For those who prefer an adult beverage, there is a variety of wines and microbrews available. Best part? Those are local microbrews, from right here in Charleston.
"We seek out local farmers to source our ingredients whenever possible," says BurgerFi Global Brand Ambassador Steve Lieber. "That way our produce - all the lettuce, tomatoes, jalapeño peppers, and mushrooms that make the burgers even better - is as fresh as it can be."
"It's a good for you burger place in a green environment," Chuck explains. As he explains, they strive to be more like a sit-down restaurant – but with the convenience of counter service. You won't find standard fast-food trope of freezers, heat lamps, and microwaves here. Not only does BurgerFi provide all-natural on the menu, it also opts for as low a carbon footprint as possible, using specialty ceiling fans, and recycling. Giving back to the community has been a basic premise of the chain since its inception. Even the chairs are upcycled from old Coca-Cola bottles.
The BurgerFi story began when restaurateurs Lee Goldberg and John Rosetti realized that these are all things that customers care about. The chain began with two locations in Lauderdale-by-the-Sea and Delray Beach, FL in 2011 and has rapidly grown since then.
"We're absolutely thrilled to become part of the larger Charleston community," Lieber notes. "Mount Pleasant is a great location for us because it's a place for families, for people with active lifestyles."
The best part is that this healthy, all-natural food tastes absolutely delicious.
Here's what you can expect on the BurgerFi menu: big, juicy Angus beef patties with all the trimmings. You can go with a burger, cheeseburger, hot dog, or even a Breakfast All Day Burger with Angus beef, American cheese, bacon, maple syrup, fried egg, hash browns, grilled onions, and ketchup.
If you're feeling fancy, there's a double 28-day dry- aged ground brisket burger with Swiss, bleu cheese, and pickles called the Twenty-Eight. Should you be inclined to take healthy up to the next level, the housemade Vegefi Burger features crispy quinoa and a patty made of fresh-cut veggie burger on a multigrain bun.
The Conflicted Burger offers a meat and veggie patty medley for those who are still on the fence. "I don't know how or why it goes together so well, but it sure does," says Chuck. "It is simply an amazing flavor combination."
The BurgerFi name is toasted into all of the buns, which is a clever touch, and for those who like to keep the carb count low, there's even a lettuce wrap option.
While the burgers get top billing, the hand-cut fries may well steal the show. The onion rings are huge, crispy, and utterly fantastic. You don't even have to pick one or the other. Sample the best of both worlds with a Cut + Fry combo. A wide variety of toppings, from salt and vinegar to parmesan and herb, from Cajun to chili and cheese, add to the experience.
Frozen custard is the star of the show in the dessert category and options include shakes, floats, sundaes, and the thick and creamy specialty custard treats known as concretes, blended with your choice of toppings. Choose from Red Velvet, Key Lime, and Oh My Chocolate.
There's even a Fi on the Fly app for those who want to grab their chow and dip. Just put in your order on your mobile phone and they'll get it ready in time for you to grab and go so you get on with the night's festivities. But if you choose to stay, that's even cooler, because with food this good, who knows? You might even want to grab a second helping before dessert.
BurgerFi
725 Coleman Blvd., Mount Pleasant
843-884-6445
burgerfi.com