Buzz-Worthy Barbecue
22 Sep 2018
Across the Lowcountry there's no shortage of restaurants cooking, smoking or grilling up your favorite style of barbecue--whether sweet, mustard, or vinegar-base. Pack pork, chicken or beef brisket into a bun or pile it high atop salad greens; or dive fingers first, wearing a napkin for a bib, to feast on a rack of ribs. Be sure to walk away satisfied.


By JENNA-LEY HARRISON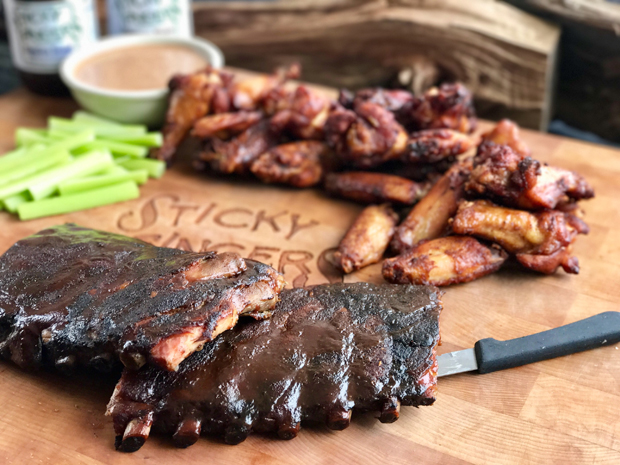 Bessinger's BBQ
It's all about big, bold flavors at Bessinger's, where the menu is fit for a king—or even a Hollywood celebrity. Dozens have visited this Savannah Highway locale for unforgettable mustard-based barbecue. It looks like the eatery's "golden secret" sauce isn't so clandestine after all; it draws customers back daily through the doors craving more. No wonder the father-son trio Thomas, Tommy and Michael Bessinger make sure to keep the kitchen stocked with 350 fresh gallons of it. But if you need to take some home, you can always purchase a bottle from certain area grocery stores throughout the Carolinas and Georgia. While the unique recipe dates back more than six decades, the barbecue hotspot has even older roots—the family-run operation was established in the 1930s. 843-556-1354, bessingersbbq.com


Cherrywood BBQ & Ale House
What could be better than signature barbecue sauces and succulent meat for mealtime? Step through the doors of this coastal town eatery, located inside the Osprey Point Clubhouse at Kiawah Island Golf Resort. Try the smoked chicken quesadilla or feast on nachos piled high with pulled pork. The menu also accommodates dietary needs—many dishes, like the smoked turkey sandwich, are gluten-free. One unique item is the "Cherrywood Bahn Mi," a combo of pulled pork, hoisin BBQ sauce, cilantro and kimchi mayo. Also dotting the menu are hearty platters like the overnight-smoked USDA prime brisket rubbed with Guajillo pepper. Cherrywood also prides itself on its award-winning mac 'n cheese—a multiple times winner of the Charleston Mac Off—and 60-plus beer varieties to quench your thirst between bites. 843-266-4636, kiawahresort.com/dining/cherrywood-bbq-ale-house


Cumberland St. Smokehouse
One of the newer barbecue joints in the Lowcountry, it's the perfect spot for feasting on traditional pork plates and guzzling down a cold beer. This rustic retreat, with refurbished wood décor to help settle your stress, will provide the relaxation you seek at mealtime. While not the only sauce on the menu, the white, Mayonnaise-based one makes the eatery stand out among its local barbecue competitors and is reminiscent of a Deep South tradition. Also awaken your taste buds with the burnt-ends or smoked wings—all the while seated at the indoor or outdoor bar. Did we mention one's strictly for bourbon connoisseurs? But don't request the check without sampling the banana pudding made with Krispy Kreme donuts. 843-641-0131, cumberlandsmokehouse.com


Dukes Barbecue
It's just all barbecue, all the time here at one of James Island's top dining spots for mustard-based pork fans. Load up the car with family or friends for a post-church Sunday outing, and put on your stretchy pants—it's time to fill up on barbecue and its traditional sides at this buffet-style eatery. The menu is barbecue-focused, ready to meet your piggy cravings for two, three or more servings, but also provides additional eats for those hungry for all kinds of good comfort grub. How does hash and rice, fried chicken, ribs, mac 'n cheese, and homemade Southern-style banana pudding—just like grandma used to make it—sound? Open daily for lunch or dinner, there's no excuse not to pop in and see why Dukes is a Lowcountry hit. 843-789-4801


Home Team BBQ
A local favorite since 2006, Home Team is spaced out in three locations across the Lowcountry—perhaps because barbecue lovers don't want to drive far to find a food hub with honky-tonk style and savory, Southern tastes. Walk through the door—often already open—and bask in the insatiable scents of fresh-cooked meat wafting from the kitchen. Try dishes made with any number of meats—not just pork—rubbed with the right spices. How about mouth-watering chicken, brisket, or turkey? Or dive your hands into a messy pile of ribs—no judging here if you lick your fingers after! Keeping meat freshly-prepared is the kitchen's top priority—that's why the fire pits stay stocked with hundreds of pounds of pork butts and other meat. 843-225-RIBS, hometeambbq.com


Jim 'N Nick's
The tri-county boasts two of this beloved barbecue operation's 30-plus locations across the Southeast and Midwest. Find pulled pork, sweet tea and bottomless cheddar biscuits, among a menu of other hearty eats to keep your stomach smiling. Because of its authenticity to decades-old traditions and ability to transform from its initial setting—a Birmingham dry cleaners— Jim 'N Nick's can't help but command a foodie's respect. Here, it's all about "low-and-slow" smoked-meat using a healthy recipe that doesn't compromise on taste. Through the owners' Fatback Pig Project, the owners focus on supplying each kitchen location with meat sourced from pasture-raised heritage hogs and responsible husbandry. 843-375-6509, jimnnicks.com


Kelly's Barbeque
Family owned since 1977, this Summerville area food mecca promises to send you home full and satisfied, and planning your next return—maybe while relaxing post-meal in a rocking chair out front. The location might be easy to miss as you commute along the backroads between North Charleston and Summerville, but be on the lookout for the white barn-inspired building—a warm welcome from the pig statues on the lawn. With paper plates, cups and utensils, there's no pretentious vibes here—where the staff and tea are always sweet. Pile a plate full of chopped pork, green beans, corn on the cob and more. But you might need an extra plate for dessert alone: think peach cobbler and banana pudding. Did we mention the ice cream machine? Closed Sunday—Tuesday. 843-871-3050, kellysbarbq.com


Lewis BBQ
As the saying goes, everything is bigger and better in Texas, so why wouldn't it be the same at Lewis's? Here the kitchen, smokers and pit master/owner, John Lewis, pump out barbecue that is cut to order and inspired by the Lone Star State's central region. Lewis first grew culinary famous among the local Austin scene with a restaurant he operated there. In 2016, he opened his Charleston eatery, and for years, he's worked to perfect his backyard barbecue creations--even custom-making smokers that decorate the Nassau Street site--tempting taste buds and luring patrons' steps through the entrance. Want to enjoy the sunshine? Order a drink at the outdoor bar then pull up a seat on the patio. They're both open year-round. 843-805-9500, lewisbarbecue.com


The Mason Jar by Fatboys
Searching for some of the best soul-satisfying Southern comfort food in the Lowcountry? Take a drive down Highway 61 and look no further than this Charleston operation specializing in all the hearty dishes you imagine when you contemplate old-school, country cooking. Warm cornbread and golden hushpuppies got you salivating? How about start with an appetizer of fried pickles or fried green tomatoes before diving into a plate of pulled pork (under $10)? The meals sure won't break the bank. In the mood for bottomless barbecue? Swing by Thursdays for all-you-can-eat buffet. For non-barbecue lovers, consider a hamburger steak, catfish stew or buttermilk fried chicken. 843-203-3290, themasonjarbyfatboys.com


Melvin's Barbecue
For more than seven decades, Melvin's has been serving up a unique mustard-based barbecue to South Carolinians and Palmetto State visitors alike. Celebrated as Charleston's original barbecue joint, both operations—one each in Mt. Pleasant and James Island—boast generations of Bessinger family recipes that add to the allure of an already-appetizing menu of comfort fare. Legend has it the golden sauce's secret recipe in particular has never been written down, only shared by word-of-mouth. So what keeps hungry customers returning over the years? The down-home atmosphere and some of the kitchen's top eats: St. Louis style pork ribs, chicken and "Boston butts." Try also barbecue chicken wings—as little as 6 for $6 or up to 100 for under $100 to feed a large hangout or perhaps your next college football viewing party. Or maybe a tailgate pack is what you need. It comes complete with a rack of ribs, a pound each of brisket and barbecue pork, along with a gallon of true, Southern sweet tea, two quart-sized sides and a bottle of sauce. Beyond the classic golden sauce, top your favorite meat in a tangy mustard version or a "Southern red" or "Southern hickory"—did we mention they're each all-natural and gluten-free? In addition to a wide variety of meats, the menu also offers the unique option to order in bulk all those crispy, burnt ends—scoop up a pound for just $18. But save room for dessert! Take home a slice of a seasonal pie or cobbler, or grab a handspun milkshake on a hot, summer day. 843-762-0511, melvinsbbq.com


Poogan's Smokehouse
Open daily, including Sunday brunch, this dining spot is a mix of traditional and modern. Before diving into a plate of smoked house pork sliders or a half-rack of St. Louis ribs, feed your appetite some pimento cheese fritters or buffalo pork rinds. Need to feed more than you? Look to the three-meat combo ($27) or "meat sweats" meal. For $60 you get five meats, cast-iron cornbread and two large sides—how about potato salad, collards or white cheddar grits? Maybe it's staple chicken 'n waffles, made with pork drippin' butter that you crave. One unique dish is the "hash, belly and bird" combo—topped with an egg and served also with rice and grilled pico de gallo. Whatever you order, you can be sure of one thing: ingredients are locally-sourced. 843-577-5665, pooganssmokehouse.com


Queology
Barbecue is more than a top food here—it's a passion for kitchen hands so that every customer can be sure to find fare worth feasting on and cooked with complete love and care. It's also the perfect spot to stop and find nourishment during an all-day shopping spree at the downtown Market or a date night destination when you crave casual dining. Catering large-scale events is also a chief duty for the award-winning culinary talent staffed here—combined experience totaling a quarter of a century! Top awards span the Charleston region and South, including recognition at barbecue competitions in Myrtle Beach, Laurens, and even North Augusta, Georgia, and in the categories of ribs, brisket, pork and chicken. The only problem? With so many tantalizing menu options, it might be a challenge to decide which items to order—so how about sampling multiple dishes for fun? You can't go wrong starting the taste test with a Fritos pocket—a Frito bag stuffed with a combo of coleslaw and pulled pork or chicken—or the jumbo wings rolled in a Buffalo hot sauce, Caribbean or Cajun dry rub, among others. Barbecue sauces at the "Que" range from Kansas City Special to Memphis Sweet, Orangeburg Mustard and a signature house made one. Try one on a pulled pork sandwich or platter, or roll some of that piggie meat or chicken—doused in Memphis barbecue sauce—into a flour tortilla with coleslaw and shredded cheese to also appease your appetite's flair for Mexican. Pair two with a side for under $10.50. 843-580-2244, queology.com


Rodney Scott's BBQ
Raved by The New York Times for the impressive flavor and popularity of his whole hog BBQ—the "heart and soul" of his operation--Rodney Scott's culinary fame dates back years before he opened his Holy City restaurant in 2016. At age 11, he started smoking hogs with his family behind their grocery and convenience store in small-town Hemingway. He's since shared his cooking secrets globally. And the smoking process is no simple one—12 hours per pig belly before it's flipped, seasoned and heavily coated in Scott's special "Rodney's sauce" and cooked a bit more. Enjoy fresh pork on a sandwich or more uniquely—over grits. Also feast on fried catfish or spare ribs, with a whole quart of banana puddin' if you have a sweet tooth. Stop by the drive-thru window if you're in a hurry. 843-990-9535, rodneyscottsbbq.com


Smoke BBQ
No matter which side of the Ravenel Bridge you find yourself, there's a chair with your name on it at a Smoke BBQ—locations open daily on King Street and Coleman Boulevard. Just about anything and everything on the menu comes smoked—smoked hash fries, smoked pastrami, smoked brisket ("true Texas" style), smoked chicken confit, smoked carnitas tacos, and even smoked tomatoes to create the beloved house made ketchup. If you can't make up your mind or simply seek to sample all the house-smoked meats, order up the "Tommy B. Monster Meat Sampler" for $24.95. Also ask for barbecue by the pound and half-pound. 843-805-5050, smokebbq.kitchen/menu


Smokey Bones Bar & Fire Grill
Whatever flavor you're in the mood for, Smokey Bones is "on a mission to raise the bar-b-cue" and not just meet you're craving, but exceed your mealtime expectations. All meat here is cooked over an open flame—fire-grilled flavors ranging from the savory-sweet brown sugar glaze, to a sweet BBQ Memphis dry rub, and an original rib glaze option. The eatery prides itself on its overnight smoking process. At all hours, kitchen hands feed fresh hickory logs into two in-house cookers, cranking out perfectly cooked meat for dishes like the traditional hand-pulled pork, smoked St. Louis ribs, new 2.5-pound plate of baby back ribs, and Texas-style beef brisket. Can't decide between ribs options? Go for the double trouble dish's "tag team of taste." 843-572-3420, smokeybones.com


Smoky Oak Taproom
Indigenous to the Palmetto State, established in 2009, the Lowcountry boasts two locations (Charleston and James Island), Smoky Oak gives customers the option to indulge in barbecue, and a number of other menu options, until the early morning hours—the kitchen stays open until 1 am. Follow an afternoon of shopping or sunbathing with the perfect mash-up of barbecue and craft beer—40-plus varieties available. All barbecue platters—smoked pork sausage, dry-rubbed ribs, to name a few—are served with two sides and cornbread. For a smaller portion, opt for a hickory-smoked barbecue sandwich with beef brisket or pulled pork or chicken—none over $9 with a side included. 843-762-6268, smokyoak.com


Southern Roots Smokehouse
Take a ride to North Charleston's Park Circle food mecca and indulge in Southern Roots' pork sliders or brisket stew to start. For a heartier portion, order up a one- ($13), two- ($17) or three-meat ($19) platter—two sides included. The sides surely won't disappoint: potato salad, homemade mashed potatoes, baked beans, and collards, to name a few. Or tantalize your taste buds by treating yourself to a half or full rack of delectable ribs. Even combine your love of barbecue with Mexican and stuff a taco shell with pork, chicken or brisket. For lighter fare, search the menu for sandwich and wrap options—how about the brisket or smoked chicken wrap? Southern Roots is also happy to cater your next business meeting or family celebration. 843-805-4147


Sticky Fingers

If you haven't found yourself savoring every crumb of cornbread, licking every messy finger from feasting with family on hearty pit-smoked, Memphis-style barbecue, and pondering your next weekend outing to a nearby Sticky Fingers, you have no excuse. The Charleston region boasts three main restaurants, along with two snack bars in Patriots Point and a smaller express unit at the Northwoods Mall in North Charleston. Full-service locations include one each in Summerville, Charleston and Mt. Pleasant—the initial operation with roots dating back more than 20 years. Popular eats here include fall-off-the-bone ribs and perfectly-seasoned wings that you'll want fueling you and other fall football fans up as you cheer on your favorite team. It's all about the technique and the time it takes to cook Sticky Fingers' delectable meat, and kitchen experts here utilize a hickory-wood smoking process focused on a low-and-slow style certain to make mealtime an epic moment for all customers—that means low temperatures and overnight cooking, made better still with secret recipe rubs. Try the barbecue nachos—pulled pork or chicken—as an appetizer to share. Or wow the entire table with a "barbecue trifecta" dish combining a large portion of slow-smoked ribs, barbecue and rotisserie chicken. But did we mention each week's special "Sticky steals"? For a limited time take Hump Day to an all-new level with Wednesday's all-you-can-eat hickory-smoked wings—just $12 for an endless array, paired with coleslaw and fries. But start the week off right with "More Meat Mondays" and receive a free add-on meat serving when you purchase a rib entree, barbecue combo or blues plate. Also, with a bulk take-out option, enjoy Sticky Fingers as your next party caterer or as the perfect no-hassle weeknight dinner for the wife and kids. 843-856-RIBS, stickyfingers.com


Swig & Swine
Started by a sub-vet who cooked for his crew but started brewing up kitchen eats as a young teen, Anthony DiBernardo has certainly transformed the way the Lowcountry enjoys barbecue. Top menu items are the pork and brisket, but don't forget the popular pie list for dessert. The kitchen also serves up five other types of meat—turkey, house-made sausage, ribs, pork belly and wings—and cooks all night long to create the most flavorful and tender product. To ensure the best crust, only wood-fire facilitates the cooking—a 24/7 process. And you'll find no shortage of sauces here either. Try a sweet red, a mustard or vinegar-based and a white sauce with Alabama roots; and for a bit of a mouth kick, opt for the smoked jalapeño sauce. 843-225-3805, swigandswinebbq.com


Willie Jewell's
It only makes sense that this eatery would be the crown "jewell" of barbecue in the North Charleston area, where the public can enjoy laid-back dining and find that "every meal comes with a side of Southern hospitality." But the franchise extends outside South Carolina to include operations across the Southeast. The first one was started in 2009 in memory of a woman with a homeless childhood. Adopted as a teen into a Florida family specializing in the restaurant biz, Willie learned her own culinary skills through them. She also left an indelible mark in their hearts, and after she passed the family couldn't help but keep her legend alive through opening the local eatery as a sister restaurant to their Jacksonville one. The area barbecue hub is characterized as serving "old-school" barbecue in a fast-food setting; but just because you can be sure to get your meal quick doesn't mean the kitchen skimps on quality or service. All meat is smoked on site and cut to order; and all barbecue is cooked low-and-slow using decades-old recipes. Be sure to pair your main meat with country comfort sides like baked beans, collard greens and hushpuppies. Dive into a sandwich or meat platter, but save room for dessert: banana or bread pudding, peach cobbler and pecan pie! You'll find you can indulge all your senses here as you fill up on hearty portions sure to send the sandman sneaking in as soon as you sign the check. If you can't stay and dine inside, utilize the drive-thru service. Catering is also available. 843-789-3636, williejewells.com
---
Get Your Sauce On!
Melvin's Barbecue Sauces
Melvin's Barbecue sauce is steeped in tradition. 3rd generation pitmaster and owner of Melvin's BBQ, David Bessinger still douses with the sauce that his Grandaddy shared with his Dad back in 1933. That distinctive, piquant mustard sauce put South Carolina on the map for mustard-based BBQ. It's a recipe passed down through 3 generations. It's the real deal. The label on the bottle has been redesigned with a fresh look, but the sauce is the Original Golden Secret®. That's not the only way DB is keeping it real at Melvin's BBQ. While Barbecue is steeped in tradition, it is always evolving. David has taken barbecue at Melvin's full circle, smoking meat on an all wood pit the way it was done in the early days. "That's how it all started you know, smoking pigs in the ground with family and folks."
Melvin's sauce now comes in 4 distinct flavors: Original Golden Secret; Spicy Golden Secret; Southern Hickory; and Southern Red. It's all-natural and it's gluten-free. Melvin's BBQ sauce is sold at the stores and online in 27 states throughout the nation. For over 78 years, Melvin's barbecue tradition is still going strong!


Sticky Finger Sauces
There's no sauce like the variety of secret-recipe sauces Sticky Fingers offers barbecue aficionados. They've racked up national awards over the years and can be part of your pantry anytime you want. That's because the sauces are available in a number of major grocery stores across the country including Bi-Lo, Harris Teeter and Wal-Mart. Once you taste one drop, you won't be able to stop—trying to slather every bite in your favorite sweet or tangy flavor. The five options include a sweet and tangy Memphis-style; a rich and boozy Tennessee Whiskey; a Carolina Sweet comprised of molasses and honey—a top seller with a tomato base; a mustard-based Carolina Classic most South Carolinians adore; and a Sweet Southern Heat—habanero and other peppers that'll add some punch to your plate. It's the spicy version of the Memphis original sauce. But don't forget Sweet Kentucky Bourbon, the newest sauce described as "a warm, savory take" on classic, Southern barbecue. It's the perfect pairing of sauce and spirits. Maybe you don't have time to rush to your local grocer? Don't panic. Pull up the Sticky Fingers online store and order from the comfort of home—each bottle under $5.