California: What I Learned on my Summer Vacation
21 Sep 2014
Tips and advice from our local garden experts
By PATTY CRAVEN and NICK POPOVICH of DIG Landscape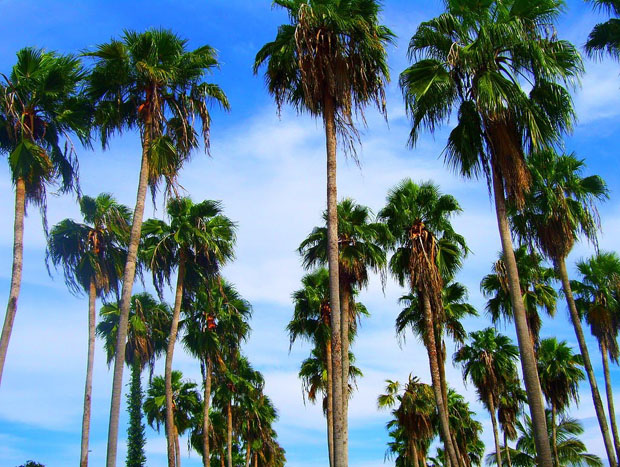 Yes, the Golden State. Or, more specifically, the San Diego and La Jolla areas were the gold of the summer of 2014 for my family and me. And indeed, I thought about and considered the spectrum of the Southern California landscape and how any of its parts, whether specific plants, design, or other aesthetics, might relate to that of the Lowcountry.
We had rented a home in La Jolla, which lies on the coast just north of San Diego, that was perched (and I mean off the side of a cliff perched) nearly at the top of a small, oceanside mountain and walked joyously every morning...seemingly all uphill. But it was worth it. While our home overlooked the valley with its freeway and desert vista beyond, just over the crest of the mountain we were afforded a view of unaffordable homes down the coast and up past the Torrey Pines golf course to Del Mar. The waves were crashing, and tall, slender Washingtonia Palms were swaying―very Mediterranean-like and much more than I anticipated. My wife is from California but I shrugged off her descriptions before the trip. The weather was as she described with pride: it would be warm but with an accompanying cool, dry breeze. She even packed sweaters for a July vacation. Crazy I thought, mainly because I was the one who would porter the luggage.
The efforts though, we're completely worthwhile. And what I brought back from those walks through the residential and commercial areas of La Jolla, was more than a suitcase of wrinkled, and worn sweaters. A new appreciation of the Lowcountry came to me. Just think how our place must look to those from elsewhere, be it a Boeing Executive from Washington State, a retired couple tired of Michigan winters, or a young family transferred from St. Louis. Myself? I was a bit lost at first at the landscape choices I had seen in those morning walks and the drives over to Coronado Island. The first appreciable thought was how struck I was as to their water situation. I think we take our irrigation supply somewhat for granted. There, it's topic number one. They manage what they do have and what they get and where it goes. I think we need to work on the 'where it goes' part. Too many of our projects are fixing drainage issues that should have been addressed early on.
The second point relates to size. Most of the residential landscaped areas were tight, concise, and well planned. No one seemed to suffer from having .15 instead of 1.5 acres around their homes. Again, just an observation.
Lastly, I'll take with me the diversity of their plant pallet, the widespread use of ground covers, the incorporation of rock and gravels for pervious paving needs, and the true integration of landscape and architecture.
So, wherever you may have travelled this summer, I hope that you can bring a bit back home, whether it's in the landscape, a nice photo, or a bottle of wine. Near our front door, the kids have arranged some stones they gathered in the Pacific. I surely do love them, but now I remember why the luggage seemed so much heavier on the way back!
Got a question for our garden experts? Send us your questions via our Contact Us form or through our Facebook page. Your question could be featured in the magazine!