At Home with GDC Home
21 Sep 2014
Charleston's go-to spot for home design has a lot of history
By JASON A. ZWIKER » Photos by LEA AUSTEN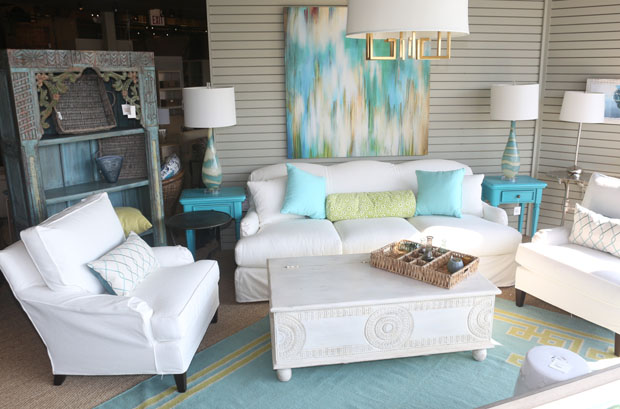 9,000 miles from home, in a bustling Thai airport – not the best time or place to discover that your passport has expired.
But that's exactly what happened to Harry Gregorie once, years ago, on a routine business trip. Instead of finding himself on a return flight, however, he was able to get the situation corrected with the assistance of a helpful customs agent and a U.S. Embassy representative who just happened to be eating at a Burger King near the airport.
"He was able to write me a note permitting me to travel to the embassy where the passport could be renewed. There were no real problems, so I was very lucky."
"I've never let that happen again," he says with a laugh.
Trips to the Far East are a routine part of business at GDC Home, one of the premier home furnishing stores in Charleston. "Several times a year, we go overseas on buying trips. We regularly visit places like China, India, Indonesia, and Turkey looking for the most unique rugs and specialty items for our customers."
GDC Home is definitely a Charleston tradition. With three showroom locations in the greater Charleston area, GDC takes pride in being able to offer customers a complete home furnishing experience. Walk in and you'll meet friendly design consultants with a knack for helping you find the exact items you need to really make your home stand out.
Not sure where to begin? Not a problem. The design consultants on staff are here to help. In-store design consultation is available during store hours and, for a modest fee, you can even have design consultants visit your home and assist you in creating a design plan perfect for every home and budget.
In need of custom-made pillows, shams, skirts, or covers? Need a treasured sofa re-upholstered? Maybe you need springs re-tied or a custom headboard? GDC workshop is the place to call for recovery, repair, and custom work.
The history of the business goes back to 1978, when Jane Gregorie, Harry's mother, began selling drapery, upholstery, and fabric seconds. But there's an earlier family tradition to which it pays homage. When Harry took over in 1992, he renamed the business GDC as a nod to ancestor James Gregorie, who left Scotland in the 1770s to begin a new life in the New World.
In 1781, James established a dry goods store at 26 Church St. in Charles Towne with business partner Sir William Douglas of London. At the time, most manufacturing was done in Europe, so the importing of products was an essential part of commerce. This made the port city an ideal place to set up shop.
That late-eighteenth century store was named Gregorie, Douglas, and Co., to which the name of the current business (GDC, for short) pays tribute.
"We have one of their ads that ran in the Royal Gazette, the newspaper of the day," Harry says. "I like being able to connect what we do with what my great-great-great-great-grandfather did many years ago."
There is definitely much in common between his ancestor's work and what Harry does today: international travel, seeking out the best examples of craftsmanship around the world, the happy meet-and-greet of customers. But Harry pays respect to the hardships his ancestor endured back in the days when Charles Towne / Charleston was brand new in the world.
"The hazards of travel, of disease, were considerable back then," Harry says. "During a trip back from Europe, James' wife and some of his children died at sea during a storm. It makes you appreciate the difficulty of the things they had to deal with back then."
Today, James Gregorie is buried in the First Scots Presbyterian churchyard. "He was an industrious guy who made a lot of history."
Charleston has accumulated a wealth of history between then and now, but a love for beautiful home furnishings, decorating, and fine summer afternoons with family and friends on a porch as the breeze blows in off the water remains.
GDC understands that love and the appeal of furnishings with a distinct flavor.
"We're always looking for ways to make the store unique," Harry says. "This is a place to find the products that you just won't see in other stores. We like items that have character – this is definitely not a cookie-cutter approach."
"The idea is that you can furnish your entire home with what you'll find here: furniture, bedding, window treatments, lighting, and accessories."
A strong online presence helps keep customers in the know about the latest trends and styles. Their web site is stylish and arranged in easy, helpful sections. Pinterest users can pin their favorite designs to share with friends near and far and GDC also posts on Facebook, Instagram, and Twitter.
There's also an online room planner, a helpful blog chock-full of design ideas, and a gift registry. Customers can check in anytime to learn of upcoming sales or read about the latest trends in design. As the air turns cooler in the South Carolina Lowcountry, look for ideas on how to trim the home for the fall and winter. Need a bolt of fabric to bring that Pinterest idea into being? The design staff has you covered, online or in-person.
Careful, though, a brief visit to GDC's Pinterest page can easily turn into hours of inspiration.
And don't worry about running out of ideas, because chances are, the Gregorie family and their team of buyers are already scouting out the next shipment of goodies for you.
That always-moving-forward approach explains a lot about why the growth of GDC, from one small shop with two sales people to a three showroom home décor Lowcountry tradition, has been so impressive. The key to success, then and now, remains the same: hard work, commitment to customers, and deep appreciation for quality and style.
gdchome.com. 1290 Sam Rittenberg Blvd., Charleston SC, 843-571-5142; 695 Coleman Blvd, Mt. Pleasant SC, 843-849-0711; 420 Freshfields Dr., Kiawah Island SC, 843-768-4246.