Chesterbrook Academy Preschool
02 Jul 2023
A nurturing environment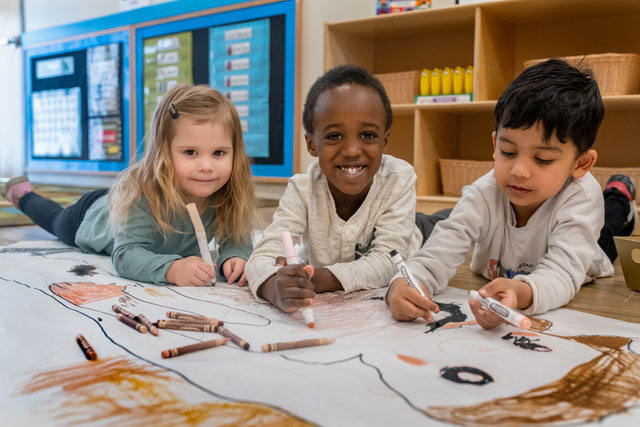 It's never too early to stimulate a young child's intellect and cultivate the right educational atmosphere for a budding brain. At this Mt. Pleasant learning site, children develop only the best foundational skills to prepare them for a lifetime of enjoyable scholarship.
But learning is anything but ordinary and conventional at Chesterbrook Academy's Preschool, established in the Charleston area in 1995. The staff here specializes in offering "the perfect balance of learning and play" for each child. They also welcome any opportunity to utilize creative methods and other innovative techniques to encourage discovery of introductory concepts. Because each child's educational journey is unique and tailored to one's needs, this Academy recognizes the value of keeping open lines of communication with parents.
"Our preschool puts the child's needs above all else, and the entire staff is passionate about caring for and educating young children," said Gabriella Lothamer, the school's Marketing/PR Senior Account Executive. "When a new student joins us at Chesterbrook Academy, the first thing discussed with families are their goals, needs and concerns for the child."
According to administration, the school expertly combines academics and structured play for students ages six weeks to Pre-K in a fun, safe and nurturing environment. Lothamer noted how the academy's preschool curriculum, which was recently revamped, helps adequately prepare students for kindergarten and beyond by pairing a child's readiness to learn with fun, challenging, and engaging activities. Key focuses include Language & Literacy, Mathematical Thinking, Social-Emotional Learning, Wellness, Creative Expression, Scientific Exploration, and Citizens of the World.
In addition to preschool programs focused on all stages of development—from infant to toddler to pre-K—Chesterbrook Academy provides exclusive elementary school students with curriculum that is both high-impact and personalized. Student curriculum incorporates small-group instruction, introduction to modern technology, and project-based learning.
Before and after school care are also available through the academy, as well as a summer camp option with swimming lessons at the on-site pool, aquarium trips, movie outings, and more.
For more information, visit chesterbrookacademy.com or www.chesterbrookacademy.com/preschools/sc/mount-pleasant.
(877) 705-8923 | 1212 Two Island Court, Mount Pleasant, SC 29466