Cool Factor of Gardening
09 May 2015
Tips and advice from our garden experts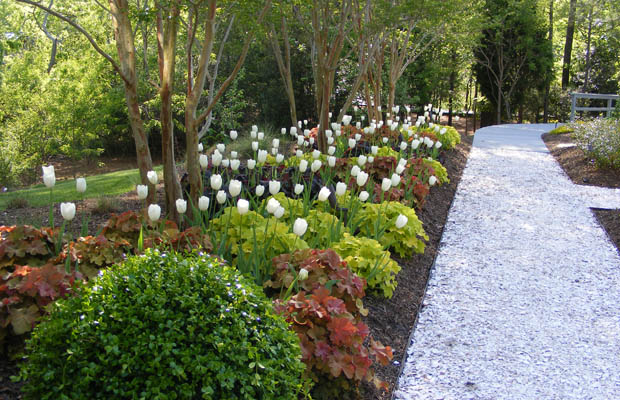 I don't know if this might lead to newly coined term or not, but I've been trying to verbalize a landscape style that I've grown to appreciate (pun intended) and noted for its hardiness, intrinsic beauty, budget friendliness, and relative care-free nature. Drum roll... "Coastal Casual Cool." So what do you think, trademark worthy?
What is this "look" that I appreciate and feel is so widely adaptable to our architecture, climate and soil conditions, and relative ease of maintenance? It's a group of plants that share a relationship among a number of plant materials and hardscape choices that blend in such a way as to be identified with this bit of terminology.
The framework of its layout can be rectilinear or for a more relaxed approach, curvilinear. This would lead to a less modern overall feel. Hardscape choices within this look are tabby (oyster-shell finished concrete), bluestone (both square and irregular edged), loose oyster shell, or salt-finished concrete. And, with the use of loose oyster shell, the edging is key. Utilize heavy-gauge steel or brick for a clean look.
The plantings that might be grouped and intermingled within this aesthetic are: Muhly Grass, Spartina Grass, Chaste Tree, Loquat, Inland Sea Oats, Eastern Red Cedar, Brodie Cedar, Carolina Saphire Cedar, Alphonse Karr Bamboo, G.G. Gerbing Azalea, Aspidistra, African Iris, Upright Yaupon Holly, Needle Palm, Live Oak, Saw Palmetto, Booted Sabal Palmetto, Japanese Black Pine, Oakleaf Hydrangea, and Sabal Minor.
While deciding on the utilization of all or parts of the plantings above, please remember that this "look" relies on the textural compliments among the groupings. Don't be sparse, but conversely, group certain plantings fairly densely while others can be more loosely arranged. Make best use of the hardscape (paths, small destination patios or landings) to organize the beds.
And don't forget, the underlying benefit is the "Cool" aspect of Coastal Casual Cool: you'll stay cool (very low maintenance and water usage) because your landscape will look good and folks walking by will say "cool house!"
This is a plant palette that I do think can work for most of us in the Lowcountry. Certainly beauty is in the eye of the beholder. So, perhaps, use this information as a starting point to indeed make your landscape your own.