Timeless Sophistication
09 May 2015
Samuel Furr Architects design an island home that blends architectural traditions and keeps the view on the natural surroundings
By ROB YOUNG » Photos by JIM SOMERSET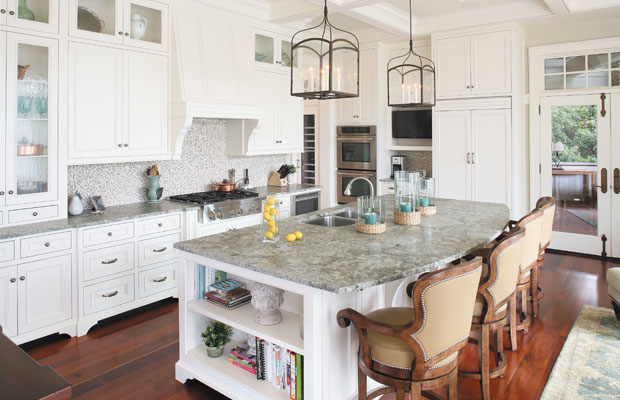 Sam Furr's bosses thought that he was crazy. The architect told them he was leaving the commercial field for residential work. Their response: Why in the world would you want to deal that closely with clients? But Furr knew what he was doing; he was being true to himself. "Clients are actually the catalyst for doing something fun and bringing your mind to a different level," he says. "The people in these homes care about the details."
Furr's conversation with his former firm occurred nearly 25 years ago. Since then, he's thrived as a Johns Island architect designing custom-built, award-winning homes on Kiawah Island. Born and raised on Mississippi's Gulf Coast, he graduated from the Tulane University School of Architecture with a master's degree, and also studied architecture in Belgium and France. Not only is he a member of the Kiawah Island Club, he is a property owner as well. "Kiawah is such a great place to work," Furr says. "It's just the surroundings – the Lowcountry island, the oak trees, dunes and palmettos. The theory that the island developers works well with the way I like to design, which is within the natural environment."
Furr's process at his firm, Samuel Furr Architects, always begins the same way. "We're a small firm and design almost happens once at a time, with little overlap, so we get to spend time making true custom homes," Furr says. "I tell the client it always starts with the site and their ideas. The site is very much part of the project, and we need to make sure the site and their ideas work together."
One of Furr's more recent projects embodies his way of thinking. The home, situated on Kiawah's Ocean Course Drive, overlooks the island's Ocean Course golf course, offering a splendid vista. For starters, Furr and the homeowners accounted for the view orientation, the sun and the way the winds stirred the site. "We kept the trees and dune intact," Furr says, "That's the value of the lot. They saw the lot and fell in love with it. We don't want to destroy it." The natural topography, those older dunes, and beautiful, ancient oak trees, lend character. "The views, of course, are really important. Some architects don't take advantage of that enough," Furr says. "You can see there are plenty of windows in this house."
Which raises a broader point for discussion. "If architects would just remember to point the windows at the view, half their job is done, especially if it's a beautiful site like this," Furr says. "I think that sometimes architects have preconceived ideas of what the building should look like. For this house, we began not with what it should look like, but what it should feel like."
To that end, Furr and the homeowners came to the same conclusion. The home should feel timeless," he says. "The whole idea is to get family together, and they didn't want it to feel too new or too old and stuffy, but it needed a timeless feel so they could keep using it within the traditions of beach architecture and traditional architecture."
Furr and the homeowners quickly found that their philosophies were entwined. "I encourage all my clients to interview architects and see who they can communicate with, and who works with their philosophy," Furr says. "When we began working together, it was definitely easy to reach consensus. There's a balance in this house. It maintains a casual feel, and yet there is a sense of order and organization."
As Furr says, the home is not beholden to the past, but it can be built upon it. Given the shingle style home plan, the home truly abides. "It fits that description and it fits the space in orderly ways. You can do symmetrical shapes and formal shapes, and you can break them into informal spaces and shapes as well. I really enjoy working in what would be described as the shingle style, early modernism, if you will. The spaces should drive the architecture, not the skin," Furr says. "Sometimes in traditional architecture, it's what's on the surface that drives the design, as opposed to spaces those surfaces are defining."
The process accounted for the views and space, and how were they to be used. Furr posed questions, such as, "How will you entertain when everyone is here? Do you need a formal space or a more open space?" For instance: the 16-foot, wet bar, which isn't the average wet bar. "It's a full, long stretch with windows that look out to the front and the oak trees," Furr says. "It works with the living room and connects to the dining room in keeping with the open floor plan. It came out of the way they wanted to use the space, or how they imagined using it."
It's a fun way of designing the space, as Furr and the homeowners assessed several scenarios. "You'd just sort of imagine those fun situations and you'd talk about all the fun things you could do at the beach," Furr remembers. For example: the bathrooms. "Well, where's the bathroom if the little grandkids are in the swimming pool?" Furr says, laughing. "Do you need a bathroom are you OK with them tracking water across the floor?"
Construction finished up more than a year ago, allowing the homeowners to move in prior to Christmas 2013. The couple uses the home as a family retreat or second residence, permitting their entire family and friends to join them for vacations or getaways. Many of their friends live in the Southeast and Kiawah presented a centralized location for gathering. "They may at some point make it their permanent residence, but the whole idea was to get a place that could work for the two of them or for their whole family," Furr says. "It makes me so happy when the client uses the house. Sometimes at Kiawah, they don't get a chance to use the home often enough."
The house is comprised of nearly 9,000 square feet: more than 6,000 of heated square feet, the rest being the porches and terraces. "It really works with indoor and outdoor living and getting out onto those porches." The large porch with fireplace is one of the rooms that offer the interior-exterior balance. "During their Christmas in the house, they said they kept a fire going in that fireplace 24 hours a day for a week. It would die down and they'd stoke it up the next day and use it. The porch was very usable that time of year," Furr says.
Other teammates, such as Tracey Hutchins, of Hutchins Inc., and KDM Interiors, also played vital roles in the build. From the construction side, Hutchins Inc. believes in a homespun approach to effectively manage each project, be it a custom home, remodel or renovation, or custom millwork. For more than 20 years, the firm has perfected signature services, leaning on a hands-on, personalized approach for design, building and construction completion. Additionally, Hutchins Inc. boasts a fully equipped woodworking facility to provide custom cabinetry, built-ins, bookcases, furniture pieces and custom architectural millwork. The detail is apparent in the Kiawah home, as the trim and high-vaulted ceilings give the house a refined appearance.
The home's interiors demonstrate the proficiencies of Katherine McGowan of KDM Interiors, a versatile firm situated in Charleston that specializes in residential and commercial projects. As the company's principal, McGowan believes in the personal touch, supervising each project from planning to construction to finished project. The firm maintains close contact with each client, tailoring its projects to the individual's needs and vision. Each detail is vetted and attended to, as the firm strives to create elegant spaces, both practical and tasteful. She began KDM Interiors in 2001, as her projects have included homes in Thomasville, Ga., Atlanta, Chicago and Palm Beach. She describes her style as "timeless traditional with a modern sensibility," forming a perfect match with the style preferred by the Kiawah homeowners. On the island, the home consists of five bedrooms, two additional rooms that can flex into bedrooms, and seven and one-half bathrooms, maintaining a consistently clean style and color palette.
All told, for Furr, inspiration abounds every day, as he sees these Kiawah homes from concept to finish. As he is quick to say, it begins with ideas, but it ends with actions, and details, and finally repose. "When you're done," Furr says, smiling, "you actually can sit and enjoy it and sip a mojito by the pool."
Resources
Samuel Furr Architects: 843-559-5524, samfurrarchitects.com
Hutchins Inc.: 843-296-1067, hutchinsbuilders.com
Katherine McGowan, KDM Interiors: 843-270-4448