Cooling Cuisine
24 Jul 2015
Excerpts from a Southerner's Summer Survival Handbook
Recipes and Photos by KIM BYER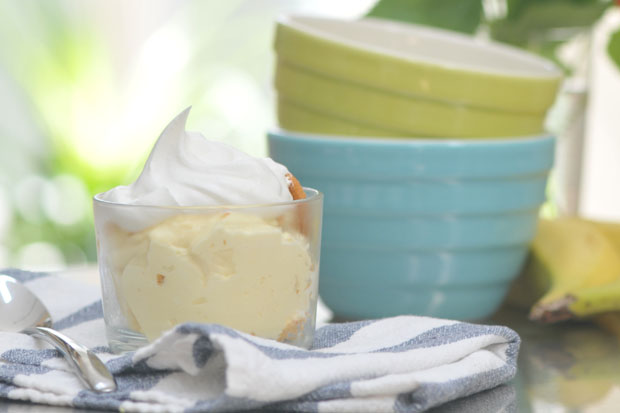 Put down the potholder and step away from the stove. Any Southern cook caught in this awkward position during the months of July and August is experiencing a heat stroke and should not be held responsible for her actions.
These are the hundred degree days, when neighbors covet neighbors' shade trees for nothing more than the envied one-degree cooler dash from the air-conditioned car to the air-conditioned house. These dog-day afternoons are why ceiling fans are installed in every room of a Southern home, despite the highly paid designer's protests.
No tourist who has ever set their pale toes in the scorching Carolina sand will question our rituals of tomatoes slathered with mayonnaise between slices of white bread, afternoon slaughters of icy watermelons atop black and white newsprint, and giant, boat-sized bowls of banana pudding, for these dishes are not simply the most beloved summer treats of the Southern hemisphere – they are survival techniques.
Let's start with dessert. Summer desserts should always be cold; they should be served throughout the day; they should always include a giant bowl of banana pudding. The truth that most cooks won't tell you, is that the best banana pudding is actually the easiest. It's not fancy; you're not required to whip your own cream. It calls for five store-bought ingredients: instant pudding, milk, bananas, vanilla wafers, and whipped cream. One cold, silver spoon of this banana pudding brings more joy to a Southerner than a plate full of BBQ. Ask any Southerner this question after they've eaten their fill of BBQ.
The Best Banana Pudding in the Southern Hemisphere
Family size, serve ice cold
2 large packages of vanilla (or banana) instant pudding
4 cups milk (whole or 2%)
2 cups whipped cream or substitute whipped topping
2 cups extra whipped cream for layering
4-6 bananas
1 package vanilla wafers
In a large glass bowl, whisk instant pudding packages with milk. Incorporate two cups of whipped cream into the mixture and allow to set for five minutes.

Meanwhile, layer the bottom of a second large glass bowl with vanilla wafers. Add a layer of bananas, then a layer of pudding mixture, then a layer of whipped cream. Repeat. Chill for several hours before serving.
In particularly vexing afternoons (read: every afternoon in July and August) when the screams of children wanting extra scoops of ice cream overwhelm your otherwise meditative nature, add a shot of peach schnapps to your glass and behold, as this refreshing peach float magically transforms into an emergency floatation device.
Peach Fuzz Floats
Serves two
2 ripe peaches (freestone), pitted and muddled
2 scoops vanilla ice cream
4 to 6 raspberries
Cream soda, chilled
1 ounce peach schnapps (optional)
In pre-chilled tall glasses, spoon in the muddled peaches, and top with raspberries.

Add the scoops of vanilla ice cream and fill with cream soda and peach schnapps.
Summer provisions needn't all be about temperature reduction – some define cool figuratively. Pickled shrimp are trending high on the coolest menus in the South. Pickling connoisseurs Matt and Ted Lee and Charleston, South Carolina's Edmund's Oast inspire this version. Make a double batch of garlic aioli to serve on leftover rye toast the next morning. It's the perfect complement to your Bloody Mary.
Pickled Shrimp on Rye Toast with Garlic Aioli
Makes approximately 2 large pints
Poaching ingredients:
8 cups water
3 tablespoons salt
1 yellow onion, halved (peeling not necessary)
2 tablespoons Old Bay seasoning
3 bay leaves
1 pound large shrimp, peeled and deveined
Pickling ingredients:
3 radishes cut into thin rounds
2 stalks celery, thinly sliced
1 red onion, peeled, then cut into 1-inch slices
1 bulb fennel, cut into 1-inch slices
1 red bell pepper, cut into 1-inch slices
1 cucumber, seeded and thinly sliced
1 1/2 teaspoons kosher salt
Poached shrimp, sliced lengthwise
1 1/2 teaspoons sugar
1/2 cup Champagne vinegar
1/2 cup of lemon juice
3 peels of whole lemons
1/3 cup extra virgin olive oil
1 handful of parsley leaves
8-10 allspice berries
1 teaspoon red pepper flakes
Garlic Aioli:
1/2 cup mayonnaise
1 clove garlic, finely minced
Toast:
Seeded rye bread, sliced
Extra virgin olive oil
Butter
Garnish with capers and dill fronds
In a large pot, add water, salt, onion, Old Bay seasoning and bay leaves. Bring to a boil, then remove from heat and add shrimp. Poach shrimp for approximately 3 minutes until shrimp begin turning pink. Drain, reserving liquid. Slice each shrimp in half lengthwise and discard the onion and bay leaves from the remaining liquid.

In a large bowl, combine radishes, celery, red onion, fennel, red bell pepper, and cucumber and sprinkle with salt. Let stand at room temperature for 30 minutes, tossing regularly.

Rinse and drain the vegetables.

Add the sliced shrimp, sugar, Champagne vinegar, lemon juice, lemon peels, olive oil, parsley, allspice berries, and red pepper flakes. Mix well.

Pack in glass jars, topping each with a small amount of the reserved pickling liquid.

Refrigerate jars overnight or up to 24 hours.

Drain liquid and transfer to a large bowl. Discard lemon peels, bay leaves and allspice berries.

Make garlic aioli by stirring the mayonnaise and minced garlic together.

Fry toast in a large skillet or on a griddle, using butter and olive oil.

Slather toast with garlic aioli and pickled shrimp. Garnish with capers and dill.
Although this soup's lineage is foreign, its ingredients are as local as your backyard. One trip to your bountiful garden and, before you know it, a basket of tomatoes, cucumbers and herbs is transformed into a luscious bowl of toothsome tomato soup. Drizzle it with extra virgin olive oil and enjoy its cooling effect.
Summer Garden Gazpacho
Makes approximately 3 quarts
10 large ripe tomatoes, seeded and chopped
2-3 medium cucumbers, seeded and chopped
1-2 green onions, chopped
1 slice of bread or baguette, soaked, then squeezed to remove excess water
3 tablespoons sherry vinegar
3 tablespoons white balsamic vinegar
2-3 teaspoons kosher salt (salt to taste)
1 teaspoon sugar
Optionally add:
3 to 5 jalapenos, seeded and chopped
1 red bell pepper
1 green bell pepper
1 handful each of cilantro, basil and/or Thai basil
Toppings/Garnishes:
Extra virgin olive oil
Day-old bread, toasted and torn into croutons
Goat cheese rounds, coated in herbs
Pulse with a handheld immersion blender for 10-30 seconds, leaving a partially chunky consistency.

Chill for at least one hour. Garnish and serve.
This deliciously crisp and cool take on chicken salad holds up well in beach coolers or at poolside picnics. Or, for the air-conditioned loyalist, its tropical vibe may have you hula dancing atop your kitchen island. Tuck the salad inside a chilled lettuce leaf and wrap the lettuce inside a soft, gently warmed flour tortilla. It's sweet and spicy, crunchy and icy.
Sweet Chili Chicken Salad with Jicama and Mango
2 cups cooked, shredded chicken (approximately 3 boneless chicken breasts)
3 tablespoons sweet chili sauce
1 mango, peeled and sliced into bite-sized pieces
1 medium jicama, peeled and chopped into matchsticks
Handful cilantro, chopped
1/4 cup almonds
Iceberg, Boston or butter lettuce leaves, chilled (one per wrap)
Soft flour tortillas, warmed (two per person)
In a medium sized bowl, mix the shredded chicken with the sweet chili sauce and set aside.

In a smaller bowl, combine the mango, jicama, cilantro and almond slices. Chill both bowls for one hour.

Remove from refrigerator and gently toss the chicken into the mango and jicama mixture.

Place a single lettuce leaf inside a tortilla and spoon a small amount of chicken salad into the lettuce leaf.
In Southern climates, there are those of us (read: eccentrics) who enjoy the glowing brow that results from the spicier sides of a meal. Eating this fire and ice salad is like an epic summer day that starts with a sunrise swim in the frigid ocean and ends with a terrifying rollercoaster ride under a sky lit by fireworks – extreme summer salad-ing for the cautionary impaired.
Spicy Watermelon, Feta and Mint Salad
Serves 2-3
1/4 small, seedless watermelon, chilled and cut into bite-sized triangles
4 ounces feta cheese, cut into cubes
3 radishes, sliced into thin rounds
1 jalapeno, sliced into thin rounds (seeding is optional, depending on heat tolerance)
1 handful mint, torn
Orange Dressing:
3 tablespoons orange juice
2 tablespoons light oil, such as grapeseed
2 teaspoons Champagne or other mellow white vinegar
1/4 teaspoon sugar
Kosher salt and freshly ground pepper to taste
Toss first four ingredients and chill for one hour.

Before serving, whisk dressing ingredients together; gently toss salad again. Add mint and enjoy the ride.